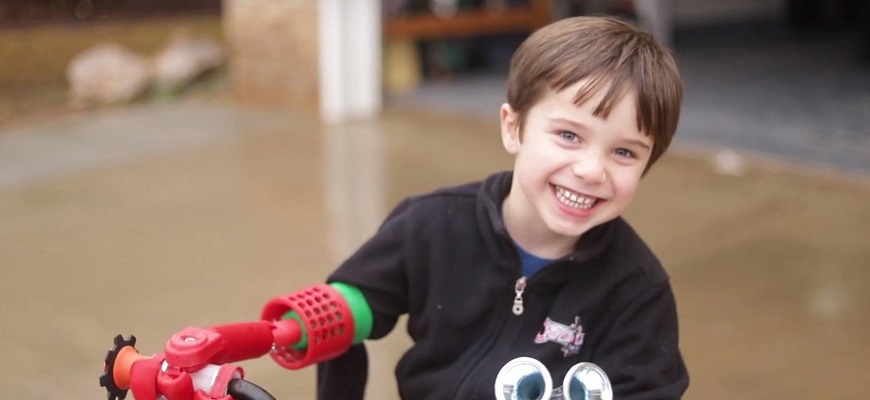 Graduating senior leaves legacy of HOPE for people with disabilities
---
By Allen Wallace,
awallace@sc.edu
, 803-777-5667
---
Andrew Super will graduate from the University of South Carolina May 11, but earning his diploma might be the second-most impressive thing he has accomplished during his college career. In the past two and a half years, he has helped provide numerous free prosthetic devices for children and veterans in need through a company he co-founded.
It all started with Reddit. Super was browsing the site in 2016 and came across the story of a nonprofit that creates prosthetic limbs for children using 3D printers.
"We have it set up to sustain at this level forever, but we're hoping to see it expand to different universities."

Andrew Super
He sent it to his friend and fellow South Carolina student Abby Herschman. "I said 'Abby, we could totally do this. There's nothing in our area that's similar to this,' " Super says.
Herschman, who graduated from South Carolina in December, agreed, and the two co-founded Hands On Prosthetic Engineering (HOPE). They began as a student organization, but soon worked to achieve 501(c)3 nonprofit status. By the end of 2016, they were up and running, providing free customized prosthetic devices to kids and veterans.
It was not an easy road, of course. Funding is a challenge for any business, and HOPE offers prosthetic devices at no cost to the clients, devices which normally cost up to $50,000, plus the cost of a hospital stay.
"I really enjoy the crowdsourcing side of fundraising, but I despise grant writing," Super says.
Super started his South Carolina career as a mechanical engineering major, but soon switched to interdisciplinary studies in the College of Hospitality, Retail and Sport Management.
"I'm very passionate about many different things," he says. "Interdisciplinary studies was not as overwhelming as a double-major for me, but it gave me a well-rounded education and a broad knowledge of business management."
Super's decision has been a big help for HOPE. His mechanical engineering background provided the technical foundation for the 3D printing work. Retailing classes added knowledge of sales and business management strategies critical to the success of a nonprofit operating on grants and fundraising.
"I've really loved the retailing department," Super says. "Professors Joohyung Park and Daniela Jankovska have both been incredibly helpful."
Super will begin a career with Lowe's after graduation, putting his interdisciplinary skills to good use while starting as a management intern, but HOPE will continue.
"We have it set up to sustain at this level forever, but we're hoping to see it expand to different universities," Super says. He and Herschman have formed a partnership with South Carolina, and students in various classes are now assisting with business management and prosthetic design.
Super has had a chance to see firsthand how much the work means to clients, working most recently with Aiden, a young man who is missing several fingers but wants to play baseball, and will with help from HOPE. Super works directly with clients to design a custom prosthetic device to fit their needs and says that interaction is the best part of his work.
It all came together thanks to Super's passion, the friendships he made and knowledge gained at South Carolina. The Virginia native said he applied to South Carolina more or less on a whim, but the rest feels like destiny.
"I toured and I fell in love," he says. "I really didn't expect it, but the people here have just been incredible."
Visit the HOPE website for more information about the organization and its ongoing mission.
---
Share this Story! Let friends in your social network know what you are reading about
---