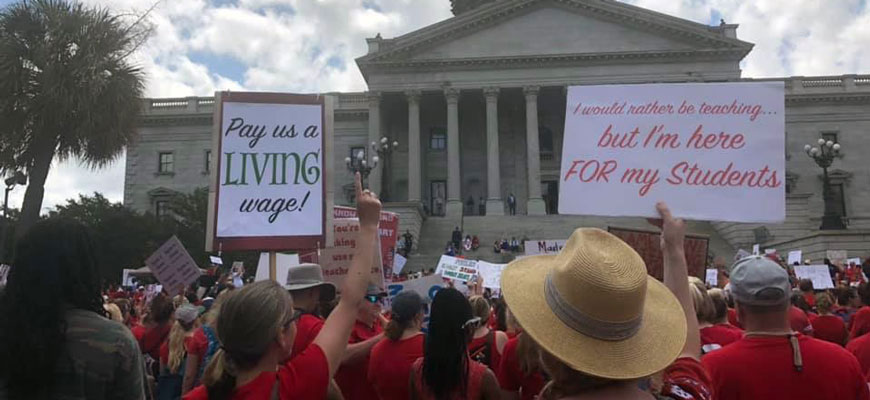 Using their 'teacher voices'
UofSC researcher says SC educators are willing to step up for change
---
By Page Ivey,
pivey@mailbox.sc.edu
, 803-777-3085
---
On May 1, an estimated 10,000 South Carolina teachers and public education supporters rallied at the State House in opposition to an education bill they say does not address some of their primary concerns — including reducing class size and burdensome testing and paperwork.
Supporters of the bill say it will provide teachers raises they have been seeking.
The rally, however, showed that teachers have been pushed to their limits and are willing to take their fight over working conditions to state lawmakers, says College of Education professor and researcher, Jon Hale.
"The rally was significant historically because of the number of teachers and educators who showed up to take a stand," says Hale, whose research focuses on the history of American education and, in particular, the history of activism by educators. "I think it showed that a lot of teachers want change.
"But it also demonstrated how teachers are willing to break the silence, willing to step up and use their 'teacher voices' to make changes."
Hale's first book, The Freedom Schools: Student Activists in the Mississippi Civil Rights Movement, chronicles the stories of educators and activists who wanted an alternative to segregated public schools and a way to teach African-American students how to be social and political activists.
His upcoming books — he is working on two — look at student activism in southern black high schools from 1945-1970 and at the history of the school choice movement.
"Historically teachers are encouraged to stay out of politics," Hale says. "But now they've been pushed too far. The teachers walking out are Democrats, Republicans, Independents — it's across the political spectrum."
It also demonstrated how teachers are willing to break the silence, willing to step up and use their 'teacher voices' to make changes.

Jon Hale, College of Education professor and researcher
It was just such issues that led Hale, who was trained as a high school history and political science teacher, to return to graduate school to do research on education history and policy.
As a teacher, Hale "quickly became aware of a lack of agency that teachers have in influencing the system. So even though we are closest to the students and closest to the problem, we actually don't have the means to politically engage the system in order to change it.
"I went to graduate school with the intention to learn how effective reform takes place in education, knowing that, as a researcher and professor, I would have more autonomy to influence the system. Much of my research is about reform, and much of my service is trying to reform the education system as well."
For South Carolina's teachers, the education bill that had passed the House with just four votes against it stalled in the state Senate and will not pass this year. Senators have said they want to hold more hearings on the bill to get more teacher input, but that won't happen until next year.
"My big takeaway is that teachers are willing to take a stand, that they're willing to be change agents," Hale says. "It was inspiring."
---
Share this Story! Let friends in your social network know what you are reading about
---