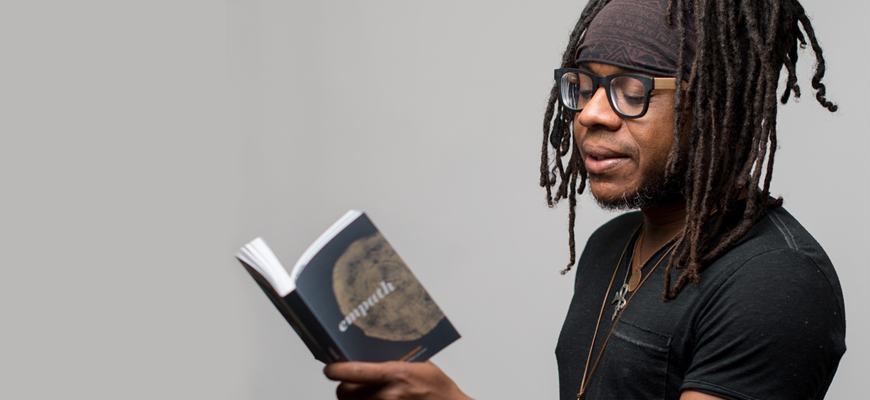 UofSC graduate champions art, culture in Charleston
Benefit for Mother Emanuel families led to poet laureate position
---
By Sophie Bello, '21 visual communications,
fbello@email.sc.edu
---
Marcus Amaker, Charleston's first poet laureate, seems to have a natural curiosity and genuine interest in other people. During a coffee shop interview, the 1999 alumnus of the School of Journalism and Mass Communications answered questions about himself and his career but also eagerly asked questions of his own while enjoying a breakfast of pancakes and freshly squeezed orange juice.
The poet laureate position was created in 2016, a year after the massacre at Mother Emanuel church. The city was hurting and needed to heal. Amaker led a benefit show for the families of the victims with a jazz band and poetry, and future Charleston mayor John Tecklenburg was in the audience. After his election, he called Amaker and shared that he wanted to create a poet laureate position as part of the healing process and to put a stronger focus on art and culture in the city. Amaker was his choice for the job.
As poet laureate, Amaker writes poems for and about the city of Charleston, and he works in schools to encourage kids to become interested in writing. While it is now part of his job, Amaker has volunteered in schools for years, working with children as well as mentoring high school students. "I'm a huge Star Wars fan," he said with a laugh. "So there's that part where Yoda tells Luke, 'pass on what you have learned' and that's what I feel like I'm doing and it feels really good."
When he was a child, poetry felt dead to him, like something that belonged in a classroom, but he always "wanted poetry to be alive." Now, he wants to show that it truly is and wants to give children confidence to pursue writing and the arts. Despite the stigma surrounding artistic careers, he is able to prove that writing as a career can be both fun and profitable.
He started out by writing songs when he was 10, constantly creating in his red notebook. In high school he stopped singing, but he never stopped writing. Amaker said his poems "still feel like songs" to him.
His career as a writer began when he majored in journalism at the University of South Carolina. "I love hearing people's stories and finding out how similar we all are, instead of focusing on our differences," he said as he described how journalism school taught him the skills needed to be able to tell people's stories. As a journalist, he worked at The Post and Courier and created Charleston Scene, the paper's successful entertainment section in which he served as editor and graphic designer.
He is currently the lead graphic designer for the music journal No Depression. Additionally, Amaker does videography, website design and has over 30 electronic music albums, most recently collaborating with Grammy-nominated producer Quentin E. Baxter for a poetry and jazz album. The album is part of the empath project, which includes a book of Amaker's poetry. Find the project and more at Amaker's website.
---
Share this Story! Let friends in your social network know what you are reading about
---