The big blue flip
Margaritaville property development officer Jim Wiseman rediscovers paradise
It's just past noon on a Wednesday, mid-January but 70 degrees. The ocean's as blue as the sky, and my photographer and I are stretched out on a pair of long blue beach chairs under a big blue umbrella — working.
No really. My notebook's in my lap, and to remind myself what it's for, every so often I jot down the title of another Jimmy Buffett song. Kim is on her phone, swiping through photos of palm trees. My boss texted shortly after the cabana waitress sauntered up with my first margarita, and I responded in under 20 minutes.
Sure, I had a margarita at 11 a.m. So did everyone else on this stretch of plowed white Florida sand — the newlyweds tiptoeing the surf, the bare-chested retiree darkening his tan, the mom who flew down from Ottawa to burn off the Canadian winter and watch her 4-year-old build sandcastles.
Welcome to Margaritaville, Hollywood Beach. It's what you do here. The Jimmy Buffett hit that became a baby boomer anthem is now a billion-dollar brand associated with everything from restaurants and resorts to souvenir salt shakers, logo glassware and flip-flops. But there's also booze in the blender, and if you're about to interview the brand's chief property development officer, you can at least get in the spirit.


Son of a son of a Gamecock
The first thing I notice about Jim Wiseman, '79, is his height. He's tall, well over 6 feet. Indeed, his only competition is the giant blue flip-flop sculpture near the front desk. On our way to the pool for a few photos before the interview, I ask if he played basketball.
"In high school, not college," he says, then laughs. "It's funny, I was recruited to play basketball and football everywhere but South Carolina."
Before I can follow up, he's smiling for the camera. In front of a sand-sculpture parrot, against the rail outside the LandShark Bar & Grill. He's an easy subject, a swoop of silver hair offsetting pale blue eyes. He's a good sport, too — posing in a suit and tie, per our request, while guests brush past in board shorts and bikinis. We're thinking 'businessman in paradise.' But we've also suggested a change of clothes, and by the time we regroup for the interview he's in his true element, sporting a Hawaiian shirt, lightweight trousers and, yes, flip-flops.
The Jimmy Buffett Suite stretches the width of the 18th floor. It features a conference table, a dining table, a pool table and a wet bar. One balcony looks out at the Atlantic; another, down the Intracoastal Waterway toward the boats on North Lake. There are as many ways to start the interview as there are sails on the horizon, but I'm still wondering about sports.
"I almost went to the University of Georgia to play football," Wiseman explains. "This was right after [football coach] Paul Dietzel left Carolina, right before Jim Carlen, so it was a weird time. But my uncle, Jerry Beasley, was on USC's board of trustees and was probably the biggest Gamecock of all. He said, 'You can't go to Georgia. You just can't. You gotta go here.' "
The Newberry, South Carolina, native's roots run deep. Both parents went to Carolina, as did two brothers and another uncle, as would his own son, Jimmy Wiseman, '06. Even his maternal grandfather was a Gamecock, in the 1920s. True, Wiseman's dad — James Wiseman Sr. — attended Wofford as well as Carolina, then went to dental school in Kentucky, but he stayed true to the garnet and black, even serving on the university's board of visitors.
As for the Jim Wiseman across the table, he never imagined he'd be where he is now, being interviewed about a blockbuster brand he helped nurture. When he arrived at Carolina in 1975, he wasn't even sure what he wanted to do. He started out pre-med, thinking he'd follow his father's path, but he had a good time, maybe too good, and his grades suffered.
"College is a time for searching, for everybody," he says. "I had a lot of fun and then had to work hard to get out. I almost flunked out and then came back and made the dean's list, so I had both ends of the spectrum. You get to a point where you're either in or you're out."
Switching majors helped. Mechanical engineering is no cake walk, but it made sense. He enjoyed all the problem-solving. He liked his professors. "I learned how to think," he says. "The College of Engineering had all these young guys who used to work for NASA, guys who had worked on the moon landing, and they taught me how to think."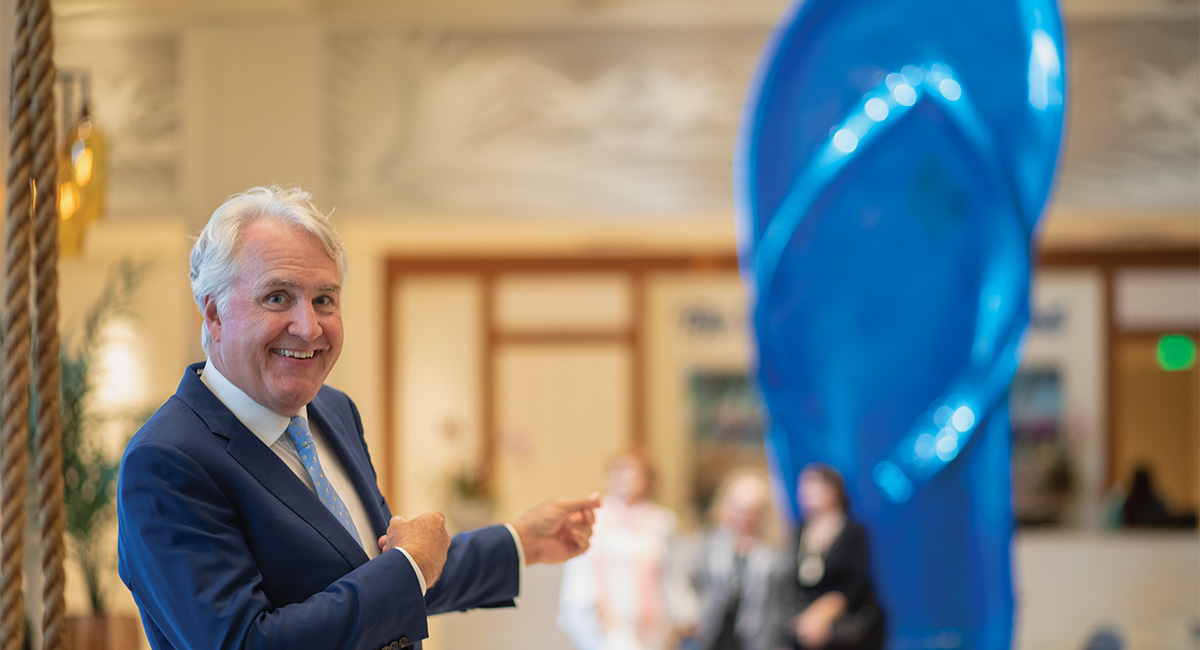 Fins to the left
Wiseman graduated in 1979 and took a job at Duke Power in Charlotte, North Carolina. But being "one engineer in a building with 1,600 other engineers" didn't suit him. Neither did sitting behind a desk all day. At heart Wiseman is a dealmaker, and over the next several years he dabbled in several careers, including concert promotion. His main interest, though, was real estate. He developed Barefoot Landing in Myrtle Beach in the 1980s and later collaborated on a few joint ventures with Burroughs & Chapin, the biggest developer on the Grand Strand.
But Margaritaville is a whole other universe, and you don't get there without at least one blown out flip-flop. Wiseman's came in the shape of a massive development project gone horribly wrong. "Do you remember the Green Diamond story?" he asks. "I was the guy. I was in The State newspaper every day."
If you lived in Columbia at the end of the 1990s, you can't not remember Green Diamond. Burroughs & Chapin bought the 4,500-acre tract along the Congaree River as part of an ambitious development slated to include luxury homes, retail shops, golf courses, you name it. It was billed as "a city within a city," and promised to be one of the biggest single developments the Midlands would ever see — except for one little snag. Nearly the entire property was located in a flood plain.
Wiseman can laugh now, but at the time it was anything but funny. "Burroughs & Chapin said, 'Why don't you come work for us? You can run this whole thing.' They'd already closed on the land," he explains. "Being an engineer, I said, 'Well, give me all the letters from FEMA allowing you to do the development,' and sure enough, they had all the letters. I thought, 'This is great! I've been traveling around all over the place for 10 years. I can be in one place. I can finish my career here — it's a 20-year project! And then all hell broke loose."
By "all hell" he means the perfect storm of bad press, public outcry and courtroom defeats that dogged the project until Burroughs & Chapin finally backed out of the deal. But they weren't done with Wiseman. They asked him to run their development office in Myrtle Beach, and that's when fortune flipped.
Less than a week into the new gig, Wiseman fielded a call from John Cohlan, CEO of a still relatively small company called Margaritaville, which Buffett started with a restaurant and small T-shirt shop in Key West, Florida. By the time they reached out to Wiseman, the company boasted a shiny new restaurant in Orlando and had another under construction in Las Vegas. Now, they were eyeing Broadway at the Beach.
"John said, 'We want to do a restaurant, and my guys say it should be in Myrtle Beach.' I said, 'Fantastic, that's a great idea.' He said, 'Problem is, you have to put up the money.' "
In Orlando, they had partnered with Universal Studios. In Las Vegas, it was Caesar's. But Orlando had generated $20 million in revenue its first year, and there was every reason to think Las Vegas would do even better. And Myrtle Beach? Wiseman smiles, twists the cap off a bottle of water, takes a sip. "I said, 'That's gonna be a little tougher, but I think we can get it all done.' "


Changes in latitude
The Broadway at the Beach Margaritaville restaurant was a hit, but it was another 10 years before Cohlan and Buffett would enter the resort business. In the meantime, Wiseman left Burroughs & Chapin to be a private developer. Then, like everyone in his line of work, he was hit hard by the Great Recession. He was still reeling in 2010 when Cohlan called again. A woman in Pensacola was building a luxury hotel but was unhappy with her partner. The project was 50 percent finished already but needed to open quick. Was Wiseman interested in another joint venture?
"Two weeks later we had a deal," says Wiseman. "The operations guys were like, 'It's too quick, let's take our time.' I said to John, 'This is a once in a lifetime opportunity. I'll move to Pensacola and get the thing open.' So I left Myrtle Beach and helped make it happen."
Since then, things have snowballed. Unlike Green Diamond, which went from bad to worse, the Margaritaville brand has only gotten stronger. Over the past decade, Wiseman has closed deals on 17 resort properties in the United States and the Caribbean. In a few weeks, he'll be at the ribbon-cutting for another, his 18th, near the corporate headquarters in Orlando. That one's a $600 million project, and there's more on the horizon.
"We've got a billion-eight under construction right now, and at least that much again in the pipeline," he says. "We're looking more internationally now because the brand is becoming known."
And just what is the brand? I recognize the music, I've seen the big blue flip-flop. Since I've been in Hollywood, I've had a couple potent margaritas. But how does he sum it all up?
"We do everything in the likeness and the style of Jimmy Buffett," he says. "The life he's lived comes through in the brand. When you say 'Margaritaville,' you get a picture in your mind. It's about fun and escape."


Come Monday
Asked where he'll be next week, Wiseman can't say. Maybe Costa Rica, maybe Orlando. He travels two to three days a week, on average, but if opportunity knocks, he could be headed just about anywhere. In June 2018, for example, the company opened a resort in Gatlinburg, Tennessee, which has since been named the country's "best new hotel" by USA Today. They also just opened their first "55 and better" living communities, dubbed Latitude Margaritaville, in Daytona Beach, Florida, and Hilton Head Island, South Carolina.
"We don't have a business plan," he says. "We've never had a business plan. A lot of this is done organically."
It fits the brand, sure, but I'm not sure I believe him. And yet he says it like it's an advantage.
"It's a huge advantage," he says. "If you partner with another major hotel or development brand, they're going to hand you a booklet and say, 'This is what you've gotta do.' If you come to Margaritaville, it's 'How can we help you do what you wanna do?' There are no time clocks in our office. It isn't 9-to-5."
But as the song goes, it is five o'clock somewhere, and Kim still needs pictures of Wiseman in the Hawaiian shirt. We step onto the balcony. The sky has paled, but the ocean is as blue as it was this morning, maybe bluer. Past his shoulder, I can just make out the umbrellas. Somebody's down there sipping a margarita, I think. Not worried about work, humming Jimmy Buffett.
It's a cliché, but I ask anyway: "Do you ever pinch yourself to make sure you're not dreaming?"
Wiseman leans against the rail, casually, and smiles. "Every morning," he says. "Every morning. Not just some mornings. Every morning. After going through the real estate crash in 2008 and everything else, it's unbelievable. Unbelievable for the brand, and unbelievable for me."