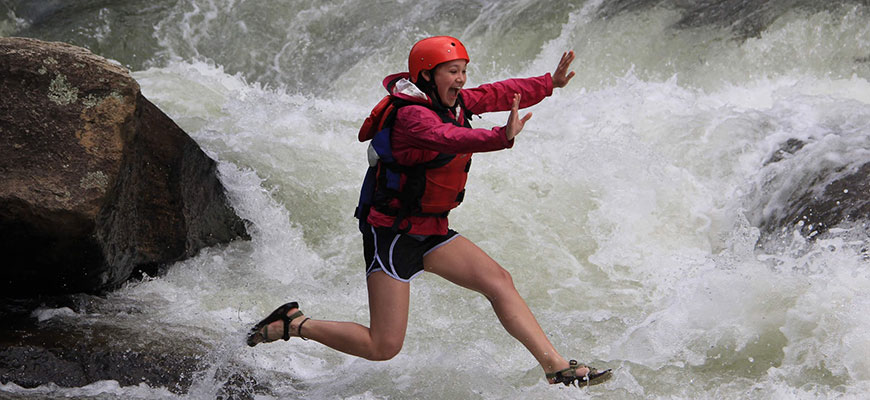 Trips leader encourages Gamecocks to get outdoors
Relieve stress and enjoy the benefits of being in nature by signing up for an Adventure Trip
---
By Josh German,
jgerman@email.sc.edu
---
Ah, the life of a college student: countless hours of studying, classes, work, exams and — in between — a little free time.
University of South Carolina senior Ashley Hamada has a suggestion for students looking to make the best of that precious down time: Get outdoors. Hamada, Adventure Trips manager for Campus Recreation, and the university's Outdoor Recreation team are bringing more attention to stress-relieving activities that can improve both mental and physical health.
Hamada's favorite thing about the outdoors is being able to disconnect. "Whether it be electronics or the stress of a busy work week and being a student, when you're really outside in the elements, you just don't think about that stuff," she says.
"I believe that just being outside definitely has a healing aspect to a person. Call it what you want to call it, but you can feel the benefits after an experience in nature."
For Hamada, spending time in nature after a bad week helps her forget about the stress.
Being in nature, she says, offers an opportunity to self-reflect as well as to stay active and healthy. She points out that outdoor activities such as hiking and backpacking can be done throughout a person's life — unlike some sports — and there will always be new places to explore.
Hamada began working with Outdoor Recreation her sophomore year. She started in the Campus Recreation's rental shops, and because of her enthusiasm for the outdoors, she took on new roles and was promoted to manager in summer 2018. Her goal, though, was to lead trips, so she completed the certification she needed as a wilderness first-responder and was offered the Adventure Trips manager position.
"It has always been one of my passions to plan things," Hamada says. "When I was a kid, my parents would take us hiking and other outdoorsy things like that, so I think that it just carried on with me. I'm from Greenville, so all through high school, I remember planning trips for me and my friends to places around the area, so it just fell into my lap when I came here."
Hamada is majoring in media arts and hopes to find a career path that combines both of her passions.
"I call being a trips manager my 'jobby' because I first got into this because it is my hobby. I would love to be able to make it a career, but I don't know if I would necessarily be doing outdoor leadership, but rather something where I combine my love for outdoors with a role where I focus on the media part of things," she says.
"My dream job would be working for REI or Patagonia as their marketing person. It would be amazing if I could incorporate two things I love."
With the benefits that Hamada sees in spending time outdoors in nature, she is an advocate for students, faculty and staff to find out about and experience the opportunities offered by the Outdoor Recreation program.
Being in a city can present challenges for finding opportunities in nature, so the Adventure Trips team plans excursions to a variety of locations, including the North Carolina mountains and Table Rock in South Carolina. Activities include rock climbing, mountain biking, paddle boarding and canoeing. But Hamada points out there are locations close to campus for getting outdoors, including the Congaree and Broad rivers and Lake Murray.
With the range of trips and activities that Outdoor Recreation offers, Hamada encourages newcomers to be open to things they may have never thought of trying.
"For someone going on a trip for the first time, you just really have to have a very open mind to start. That really helps because things happen. It might be raining on your trip, or it could be anything like that that is unexpected," she says. "It really is just about finding the activity that you like outside and overcoming those small things that would stop you from enjoying the experience. Once you get past them, the benefits and experiences are amazing."
---
Learn more
Campus Recreation offers a wide range of programming from indoor fitness to outdoor adventures for students, faculty and staff. For more information about Adventure Trips, visit the Campus Recreation website.
---
Share this Story! Let friends in your social network know what you are reading about
---