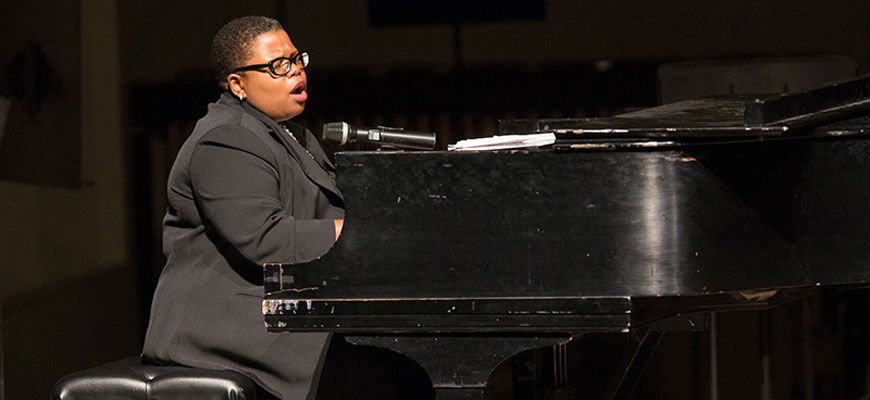 Music scholar explores women's role in '60s protest culture
Musicologist Tammy Kernodle delivers Robert Smalls lecture on Sept. 19
---
By Amanda Hernandez,
hernan56@mailbox.sc.edu
, 803-777-3078
---
The 1950s and '60s were tumultuous decades in America's history, marked by a significant shift in the civil rights struggle. It was a time that inspired artistic reaction from black female musicians whose work often emoted the mourning and anger they felt inside.
Tammy Kernodle, musicology professor at Miami University in Oxford, Ohio, has studied the music that defined the painful era, focusing on various African American music genres such as jazz and pop.
Dr. Kernodle is a dynamic speaker and powerhouse champion of the musical contributions of black women in American society.

– Birgitta Johnson
At the 22nd annual Robert Smalls lecture on Sept. 19 at the University of South Carolina, Kernodle will deliver a dynamic and soul-stirring talk titled "You Better Think About What You're Trying to Do to Me: Black Women, Music and the Performance of Black Anger in Sixties Popular Music." The lecture will take place at 6:30 p.m. in the Hollings Library program room.
"I want to inspire and challenge people to look and listen differently to the civil rights movement, and particularly look at women's voices differently," Kernodle says. "Their voices are often embedded in that movement, which was very male-centric. Music was a way for African American women to insert their struggles into the rhetoric."
Using selected performances by Nina Simone and Aretha Franklin, Kernodle's interactive presentation examines how black women musicians were significant in shifting the lyrical, ideological and performative aspects of 1960s protest culture.
"Dr. Kernodle is a dynamic speaker and powerhouse champion of the musical contributions of black women in American society," says Birgitta Johnson, associate professor in African American Studies and Music, and Kernodle's friend and colleague. "Her talk will illuminate the prophetic aspects of music by soul icons that were often hidden in plain sight of the mainstream pop music industry."
Kernodle is the author of the biography Soul on Soul: The Life and Music of Mary Lou Williams and was the senior editor for the revision of New Grove Dictionary of American Music. She served as the associate editor of the three-volume Encyclopedia of African American Music, the first monograph to survey the history of African American music from 1619 until 2010.
"This year's Robert Smalls lecture will be a multimedia exploration of the praxis and performance of black women's anger during the early years of the civil rights movement," Johnson says.
The annual lecture honors Robert Smalls, a slave, Civil War hero and congressman who had a significant impact on South Carolina with his contributions to political, education and economic reform.
Viewed as one of the most powerful black men in the state of South Carolina, Smalls served in Congress four times between 1875 and 1887, representing Beaufort, South Carolina, where he lived and owned the house in which he had previously been a slave.
During the celebration of the nation's bicentennial, South Carolina Gov. James Edwards issued a proclamation setting aside Feb. 22, 1976, as Robert Smalls Day in South Carolina. On Sept. 15, 2007, the U.S. Army commissioned the first vessel in honor of an African American, the USAV Maj. Gen. Robert Smalls, a 314-foot long, 5,412-ton transport vessel.
The university's African American Studies program in the College of Arts and Sciences established the Robert Smalls Lecture Series in 1997 to share the latest research and scholarship on African American Studies with the community. It has a rich history of speakers from national scholars John Hope Franklin and Darlene Clark Hine to South Carolina figures, including U.S. Rep. James Clyburn, Cleveland Sellers, Nikky Finney and Jonathan Green.
---
Share this Story! Let friends in your social network know what you are reading about
---