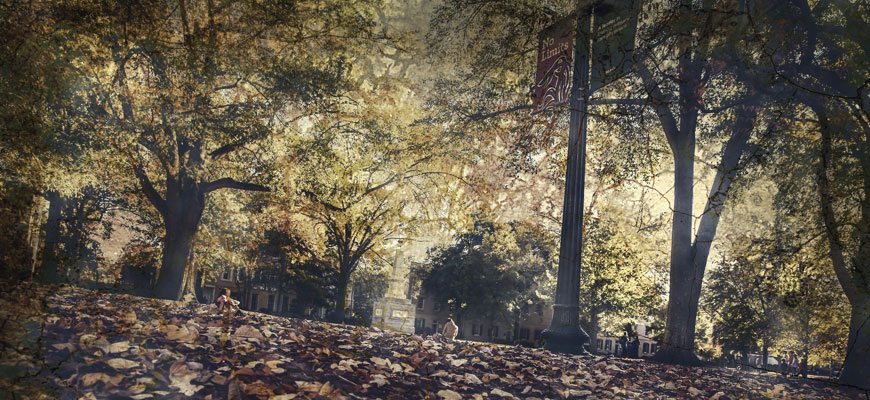 Ghost tours bring UofSC's haunted history to life
University Ambassadors to host annual tours on Oct. 28.
---
By Annika Dahlgren
---
It's about to get spooky at the University of South Carolina. Fall is here, and it brings the 10th annual University Ambassador ghost tours. Later this month, ambassadors will create characters in crazy makeup and costumes to guide students and community members around the most haunted areas of campus.
The ghost tours run only one night a year, 7-9 p.m. Oct. 28, and are an ambassador favorite. Scripts are passed down from year to year, and the ambassadors embrace the tradition by dressing up as zombie students and ghosts from the stories.
"We have scripts that we use for ghost tours, but many of us like to make it our own, and ad lib some of the lines to make them more fun and scary," says Wade Lewis, a class of 2020 University Ambassador.
Ambassadors — who are required to participate in two semesters of tests and training about the university — provide assistance to thousands of people a year. Typically they volunteer at the Visitor Center and lead campus tours for potential new students and families, but they get to take on different roles for the ghost tours. For example, guides interact with visitors and lead them to each stop where ambassadors who are actors may jump out to enhance the scare factor.
"My favorite ghost story is the story of James McKissick haunting the McKissick Museum at night. His grave is fairly close to the building," says Michaela Reilly, a class of 2021 University Ambassador. "There are rumors that you can hear footsteps at night when no one else is around and that you'll hear objects moving and feel cool breezes. It's a lively building during the day, but when all the lights are off at night, it does look pretty spooky."
Building community is what University Ambassadors really strive to do so we are happy to see this event continue every year.

Natalie Lewis, Class of 2021 University Ambassador
Ghost stories and haunted houses increase in popularity in the fall. With Halloween around the corner, people look for ways to get in the spirit. National polls show that one in three U.S. adults believe in ghosts and hauntings.
"People find ghost stories and ghost tours to be titillating and entertaining," says Barry Markovsky, a sociology professor in the College of Arts and Sciences. "For some, they play into beliefs that evoke feelings of pleasure – that our 'souls' exist separate from our bodies and can live on indefinitely, reunite with departed loved ones and stay in touch with loved ones after we depart. They also cause sensations of excitement and fear but in contexts that are safe and controllable."
Many of the ghost stories, such as those about DeSaussure College, Longstreet Theatre and South Caroliniana Library, can be traced back to a person or event that made up the story. Some can be traced to The Gamecock in the 1980s. Some of the stories are recent and the origins are unknown.
"The third-eye man tale stems from a creative writing class at USC in the 1990s. The student who wrote the story posted it online, and people believed it was true," says Elizabeth West, university archivist. "A story in The Gamecock claimed that Longstreet was haunted because it was built on the graves of U.S. soldiers killed during the Civil War. The building was actually constructed in 1855, six years before the start of the war."
The ambassador ghost tours provide a safe and fun way for community members of all ages to get in the Halloween spirit. Tours can be scheduled online through the Visitor Center beginning Oct. 14. While it is recommended you reserve a spot, last minute walk-ins to the tours are welcomed.
"University 101 classes and families from the community come, and it really is a great event. Building community is what University Ambassadors really strive to do so we are happy to see this event continue every year," says Natalie Lewis, a class of 2021 University Ambassador.
---
Share this Story! Let friends in your social network know what you are reading about
---