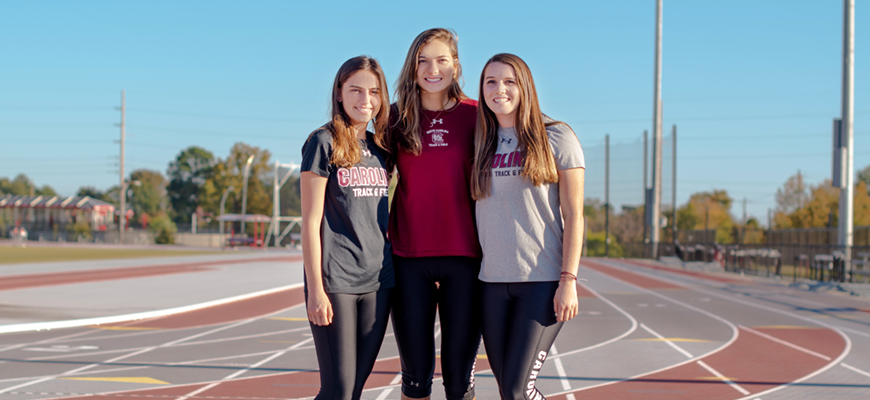 Engineering student-athletes run with focus
Track and field athletes push through rigors of schedule with determination
---
By Abe Danaher,
adanaher@mailbox.sc.edu
, 803-777-5855
---
Hot Charleston air rushes through Sarah Riser's lungs as her shoes pound beneath her. Inhale. Exhale. Left foot. Right foot. A strand of hair cuts across her face and the trees appear as a blur in her periphery, but 19 minutes into the race, the only thing she can think about is the finish line.
Inhale, exhale. Left foot, right foot.
The rhythmic pulse of the moment dispels all other thoughts. The Capstone Scholars personal challenge she has yet to complete, tomorrow's statics midterm, the research write-up Fabio Matta is patiently waiting on — they are all gone. The garnet of her teammates' jerseys flashes between the green of the trees in front of her as the breath of the girl behind her grows louder.
Left, right. Left, right.
There have been times when she didn't think that doing all of this would be possible. Months later, as she sits in the College of Engineering and Computing talking about everything she has accomplished in her three years at the University of South Carolina, she can only laugh when asked about the difficulty of doing this juggling act. But during the race, that's the last thing on her mind. She's focused on finishing.
"If I start something, I have to finish it," says Riser, a junior distance runner on South Carolina's cross country and track and field teams. "That's just who I am. If I am going to do something, it gets as much effort as I can possibly put into it."
She's not alone. Her teammates, Pressley Perry and Rachel Hensler, have the same mindset and maintain the same success despite their overwhelming number of commitments. It's how Hensler has been able to do summer internships, a Maymester study abroad trip and excel in the Honor's College on top of her civil engineering studies and athletics, and how Perry has managed to maintain a 4.0 GPA.
"I know that if I am working as hard as I can, then that's all I can do," says Perry, a sophomore pole vaulter. "And most of the time, if I do that, then I end up happy where I'm at."
Charlie Pierce has seen this kind of success with student-athletes who come through the college. For more than 15 years, he has worked as the department's informal adviser of athletes, while also being an associate professor in the civil and environmental engineering department.
I think these kinds of students, and these three in particular, are incredible goal-setters. They understand that there is a place they want to get to, and they believe that going through this rigorous program and earning an engineering degree opens a lot of doors.

Charlie Pierce, civil and environmental engineering associate professor
He first met Riser, Hensler and Perry when they took his introduction to civil engineering course, and he has seen them grow in the college ever since. Now, he is Hensler's official adviser and thinks the example she and her teammates have set for other students is exactly what the college needs.
"When I see students like these three student-athletes doing what they are doing, it is an opportunity to really shine a light on them as incredible role models," he says. "I am certain that they will go on and be tremendously successful civil engineers."
Growing up in Rock Hill, South Carolina, Perry's Saturdays during football season were spent doing the one-hour, 10-minute drive to Columbia. Her family was filled with Gamecock fans, and by her junior year of high school, her older brother was a student at South Carolina and loving his time in Columbia. Coming to UofSC seemed like the obvious decision for Perry, but there was just one problem: she was "dead set" on not coming.
Perry wanted to get away, see a new city, and she did not want to follow in her brother's footsteps. But her mom convinced her to take a tour of the campus, and after one step on the Horseshoe, her entire perception of the university changed.
"I've always been an outdoorsy person, I guess," she says. "I always thought of Columbia as a bunch of buildings and concrete, and that just wasn't what I wanted. But then on the tour there's the Horseshoe and all the brick and the trees and the grass, and I don't know. It just seemed really homey."
Hensler grew up in Seneca Valley, Pennsylvania, and had never really considered coming to the university. Her parents weren't South Carolina fans, she'd never been to a game at Williams-Brice Stadium, and she had no idea what the city of Columbia even looked like. But her interest was sparked after a conversation with Track and Field Assistant Coach Andrew Allden, and once she learned about the many things the university offered her outside of athletics, she was sold.
"I came on a visit here, saw the engineering school had a good program and really liked the Honor's College," she says. "That's a major reason that brought me down. I liked all the opportunities available at South Carolina."
Despite all three now thriving at UofSC, they say the balancing act has not been easy and that they have had moments of doubt. Perry vividly remembers a phone call with her mother 10 minutes before the athlete's first statics exam as a freshman and the exact words she muttered through the phone.
"It's just not going to happen," she remembers saying. But, after a pep talk from her mom and a decent score on the exam, she was able to get an A in the class. More importantly, she realized she could be successful at the many new challenges that college was throwing at her if she focused on them one at a time.
For Hensler, her summer internship at worldwide engineering and construction company Kiewit showed her the hard work now is good training for later.
"It's a great life lesson," the junior distance runner says. "I worked 11-hour days every day this summer. So, I'm getting prepared for the type of long days that I will have to work in the real world."
Pierce believes that Riser, Hensler and Perry's success, and the success of other athletes he's advised, is no fluke. He thinks the skills engrained in them throughout their athletic careers prepare them to be successful students and, in turn, successful engineers.
"I think these kinds of students, and these three in particular, are incredible goal-setters," he says. "They understand that there is a place they want to get to, and they believe that going through this rigorous program and earning an engineering degree opens a lot of doors."
---
Share this Story! Let friends in your social network know what you are reading about
---