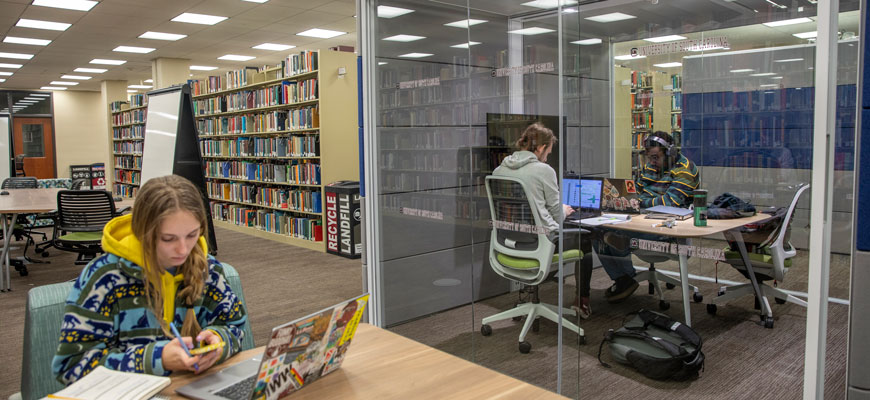 Student Government renovates library floor
Thomas Cooper's fourth floor features new seating space for students to study and collaborate
---
By Annika Dahlgren,
stucomm@mailbox.sc.edu
---
Thomas Cooper Library is ready for another semester of students preparing for exams and assignments with a new and renovated space for collaboration and study. Over the winter break, Level 4 was transformed into an adjustable and versatile space where students can study individually or in groups.
The renovation is part of Student Government's initiative to respond to campus growing pains as the student body grows. The freshman class reached 6,300 students this past fall, and lack of seating is a noticeable problem in the library. The renovation, which was unveiled at a ribbon cutting on Tuesday, increases the library's overall seating capacity by 100.
"Every big research library is in the same situation — we have paper volumes and are landlocked. Our university enrollment continues to increase, and the paper volumes are not used much anymore," says Dean of Libraries Thomas McNally.
McNally cites circulation statistics that show only about 100,000 volumes are used every year, when those numbers used to be in the millions.
"Unused books take up space, and students have no space to sit. Students need to be in the library and need to be able to work collaboratively," McNally says.
The goal was to reduce paper collections, open up the space for students with modern furniture and store books and journals that have already been digitized in a warehouse for easy access in the future.
"We [Student Government] wanted to reinvent space in the library that can be utilized efficiently and can make students want to come to the library more. I assembled a group of student leaders into a committee to pick out various things such as color palette and furniture and to imagine how the space would be used," says Luke Rankin, student body president.
The renovated floor is meant to mimic the Leadership and Service Center in Russell House, which is filled with white boards, media components and even soundproof areas. The center is a space for students who want to get involved to come together, and Level 4 at Thomas Cooper now encourages students to do the same. After studying how students interacted with the space in the Leadership and Service Center, the information was applied to make the library space flexible, bright, intuitive and functional.
New seating includes booth-like couches, bar stool chairs and chairs similar to a first-class airline seat with a footrest, reclining chair, light and movable tabletops. Each area is equipped with charging ports to assist with technology needs. White noise machines were installed to reduce distractions. New-to-the-market collaborative technology pods, which provide a private room with glass walls and broadcasting screens, allow students to seal off sound and monitor air flow. The university is the first in the nation to have this technology.
"Seeing this project completed and come alive is incredible," Rankin says. "The students that have seen it so far say that it is amazing and that it will be their new study hub for the semester. People are very excited, and it has worked perfectly because students have already been using the space."
We [Student Government] wanted to reinvent space in the library that can be utilized efficiently and can make students want to come to the library more.

Luke Rankin, student body president
Rankin adds that the project would not have been possible without the support of university President Bob Caslen and Dean McNally.
"President Caslen and other administrators have a budget that they work with, and they provided us with a little reserve to accomplish this project," he says.
To ensure goals for the project were met, a coordinating team worked together and met weekly over the fall semester to plan the renovation and make sure it was implemented and completed by the first day of spring classes.
"Our university is proud to offer this top-tier learning environment for our students, so that they can learn, collaborate and grow in a facility that meets their needs," says UofSC President Bob Caslen. "Thanks to Dean McNally, Associate Dean Miranda Bennett and our Libraries staff, Luke Rankin and the Student Government Association and to all who made this happen."
---
Share this Story! Let friends in your social network know what you are reading about
---