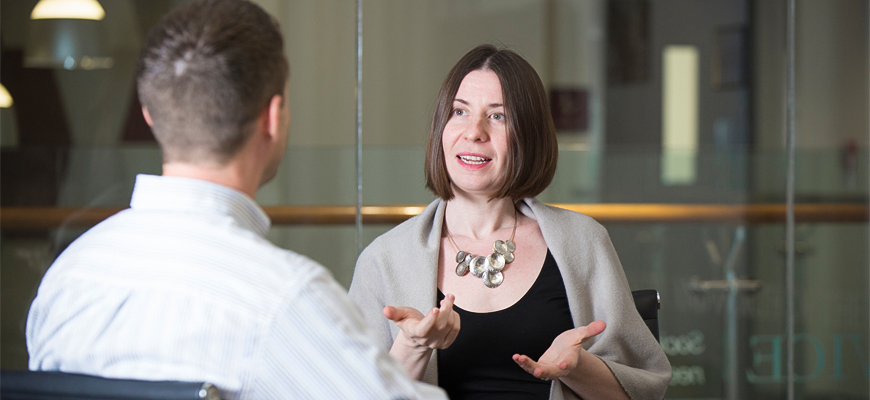 Social work alumni, faculty improving lives in South Carolina and beyond
College of Social Work celebrates 50 years of community impact
---
By Tenell Felder,
tenell@mailbox.sc.edu
, 803-777-3697
---
The University of South Carolina College of Social Work recently celebrated 50 years of improving the lives and well-being of people in South Carolina and beyond.
Two alumni and a faculty member are among the many who are continuing that trend through their degrees in social work.
An unexpected path
Master of Social Work graduate Patrick Patterson has worked in the George W. Bush and Obama administrations, traveled to multiple countries and owns a business — all examples of the unexpected places a degree in social work can take you.
"Social work goes back to my upbringing. When I got to college, it was the field of choice for me because it aligned with who I was," says Patterson, who was an undergraduate at Benedict College.
Patterson came to South Carolina for graduate studies, earning a dual master's degree in social work and public health and initially planning a career in hospital administration.
"I'd only had black classmates before graduate school," he says. "So, when I got to USC it was a bit of a culture shock. I challenged myself and I grew tremendously. My affinity for USC is strong."
While at South Carolina, Patterson also continued his work promoting and supporting fatherhood, a work he would later become known for and that would eventually lead him to the White House.
When he graduated, Patterson worked with Sisters of Charity for a statewide program promoting fatherhood, directly impacting fathers and families in the state.
"For 3 1/2 years I did nothing but assist and encourage fathers in the state of South Carolina," he says.
While in that position, Patterson met Bush, who offered him a position as manager for national initiatives (the National Healthy Marriage Resource Center) in Washington, D.C. He continued under the Obama administration in the National Responsible Fatherhood Clearinghouse.
In recent years, he has returned to the university to speak with social work students about the various career paths a social work degree can provide. He says he hopes to give them a new viewpoint of what students can do and the impact they can have.
"For four years I've been working in the NFL with fathers," he says. "I've traveled the country training organizations, speaking to dads in prisons, in schools. That's not why I thought I would get my degree. … I hope to give students some perspective. If you are passionate about something, pursue it."
I hope (students) have the confidence and skills to go out and lead change and to do that in a way that helps to raise up the voices of groups who don't necessarily have excellent representation.

Christina Andrews, College of Social Work
Making a difference
Like Patterson, a community need spurred Christina Andrews' interest in the field.
Andrews, associate professor at the College of Social Work, worked as a nonprofit management consultant assisting organizations and human services with mental health, homeless services and primary care.
"I saw that substance use was an issue that seemed to cut across the different challenges the organizations were facing," Andrews says. "I decided to go back and get my master's degree in social work because I was very interested in working on a more in-depth level."
After earning her master's degree, Andrews earned her doctorate at the University of Chicago. She became involved in substance abuse research and quickly realized it was her passion.
Andrews began her career at South Carolina as a faculty member soon after.
"I came to USC after completing my Ph.D. at the University of Chicago," she says. "My husband is also an academic, so we were fortunate to both have employment opportunities at USC. That was an offer we could not refuse."
Andrews' research focuses on access to substance use disorder treatment and adoption of medicines to treat opioid disorder.
"The purpose of my work is to determine what is the nature of coverage for opioid use disorder," she says. "What can you access … how does it look different based on where you live? A lot of my work focuses on how households can pay the bills. Particularly low-income families and trying to understand what the realities are in terms of coverage and what the gaps are."
Andrews was invited to serve on the Stanford-Lancet Commission on the North American Opioid Crisis and testified before Congress concerning the impact of opioid misuse and the need for accessible treatment.
"It was a rewarding experience to have the opportunity to have the chance to provide perspective and knowledge that could have some impact on decision-making down the road. … Everything I do, I ask myself, 'Would the findings of this research yield evidence that policy makers can use in the real word to make things better?'" she says.
Andrews hopes her students are able to effect changes in their communities that will benefit those who need it the most.
"I hope they have the confidence and skills to go out and lead change and to do that in a way that helps to raise up the voices of groups who don't necessarily have excellent representation," she says. "To use their training, the communication and practice skills to be leaders in whatever interests them – whether in aging or child welfare or mental health."
"It was definitely helpful to have those classes and electives specifically geared towards the population I knew I wanted to work with,"

Phylicia Currence
Next steps
UofSC alumna Phylicia Currence is well on her way to leading change, particularly for children and young minority women, through her social work degree.
The recent Master of Social Work graduate is a fellow of advanced clinical social work at Yale University School of Medicine's Child Study Center.
Benjamin Roth, one of Currence's professors in the College of Social Work, suggested she apply for the fellowship.
"I was asking for a letter of recommendation for another fellowship and Dr. Roth mentioned this. … It was a very intense interview process," Currence says.
As a part of the prestigious fellowship, Currence works with a caseload of 14 children and their families. She credits her time at South Carolina in helping prepare her for the fellowship.
"One of the classes that most prepared me would be the children, youth and families interventions course I had to take. It may sound obvious, but it is the bread and butter of therapy. This class was very practical. … Learning about policies and developments gave me a great foundation to come here," she says.
Currence's interest in working with children and families came from her parents' divorce.
"I wished I could have gone to therapy to have help as a child," she says. "That led to me wanting to provide help to children and families."
After completing her fellowship, Currence plans to have a private practice.
"I founded an organization, College by Her," she says. "It is about helping minority women transition into college and supporting them through that transition with a heavy focus on mental health. The future plan is for College by Her to become a private practice to offer to girls in high school and college."
Currence credits her time at the university for building the foundation to shape her future toward her ambitions.
"It was definitely helpful to have those classes and electives specifically geared towards the population I knew I wanted to work with," she says. "I also enjoyed – within the cohort of the class – I had a group of people with similar interests. It built a community."
---
Share this Story! Let friends in your social network know what you are reading about
---