Honoring Vonnegut
UofSC alumna Julia Whitehead makes writer Kurt Vonnegut's legacy more accessible than ever
The last time I visited the Kurt Vonnegut Museum and Library I wasn't myself. I mean that literally. I was an interdimensional time traveler, and I'd teleported a very long distance to get there.
Before you come at me with the straitjacket, two words: performance art.
Every September, the Indianapolis museum observes Banned Books Week with a slate of events celebrating our freedom to read. They also choose a "prisoner," someone willing to live behind a wall of challenged books in the museum window, 24/7, for five days straight. It's an homage to Billy Pilgrim, the protagonist of Vonnegut's 1969 novel Slaughterhouse-Five, who is abducted by aliens and put in a zoo on the fictional planet Tralfamadore. In 2017, that prisoner was me.
I slept on an air mattress, listened to readings, banged on a facsimile of Vonnegut's typewriter next to Vonnegut's actual typewriter and otherwise ate my Wheaties, Breakfast of Champions. Ironically, what I didn't do was visit the museum — at least not as a museumgoer.
That's reason No. 1 I wanted to go back. Reasons No. 2 and 3? Julia Whitehead, founder and CEO of the Kurt Vonnegut Museum and Library (KVML), is a University of South Carolina alumna, and this year, after eight years at their 1,100-square foot home on Indianapolis's Senate Avenue, they relocated to a new, three-story space a few blocks away.
Rather than wait for the grand opening last November, though, I returned for Banned Books Week, or as KVML calls it, Freedom to Read Week. I wanted to see them in transition, meet this year's prisoner, and, most importantly, catch up with Whitehead, '94. After all, the former English major didn't just land a career in her field; she conjured one from her own imagination.
Random acts of kindness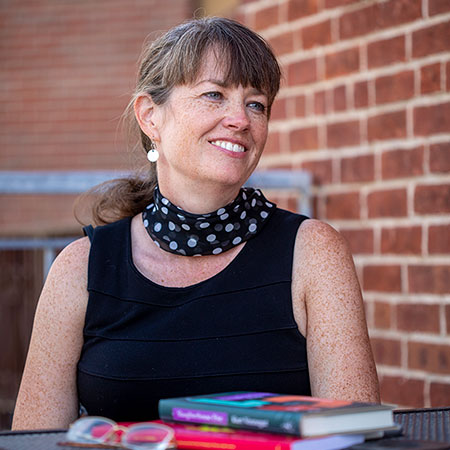 In college, Whitehead wanted to be two things: a writer and a Marine. She read a lot — including Kurt Vonnegut, who she first encountered thanks to her sophomore English teacher at Irmo High School — and she wrote for a small community newspaper. But she also took classes on military history. Her father was a World War II veteran. It seemed like a good path.
"By the end of my sophomore year at the University of South Carolina I knew that wanted to go to Officer Candidate School," she says. "So when I graduated from that and finished college I was commissioned into the Marine Corps."
But her career arc was different than most. A job in the Marine Corps archives led to a job editing military memoirs at Random House. After that, she was recruited by the magazine of the Military Officers Association of America, where she was an assistant editor. She taught English for a year in Thailand then moved to Indianapolis for a two-year gig at the state legislature before taking a job as a medical writer for pharmaceutical company Eli Lilly.
It was around that time that she came into a collection of Vonnegut's books and began revisiting titles she had read when she was younger, like Slaughterhouse-Five. But she also delved deeper: Sirens of Titan, Player Piano, Breakfast of Champions … .
"I'd read Vonnegut, but I wasn't one of those people who read everything he ever wrote," she says. "It wasn't until after I had some life experience, after the military, after I had both of my children, that I really re-discovered him. So I was in my early 30s."
And her favorite? The one she found most personally meaningful? God Bless You, Mr. Rosewater.
The 1965 novel tells the story of an eccentric millionaire, Eli Rosewater, who starts a foundation to give away his fortune. Rosewater is a WWII veteran and volunteer firefighter, like Vonnegut. He comes from a wealthy Indiana family, again like Vonnegut, whose mother's family owned a brewery before Prohibition. Whitehead never served during wartime and came from a more modest background, but the novel's themes struck a chord.
"What I loved about that book was the humanity that Kurt Vonnegut conveys — the ways that he thinks the world could be or should be. Random acts of kindness are appreciated. Money is part of that book, but sometimes it's a small amount of money that helps somebody in a major way."
That philosophy now guides KVML. Witness their recent capital campaign, which kicked into high gear after negotiations for a different new location fell through in January.
In March, they kicked off their campaign with $100,000 pledge. In April, they brought literary heavyweight Salman Rushdie to town for their annual "Night of Vonnegut" and raised $200,000 in 24 hours. In May, comedian Lewis Black, an honorary board member, held a fundraiser in New York. But it was the individual donors who pushed the campaign over the finish line. In the end, more than 1,400 people contributed to the purchase of the $1.2 million building.
"Even now, we don't have an endowment, we're not some incredibly well-funded organization, we're scrappers," says Whitehead. "It's a lot of work, but it's the most rewarding work I've ever done. I think we fill a need that people don't even realize is there."
A human experience
Monday evening, the second floor comes to life — with guests, conversation, a September sunset pouring through the windows above Indiana Avenue. Edgar Derby, a Texas-based singer-songwriter whose stage name derives from a character in Slaughterhouse-Five, strums a guitar in the corner. The prisoner, decked out in prison stripes, sneaks from his paperback cell for a sandwich. Bluebeard, a local restaurant named after a 1987 Vonnegut novel, provided the spread. The restaurant's owners are planning a new outpost, Mr. Rosewater, for the ground floor.
Right now, though, the entire building is a work-in-progress, all 10,314 square feet. A second-floor display contains a few artifacts — Vonnegut's Purple Heart, a Luftwaffe sword mentioned in Slaughterhouse-Five, letters, keepsakes, family photos — but Vonnegut's turquoise Smith-Corona typewriter remains in storage. Likewise, KVML's collection of Vonnegut drawings and doodles, and the hundreds of books that filled the library at the old location. Renderings of future exhibits are pinned to a board outside the third-floor community room, but the walls are bare.
And yet it's business as usual for the staff. Max Goller, KVML's director of education, mans a merchandise table stocked with Vonnegut paperbacks, shirts, even finger puppets. Chris Lafave, KVML's curator, hauls chairs to the third floor, where Jonathan Eller, director of the Center for Ray Bradbury Studies at Indiana University-Purdue University Indianapolis, will give a talk on Bradbury's dystopian masterpiece, Fahrenheit 451.
Whitehead is greeting guests, sneaking bites of bread and cheese. It's been a hectic day. C-SPAN was here to interview the prisoner. So was the local NBC affiliate. Whitehead herself did a radio spot after lunch and has been multitasking ever since. The room is crowded, a little warm. We step onto the balcony, which stretches the length of the wedge-shaped building and wraps around back. A breeze flutters her shawl.
"When you're a small staff like we are, we're all engaged in everything all the time," she tells me. "As CEO, it's not like I'm jet-setting. I'm right there with everyone else, doing whatever is necessary to make this place successful."
Earlier, that meant finding someone to install a water heater so her prisoner can shower. In a few minutes it will mean following the crowd upstairs to introduce Eller and encourage people to come back for the grand opening in November.
"This is not just a static museum. This is a community gathering space, whether the community is Indiana Avenue, the city of Indianapolis or the global community," Whitehead explains. "You can't show up here and not have a real, human experience. We greet every visitor. We're not some huge museum where you might not talk to a single person. That's not us. We're a venue for discussion, and hopefully education."
Motivation and mementos
KVML officially opened in 2011, on the ground floor of a historic building just blocks from their new address. The idea, though, was born three years earlier, on a November evening in 2008, in Whitehead's home. She had attended a memorial service for a local professor, and the tributes put her in a pensive mood. She was still on a Vonnegut kick at the time, and he was on her mind as well.
Her thoughts wandered as she rocked her young son to sleep: What would a Vonnegut memorial look like — not a service but an actual, brick-and-mortar space? Was there, for example, somewhere to explore the author's childhood in Indianapolis? His experiences as a POW in World War II? His struggles as a writer? His struggles with depression? Did a place exist to talk to a Vonnegut expert, meet other fans and discuss his legacy?
"Even though I love his books, it was his life story that mattered the most to me, his ability to go through so many traumatic events and come out with a sense of humor still, and a desire to make lives better through his work," she says.
But when she Googled "Kurt Vonnegut" she was surprised by what she found. Or what she didn't. "There were articles and there was an online society," she explains, "but there really wasn't a place where you could see artifacts, or just learn more about him." And so Whitehead, on what's maybe best described as a lark, invented something from nothing.
"I didn't have any idea about board service, how to create a board, anything like that," she says. "But I called Mark Vonnegut, Kurt's son in Massachusetts, the day after I had the idea. Just cold called him. Because you're never going to get anywhere if the family's not on board. I figured, 'You know, if this guy doesn't like the idea, it's done.'"
But Mark Vonnegut did like the idea. A lot. Since his father's death in 2007, others had pitched projects, but this was different: an actual memorial — "something like a presidential library," in Whitehead's words — in Vonnegut's hometown, run by Vonnegut devotees. She didn't want anything from the family beyond their blessing. Should they wish to donate a memento or two, great, she would gladly display them. But she ultimately just wanted to honor Vonnegut's legacy and carry forth his ideals.
"He asked me all kinds of questions — about myself, about my life, trying to find out what my motivations were — and we just had this wonderful conversation," she says. "He said, 'Why don't you get back to me in a month and tell me what you've been able to accomplish?'"
Whitehead was still at Eli Lilly, "a worker bee," she says, and not a well-connected one. But she had befriended a few Vonnegut buffs around town and that was a start.
"I contacted the biggest Vonnegut fans I knew, those fans knew other fans, and then somebody offered to build a free website, and then somebody did this, and somebody did that," she says, as though it was the most normal pursuit in the world. "Just the right group of people got involved, people who had resources, who had other connections."
The family gave their blessing, too, and an air of legitimacy. They also offered a few artifacts to help get the place going, including Vonnegut's volunteer fireman card, an unopened letter sent to Vonnegut by his father during the war, rejection letters from publishers, a pack of Pall Mall cigarettes found behind Vonnegut's bookcase and that turquoise electric typewriter, the nucleus of the museum's holdings.
A nebular process
After Eller's Bradbury talk, I ask him about Whitehead: what she means to KVML, what KVML means to Indianapolis. He has to leave early — the Bradbury Center is housed at IUPUI, just up the street, but he lives an hour away, in Bloomington. He makes time, though, to sing Whitehead's praises.
"Julia started with very few artifacts that have since attracted other artifacts, including artistic interpretations of Vonnegut's works," he says. "They have been slowly assembling a museum in a virtual sense, and also in a tangible sense, and Julia has had to shape all of that. She's been a leader from the beginning."
Eller, an Air Force veteran, attributes KVML's success partly to Whitehead's own military background: "That's part of her dynamic, and I suspect one reason she's able to make good decisions and see what needs to be done going forward." He also credits the team she assembled, starting with a board that understands Vonnegut's significance to his hometown.
"The city has become aware that they have a real gem in Julia Whitehead," he says. "She pulled this concept together out of what was, in the beginning, an almost amorphous cloud. Now you're seeing a nebular process, almost a solar system forming around Vonnegut here in Indianapolis."
Eller sounds almost like Bradbury himself — it's a great quote — but I don't want to stack the deck. I need another perspective, somebody outside the literary orbit. Not a writer or scholar, not a hardcore Vonnegut fan. And then I remember the mayor. When I visited KVML in 2017, Indianapolis Mayor Joe Hogsett gave a reading from Harper Lee's To Kill a Mockingbird. I shoot his office an email.
"It's exciting to see that the Kurt Vonnegut Museum and Library will have a 'forever home' on Indiana Avenue in the heart of our city," he responds. "What's even more exciting is the fact that KVML received overwhelming support from our community. The outpouring of support shows just how ingrained Kurt Vonnegut's legacy is in the cultural fiber of his hometown."
And that support owes, in part, to Whitehead's programming, which is inspired by Vonnegut's life and work but serves a wider local audience.
"Julia has done an extraordinary job solidifying our city's appreciation for Kurt Vonnegut," Hogsett continues. "Even more importantly, she's done so by growing and contributing to our community in ways that celebrate the author's life."
Powerful reflection
Programming at KVML runs the gamut. They host teacher workshops. They organize writing programs for veterans. They coordinate voter registration drives. Since 2018, they have hosted suicide prevention sessions, recognizing an issue that touched Vonnegut, who attempted suicide himself and who believed his mother's overdose on Mother's Day, 1944, was in fact a suicide.
"But the program I've loved the most was in 2017, when we took Slaughterhouse-Five into an eighth-grade classroom at an inner-city school here in Indianapolis," Whitehead tells me. "That's the youngest we've ever gone with Slaughterhouse-Five. We usually go into high schools, but we wanted to do a pilot program and see how it went."
And it went even better than expected. Some of the novel's themes are over the heads of the average middle schooler, but the trauma that Vonnegut experienced following the firebombing of Dresden during World War II provided a springboard for some powerful reflection.
"After reading the book we had students write about their own personal traumas, and then we brought them to the Vonnegut Library to read their work," Whitehead explains. "It turned out that every single one of those students had gone through something horrible: 'My brother was gunned down in gang violence,' 'My mother got sent back to Mexico.'" Her face sinks. "'My little brother died of SIDS when I was supposed to be watching him but I was playing a video game and wasn't paying attention.'"
It was a difficult process but a cathartic one, and it demonstrated to Whitehead just how far KVML's programming could reach.
"That's the stuff these kids are dealing with. The teacher said to me afterwards, 'We wish we would have known about this program at the beginning of the school year. These kids don't have a chance to talk about these things in a supportive environment."
That supportive environment is critical. KVML's suicide prevention sessions, for example, are run in partnership with the National Alliance on Mental Illness. The education outreach programs are run in coordination with Indiana school districts.
"With all our programs, if it's not something that we feel we're the experts on, or that we're not qualified to do, we bring in the people who are," says Whitehead. "And that's the best way, really."
Heartbeat of the city
Tuesday, I'm at the museum early. I've got the Whitehead interview, but I also want to catch this year's prisoner, Brett Stoker, a high school English teacher from Tipton, Indiana. Yesterday, Stoker conducted class via livestream from the cot in his paperback cell. Today and tomorrow, two more classes are visiting in-person. He slept better last night than the night before.
"I was nervous about the teaching," he confesses. "When you have your classroom, it's you and the kids. Now there was a camera filming me, all these people watching. I really did feel a bit like Billy Pilgrim in the zoo on Tralfmadore. Also, I didn't know C-SPAN was coming!" He laughs and shakes his head. "But today, the kids coming here, I'll be more in my element."
Another news crew arrives right behind students. Stoker talks censorship then defers to Lafave. Per usual, the KVML curator wears a Vonnegut shirt — yesterday's was a Slaughterhouse-Five design, today's features a Vonnegut self-portrait. He peppers his spiel on Vonnegut's life with quirky anecdotes and just enough irreverence to keep a young audience engaged. When he leads them upstairs, the cameras follow and I stay behind to ask Stoker about his history with KVML.
"I first came into contact with the museum through their teacher workshop in the summer," he tells me. "I was a Vonnegut fan, I'd taught Vonnegut — I always teach Vonnegut in my American literature class — and I heard about this place. That's when I met Julia and Chris and Max. I was just floored by their passion. They believe so strongly in the things that Vonnegut believed in, and one of those things is education."
So he came to a few more events. He started to volunteer. Then he approached Whitehead at a poetry reading with a suggestion: their next prisoner should be a teacher. But Whitehead turned the suggestion around. "She says, 'I think you'll be great, Brett.' I wasn't saying I'd do it, but here I am — and it's just really cool."
Even without the exhibits, there's a vibe at KVML, a sense that the next chapter will make the first eight years feel like a prologue. In addition to the new building, which Whitehead says will be paid off by July 2020, they are currently celebrating the 50th anniversary of Slaughterhouse-Five and anticipating another anniversary in a couple years.
"We used to plan from one event to the next," she says. "We still do to some extent, but we also are able to plan further out. Right now, I'm thinking about 2022. That's Kurt Vonnegut's 100th birthday. Between now and then we need to make this the community gathering place we said it would be. And we will."
We're out on the balcony again, looking out over Indiana Avenue. I ask her to elaborate, and she pauses.
"We want this to be a living and breathing building, the heartbeat of the city," she says. "We also want to maintain our standards. Whether we have an event with 400 people, like we had earlier this year with Salman Rushdie, or we have an event and only three people show up, if it matters to those people, then it matters."