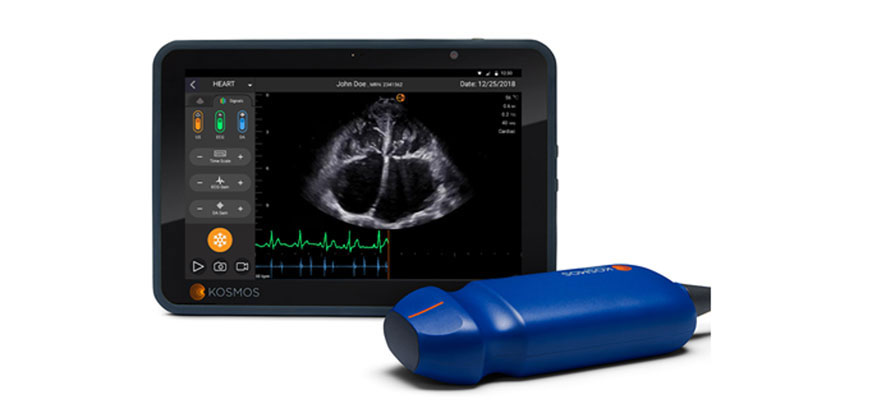 The future of ultrasound
Medical school pioneers new cardiothoracic assessment tool
---
By Megan Sexton,
msexton@mailbox.sc.edu
, 803-777-1421
---
Dr. Richard Hoppmann is a true believer in the power of hand-held ultrasound. Director of the university's Ultrasound Institute, Hoppmann spearheaded the move to make the School of Medicine Columbia the inter­national leader in ultrasound education.
"We've talked for a number of years about a new stethoscope for the 21st century. Well, this is it," Hoppmann says. "I think it is going to fundamentally change how we teach and practice medicine."
He's talking about the Kosmos platform and probe by EchoNous, a new cardiothoracic assessment tool that will combine a hand-held ultrasound device, an electronic stethoscope, and an EKG, all tied together with artificial intelligence.
While he was associate dean of education of the University of South Carolina School of Medicine Columbia, Hoppmann was quick to recognize the role portable ultrasound devices could play in medical care, particularly in rural counties of South Carolina and developing countries around the world. Hand-held ultrasound devices can image major organs of the body, joints and blood vessels and all at a patient's bedside — the point of care. In 2006, the medical school became the first in the country to integrate ultrasound technology across all four years of its medical curriculum. About eight years ago, the idea was hatched to combine heart and lung sounds with ultrasound.
"We cut the tubing of an old stethoscope and slipped a lavalier mic down into it. Then we did a simultaneous recording of an ultrasound of the heart and the heart sounds and said, 'Wow! You can actually see it and hear it at the same time.' Nobody had done that before," he says. "We started working it into our national and international presentations and, at the same time, we were processing a patent for it. When we presented it at meetings, people would come running up afterward asking, 'Is that available?' "
We've talked for a number of years about a new stethoscope for the 21st century. Well, this is it.

Dr. Richard Hoppmann, School of Medicine
The technology for adding sound to ultrasound was licensed about three years ago. Soon after that, EchoNous, a company specializing in medical imaging and artificial intelligence, approached Hoppmann about creating a new hand-held device that combines the functions of a stethoscope, an EKG and ultrasound.
"When you add those three components together, it gives you a tremendous amount of information about the patient," Hoppmann says. "In addition, artificial intelligence will be used within the device to help the learner capture an ultrasound image. It will direct the learner to 'tilt the probe, rotate the probe, etc.'"
AI also allows the practitioner to have immediate access to information about a patient. For example, it can instantaneously compute a patient's "ejection fraction," a figure that measures the amount of blood a heart pumps out every time it beats, determining whether a person's heart is healthy or is failing.
"As individuals, we simply cannot outperform artificial intelligence," Hoppmann says. "There are two primary reasons for that. Medical knowledge has expanded so much there's no way to know everything. You can­not keep up with the literature, because the literature has been growing exponentially. And there is also the matter of the processing power of computers and deep learning. We cannot process large amounts of information as quickly and accurately as today's computers and AI."
But Hoppmann says the addition of AI does not take away the importance of the health care provider. "We should see tools such as these that incorporate AI as a means to provide better care to our patients. Tools enhanced by AI cannot replace the physician and other health care providers because medicine is really, at its core, a human interaction. We should embrace the tools that help us provide better care. And what a fabulous tool this is."
---
Share this Story! Let friends in your social network know what you are reading about
---