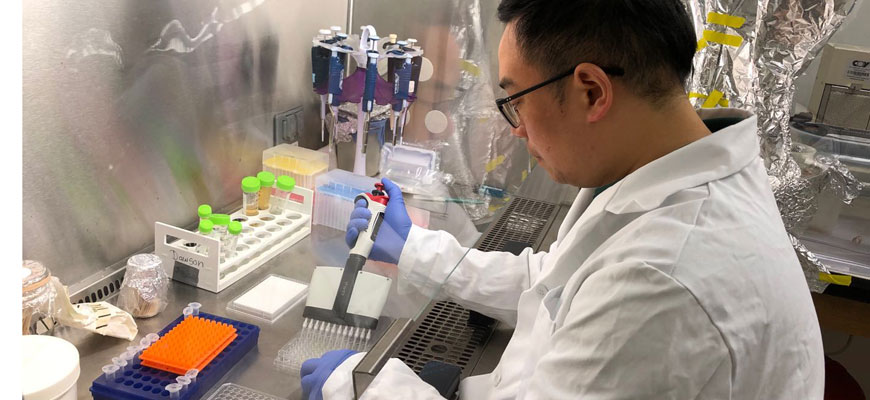 COVID-19 research: Stopping a virus in its tracks
Chemistry faculty member searching vast natural products collection for viral inhibitor
---
By Chris Horn,
chorn@sc.edu
, 803-777-3687
---
While the race to develop a COVID-19 vaccine continues, scientists around the world are also searching for possible new treatments for the disease, which has infected millions and killed more than 350,000 worldwide as of late spring.
Jie Li, a faculty member in chemistry and biochemistry at the University of South Carolina, is using an internal grant from the university's Office of the Vice President for Research to focus his efforts on natural compounds that could short circuit the virus' ability to replicate. His research is aimed specifically at identifying protease inhibitors for SARS-CoV-2, the virus that causes COVID-19.
Development of protease inhibitors for HIV and Hepatitis C in the mid-1990s dramatically reduced the mortality rate of those viruses, which had killed millions worldwide.
"Over the course of our research we have accumulated more than 150 pure compounds, about 3,500 microbial extracts and more than 500 different microbial strains in a library of natural products, housed in my laboratory," says Li, who has been engaged in drug discovery research for several years.
Li aims to test each of the products in his collection for their ability to bind to the main protease of SARS-CoV-2, which facilitates replication of the virus. Li's goal is to find a natural substance that will bind the protease's active sites, thus shutting down the virus' ability to reproduce.
To accelerate the process, Li's team has used computer-based virtual screening to find likely candidates for binding the virus' main protease. This was enabled by evaluating the crystal structure of the SARS-CoV-2 main protease and considering which compounds would best bind with that structure. This computer-aided drug discovery model can also be used to optimize the structure of compounds identified as potent inhibitors of the protease.
Once Li's team has developed a valid test for that function, they will begin systematically testing each substance in the natural products library.
"With high-throughput screening, we'll be able to test up to 96 substances at once, and the screening will take about an hour," he says. "After that initial screening, there will have to be follow-up studies to confirm the biologic activity."
Several protease inhibitor drugs that have been effective in treating other viruses have yielded mostly middling results when administered to COVID-19 patients, though scientists say more testing is needed.
Li's search for an inhibitor of the COVID-19 virus's main protease would stop the virus in its initial attack on humans — viral replication. Once the virus has replicated freely for days, it often prompts a hyper immune response with life-threatening consequences. The final stage of the viral attack involves pulmonary destruction.
---
Share this Story! Let friends in your social network know what you are reading about
---