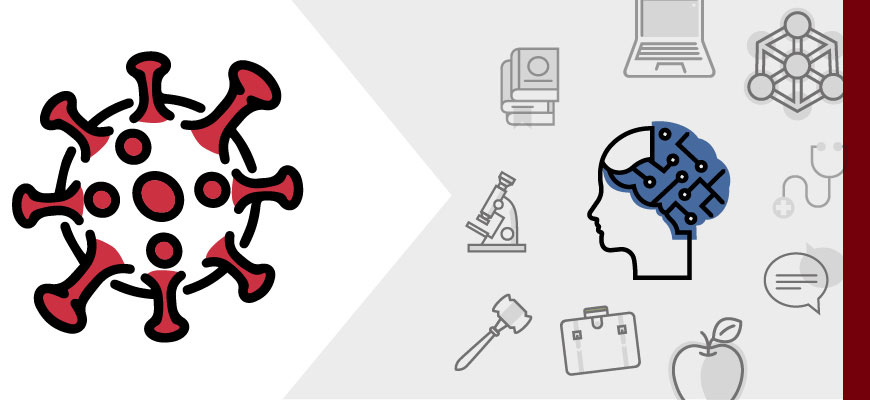 COVID-19 impact: Building resiliency in the time of a pandemic
Psychology professor offers advice on coping and thriving during challenging times
---
By Megan Sexton,
msexton@mailbox.sc.edu
, 803-777-1421
---
As the coronavirus threatens health and upends daily life throughout the world, UofSC Today is turning to our faculty to help us make sense of it all. While no one can predict exactly what will happen in the coming weeks and months, our faculty can help us ask the right questions and put important context around emerging events.
Sayward Harrison is an assistant professor of psychology whose research focuses on how individuals, families and communities can nurture resilience in the face of infectious disease outbreaks. We talked to her about advice for building resiliency in the time of the coronavirus pandemic.
What is one point you've learned from years of research about epidemics that you would want people to understand?
For the past several years, I have studied 'resilience' within the context of infectious disease epidemics. My work has focused on the HIV epidemic — trying to understand how people who are living with or affected by HIV are able to move forward despite all of the challenges. I would want people to know that humans have remarkable capacity to adapt and thrive — even in really challenging situations.
A large body of research has examined how we can help to "build resilience" in ourselves and those around us, and has given us many fairly simple tools that can help in this challenging time. For instance, practicing brief daily acts of mindfulness and gratitude can help reduce anxiety and improve mood. Actively working to change negative thoughts into positive ones can help when we are getting 'bogged down' with all the bad news. Practicing good self-care — eating healthy, getting daily physical activity, engaging in enjoyable activities — is also very important in stressful times, especially for caregivers.
Do you have any examples of strategies families can use at home to ease concerns and cope with the pandemic?
For families, we know that positive, structured parenting is helpful when going through a stressful experience with your children. Families should work together to establish clear, open communication with each other and to set up daily routines and expectations while in the home. This is a stressful experience for both adults and children, and it is normal to get frustrated more often than is typical. Practicing good coping skills and modeling them for your children is really important, and there are many good online and digital tools that can help.
Also, the National Association of School Psychologists has released excellent guidance about how to talk to children and adolescents about COVID-19.
Is there something communities should be doing now and in the coming weeks and months to help improve outcomes for all members?
Absolutely. It is important for communities to be aware of individuals and groups who are most vulnerable during an infectious disease outbreak. Currently, we know that older adults and those with pre-existing conditions — especially those who are immune-suppressed — are more at-risk for COVID-19. We need to work together as a community to practice social distancing in order to protect these individuals. However, it is also going to be important to identify ways to provide social support to them during this stressful, and potentially isolating, time. I think technology gives us lots of amazing ways that we begin to develop new social support systems to check in and care for each other while practicing social distancing.
What do you see as a range of possible outcomes relating to our families and communities as we make our way through, and eventually past, the pandemic?]
One concept that I have studied is "post-traumatic growth" — the idea that while stressful situations like COVID-19 can bring about a lot of bad things, they also can bring about positive changes that we never would have expected. This period of social isolation is going to be challenging, but I believe that there will be good things, things we may never have expected, that will result as well. Family relationships can be strengthened. New hobbies can be developed. Good daily practices — like taking walks or meditating — can be formed. This will be a time of reflection and change for many individuals, and maybe for our society as a whole, and we can have a unique opportunity to chart new courses as individuals and as a whole.
---
Share this Story! Let friends in your social network know what you are reading about
---