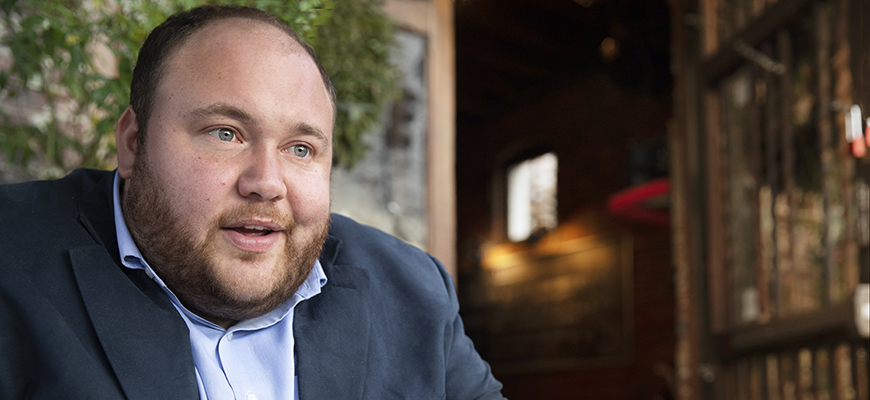 1 tweet, 1 sandwich, 1 beer
White House reporter Josh Dawsey tells it like it is
---
By Craig Brandhorst,
craigb1@mailbox.sc.edu
, 803-777-3681
---
Josh Dawsey is a lowlife reporter.
That's not us talking. That's straight from the mouth of Donald J. Trump. Or straight from his thumbs anyway. Here's the original tweet, which the president of the United States fired off at 10:27 a.m., Nov. 7, 2019:
"The Amazon Washington Post and three lowlife reporters, Matt Zapotosky, Josh Dawsey, and Carol Leonnig, wrote another Fake News story, without any sources (pure fiction), about Bill Barr & myself. We both deny this story, which they knew before they wrote it. A garbage newspaper!"
No matter what you think of the White House or The Washington Post — no matter how inured you might have become to Trump's social media bluster — getting trashed by the president is a big deal. Even Dawsey was surprised.
"I was on the phone when he did it. I heard someone shout across the newsroom, 'He just tweeted about you!'" says Dawsey. "I said, 'Oh, he's been tweeting about our story all morning.' He said, 'No. He tweeted about you.' I thought, 'This is going to be the rest of my day.'"
Dawsey actually tells the story with a touch of newsroom profanity, but not because he couldn't handle what happened that day. Since graduating from the School of Journalism and Mass Communications in 2012, the former Daily Gamecock reporter and editor-in-chief has worked some tough beats. As a reporter at The Wall Street Journal he covered New Jersey Governor Chris Christie and New York City Mayor Bill de Blasio, and he's been covering the White House since Trump took office — first for Politico, then for The Post.
Josh was the toughest Daily Gamecock reporter or editor I worked with over my 11 years as president.

Former UofSC President Harris Pastides
And he's good at it. In 2017, Vanity Fair called him a "West-Wing Savant," "a rising star," "an energetic ink-stained wretch type with a hint of South Carolina drawl," the last compliment eliciting concern from his mother back in Aynor, South Carolina, but nods of approval from newsroom veterans. In 2018 and 2019, he won the White House Correspondents Association's Award for Deadline Reporting.
But in three years covering the Trump administration, the broadsides had never been personal. He had seen it happen to broadcast journalists Chuck Todd and Don Lemon. He had seen it happen to Maggie Haberman at The New York Times and to a couple of his colleagues at The Post. But with Dawsey, the president had only ever gone after the reporting.
"He had attacked my stories dozens of times, but he had never gone after me by name," he says. "He had always made a deliberate effort until that day to attack my work but never attack me. I thought that was interesting. I still haven't figured out why he made that attack, why he broke that wall."
'You're thinking about them all the time'
We're at the Hunter-Gatherer Brewery & Ale House in Columbia, a short walk from the offices of The Daily Gamecock, where a decade ago Dawsey cut his teeth as a student reporter, then news editor, then editor-in chief. It's between Christmas and New Year's, and the Aynor native is enjoying a rare holiday from life inside the Beltway.
But he's still thinking about Trump. He's been thinking about Trump nonstop for three years. The president has been unusually quiet for a few days, he tells me, but that makes him think about Trump even harder.
"Anything he's doing affects me," he says. "His travel schedule affects me. When he wakes up in the morning and decides to make the next week about an issue, that affects me. I spend more of my day thinking about him than I spend thinking about anything else."
Dawsey makes 40-50 phone calls each day, sets up one or two breakfasts each week, two or three dinners, plus coffee meetings — "People from the Hill, people from the White House, lobbyists, people who used to work for the president, people who knew him in New York" — all in an attempt to figure out one man, who also happens to be the most powerful man on the planet.
"But it was the same when I covered de Blasio or Chris Christie," he says. "When you cover someone, you're thinking about them all the time: What are they doing? Who are they with? It's a weird way to live."
'Our job was to challenge the administration'
Before D.C., before New York, before a string of internships helped land him in the upper echelons of American journalism, Dawsey haunted the halls of the university's Osborne Administration Building during the first years of Harris Pastides' presidency. And while it would be ludicrous to compare that gig to his current one — and for any number of reasons — Dawsey took his responsibilities as a student journalist almost as seriously.
"I had a pretty confrontational relationship with Pastides, but to his credit, he usually took my calls, he didn't dodge me," says Dawsey. "I'm not going to say he was always totally transparent, but he understood the role of the student newspaper on campus. Our job was to challenge the administration."
If he needed a comment from the president, provost or someone else in Pastides' administration, and he didn't think normal channels would cut it, he parked himself outside Osborne and waited. If the Board of Trustees was meeting, he spent the entire day listening to their presentations — if just to keep them honest. He showed up anywhere, everywhere, trying to get the scoop.
In an ideal world, there would be less vitriol. But that's not changing.

White House reporter Josh Dawsey, '12 journalism
"Listen," Pastides says when I call him for comment. "Josh was the toughest Daily Gamecock reporter or editor I worked with over my 11 years as president. He always seemed to be lurking in the background. At the times when I was trying hardest to be discreet or confidential, there's Josh Dawsey!"
The emphasis belongs to Pastides: "There's Josh Dawsey, exclamation point" is, in fact, how he puts it. "But he was also fair," he adds. "And he had a knack for getting behind the story rather than reporting events as they might be observed."
Dawsey and his fellow Gamecock reporters took the university to task for tuition and fee increases, housing and construction costs, fraternity and sorority infractions, you name it. It was a piece on employee salaries, though, that got the most blowback.
"We did a story in 2011 — it was the maddest Pastides ever was with me — where we wrote about all the raises people making over $200,000-a-year had gotten, and we printed everyone's salary and the bonuses they got," he says. "That infuriated [the administration]. I was sort of proud of that."
And Pastides himself is proud. Since Dawsey graduated, he has hosted the former student journalist in the president's box at Williams-Brice, bought him a beer during the Final Four and closely followed his career. Last year, while Pastides was in D.C. on university business, he even stopped by The Washington Post — unannounced.
"A university president doesn't typically just drop in on a graduate. Other than that, I probably never did anything like that," says Pastides. "But I decided to do that to Josh because, you know, he caught me by surprise so many times, I wanted to catch him by surprise at least once."
Dawsey also recalls the moment fondly. He gave Pastides a tour, introduced him to his colleagues and took him to the roof to show him the view of D.C. And he is happy to praise Pastides, though like any reporter worth his ink, the compliment comes with a caveat.
"Looking back on it, and even at the time, I thought he was doing a good job. I thought he was a good president," he says. "But that doesn't mean you get a free pass."
'Hope they poison your beer'
Dawsey doesn't get a free pass, either — though he did recently get a free beer from a stranger who recognized him from CNN, where he works a side job as a contributor. And in the immediate aftermath of the infamous Trump tweet, Glen's Garden Market, a restaurant and bar near his DuPont Circle apartment, named a sandwich after him: a grilled cheese with chicken and caramelized onions dubbed, what else? The Josh Dawsey Lowlife.
"And then you also get a lot of crazy hate mail," he says. "If you're a reporter covering the Trump White House for a major publication, you no longer have any sort of privacy."
He shrugs. It's part of the job. He sets down his beer and picks up his phone, wags it as a prop.
"If I tweeted out a picture right now and said, 'Hanging out with friends at a bar in Columbia,' I would get 50 vitriolic replies," he says. "I would get probably 100 replies saying, 'You deserve time off, hope you're having a great holiday.' And then I'd get a few other replies — 'Hope they poison your beer.' You get both. But you can't get obsessed with that."
Besides, he's doing what he loves, what he's wanted to do since college and before that, all the way back to high school when he was the teenage editor of the now-defunct Aynor Journal. Then, it was high school football and the Galivants Ferry Stump, a Democratic Party event held every other year at a local gas station. Now it's the White House and Air Force One.
"You can't want to do this job, want to have a following on Twitter, want to go on television and talk about your stories, want to fly all over the world writing about the president and not be OK with being fair game for scrutiny and attacks," he says. "In an ideal world, there would be less vitriol. But that's not changing."
---
Share this Story! Let friends in your social network know what you are reading about
---