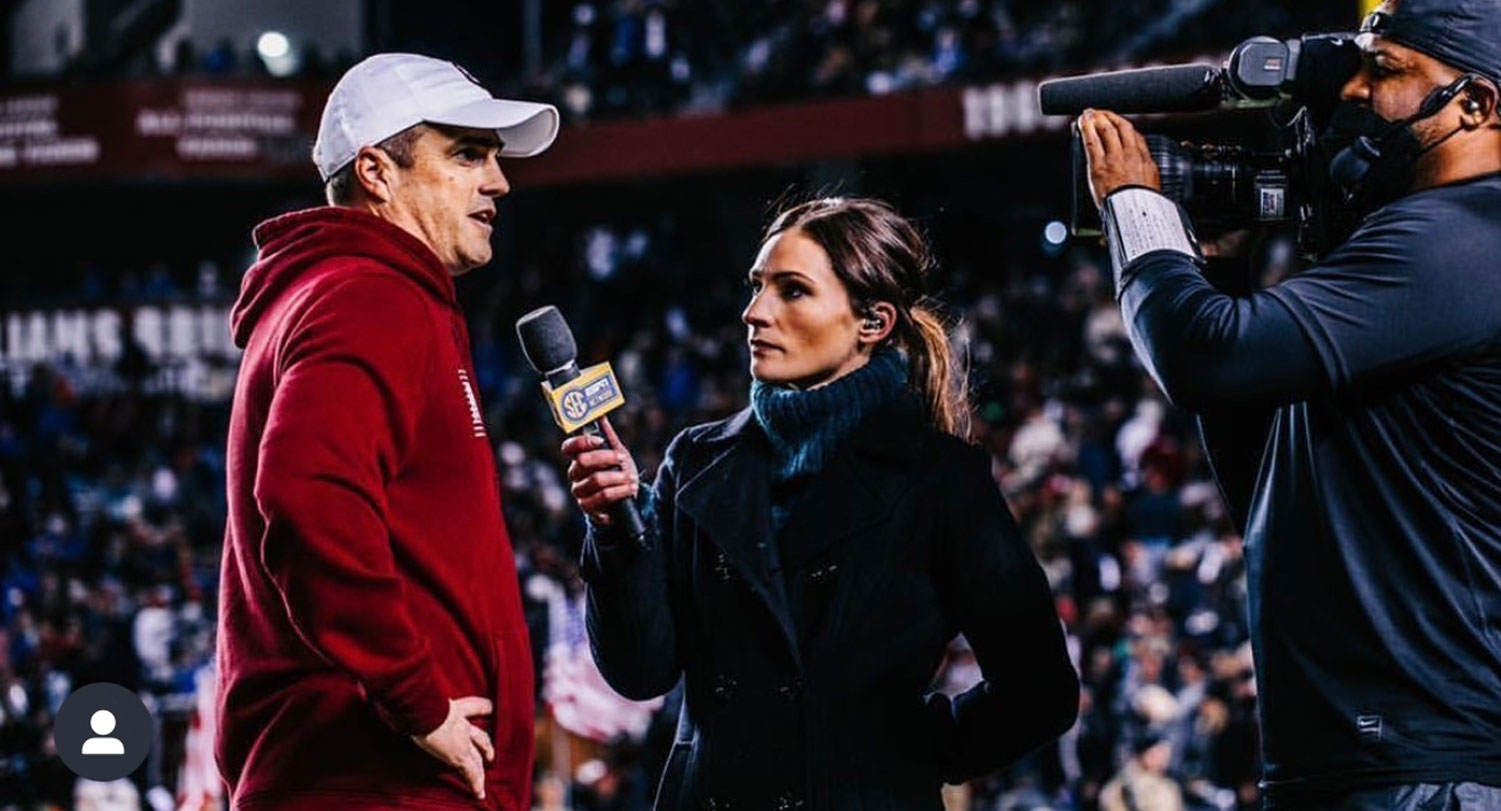 White towels wave to the pulsing sounds of Sandstorm as 80,000 garnet-and-black-clad fans jump and shout GAME-COCKS! The ear-splitting enthusiasm of die-hard Carolina football fans signals a fall Saturday at Williams-Brice Stadium.
And in the center of it all? Alumna Alyssa Lang, 2015 journalism.
Lang, a host, anchor and reporter for SEC Network, gives viewers an all-access pass to one of the most competitive conferences in college athletics. She hosts studio shows, breaks major stories and delivers essential reports about fans' favorite teams.
Lang is known for peeling back the curtain in her reporting, asking the questions on fans' minds and forming connections with coaches and players.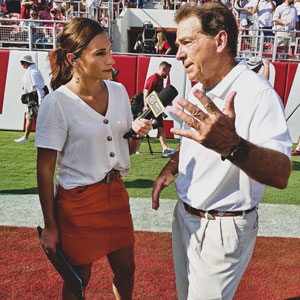 "You get to know them and what makes them tick and who they are as a person," she says. "I take that responsibility of revealing these great stories and these wonderful people to fans. I feel like I'm living out all my passions right now, and it is so much fun."
Although Lang is a lifelong football fan and she played several sports in high school, she never considered making her career on the sidelines. That changed when a teacher pointed out her natural gift for public speaking.
"They said, 'You love sports so much and you love debating everybody in the school cafeteria, why don't you try to do it for a living?'" she says. "It was not something I thought about, maybe because you didn't see a lot of women in the studio talking about college football."
Intrigued by the possibility of a broadcast career and swayed by the opportunities at Student Gamecock Television, Lang chose to study at the University of South Carolina's College of Information and Communications.
"I didn't have to wait until my junior or senior year to get my hands on equipment, and that was important," she says. "I remember working until 3 o'clock in the morning, cutting tape to tape football highlights. I had fun as a college student with friends while also learning those skills."
Art Farlowe, a senior academic advisor who taught Lang's University 101 class, says she stood out even as a freshman at USC.
"I knew Alyssa was going to go big places by the middle of the semester," he says. "She set up a blog for the New York Jets because she was a big Jets fan. Before long, some of the Jets players were following her blog, and they were even quoting her!"
During her senior year, Lang interned with WLTX News 19 in Columbia, quickly working her way up to reporting and anchoring on weekends. She credits WLTX sports director Reggie Anderson for helping to launch her sports reporting career.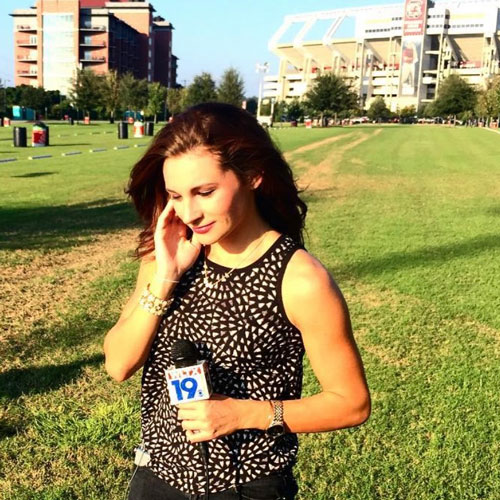 "If there's anything I can take credit for, it's letting her grow and letting her go to big events and give her opportunities to show what she could do," Anderson says. "We put her out there and let her flourish."
After graduating, she worked at WLTX for two more years before moving on to GamecockCentral.com, WCNC in Charlotte and First Coast News in Jacksonville. She was reconsidering her career path in 2018 when a college friend called with an offer to audition for her dream job: reporting at ESPN.
"I just burst into tears," Lang says. "I called my dad, and I think his jaw was on the floor for 10 seconds because it was just silence on the other end. Then he was screaming because this was our dream come true."
Lang earned her place in the national spotlight less than five years after her college graduation thanks to her ambition and determination, but she says she won't ever stop putting in the hard work.
"I have my dream job, and my goal right now is to live in the moment," she says. "As cliche as it sounds, I want to just keep getting better and continue to try to perfect my craft."
She is also dedicated to making sure the future continues to shine even brighter for future generations of women in sports journalism. Just as she grew up seeing trailblazing journalists like Erin Andrews and Suzy Kolber, she hopes to help the women who follow her.
"I feel most fulfilled when I get to have conversations with young reporters," she says. "I feel extremely grateful when somebody reaches out to me asking for my opinion. If I'm in a position to give confidence to other people or to let others in this industry know that they're not alone, hopefully I can make somebody's journey a little bit easier."