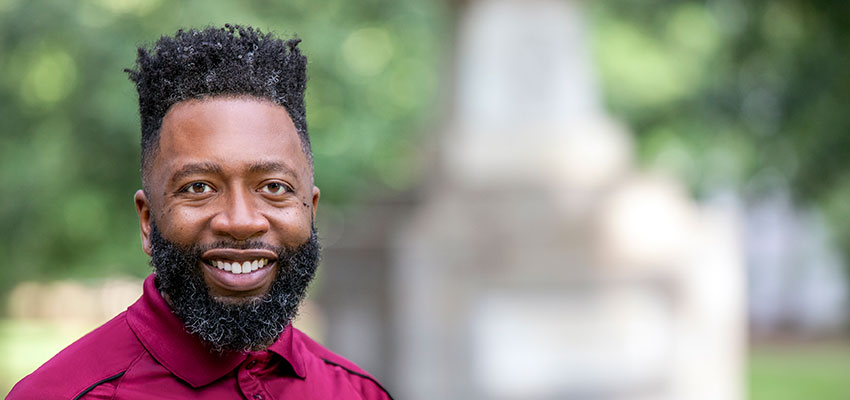 Diversity VP calls for bold leadership to build more inclusive UofSC
---
By Dan Cook,
dancook@mailbox.sc.edu
, 803-777-7366
---
Julian Williams is the University of South Carolina's first vice president for diversity, equity and inclusion. He comes to UofSC from Virginia's George Mason University, where he served as vice president of inclusion and diversity. UofSC Today asked Williams about the challenges and opportunities of this moment.
Having served in positions addressing diversity and inclusion at several higher education institutions, what do you see as some of the common challenges we all face?
Our common challenges are access and inclusion. Access in terms of ensuring that all individuals regardless of background, race and socioeconomic status have access to the transformative power of a higher education like what is available at the University of South Carolina. In my opinion, too many institutions are chasing notions of "elitism" instead of focusing on the public need for higher education. I firmly believe that higher education changes lives and trajectories and ultimately improves society. In order to do this, we must redouble our efforts at creating pipelines of opportunity for students of color.
Higher education is at a crossroads at this moment and it is essential that we intentionally commit to attracting, recruiting and retaining diverse groups of students, faculty and staff, while providing an inclusive, nurturing environment that allows them to flourish and thrive.
With the ongoing protests following the killing of George Floyd, there is renewed momentum and urgency around issues of racial equity. What are some of the challenges — and the opportunities — that this moment presents?
I remain attuned to this special moment we find ourselves in as a country. The energy that I felt while protesting in my former home, Washington D.C., a few weeks ago, was infectious, energizing, and makes me optimistic. We are in the midst of the largest global civil rights movement in modern history.
I truly believe that we are at a moment where we can address longstanding issues of racism, inequities and systemic oppression. I believe we are at a moment where we can de-normalize these societal ills that have been allowed to thrive too long. As a public flagship university, we have role to play in these conversations nationally, but also and more importantly on our campus and locally.
I believe that we must be continually listening and engaging with each other to chart the path towards a more inclusive UofSC. Meeting this moment will require bold leadership, new ideas, full acknowledgement of our complex institutional past, and dialogue.
One of the particular challenges at the University of South Carolina is the state Heritage Act, which prohibits state entities from changing the names of buildings. How can the university show itself to be a place that values equity and inclusion when it is legally prohibited from changing the names of buildings that many people find offensive?
As a public flagship university, I believe that we have a duty to ensure that our physical spaces on campus fully reflect our values of inclusion, equity and diversity, while also affirming our diverse multitude of faculty, staff and students. As a Black man, I fully understand what our UofSC community is telling us regarding the problematic nature of these names.
President Caslen has created a commission to continue to research the history of these names, but also provide recommendations for further action. I feel strongly that we as a university must consistently listen to our community on this issue. I encourage our community to use their voices on any matter they feel strongly about and I look forward to continual engagement.
I believe that we must be continually listening and engaging with each other to chart the path towards a more inclusive UofSC.
So much of higher education involves working with faculty and administrators. How do you make sure this work connects directly with students, too?
My philosophy is simple: Make myself available. As a student activist as an undergraduate at the University of Michigan, there were pivotal moments where I felt that students of color didn't have the ear of university leadership. My philosophy is to listen to students, establish relationships and collaborate. Additionally, I'd like to hire at least two students to work in the Office of Diversity, Equity and Inclusion as I endeavor to build a unit to lead these important DEI efforts on campus.
What's something about yourself that people would not get from reading your bio?
As a person who has lived with epilepsy since age 8, I have a deep appreciation for the members of the UofSC community living with both seen and unseen disabilities. So much of inclusion and diversity education is focused on our differences that we can see. Race and gender, for example. While I believe strongly in those focuses, I always like to emphasize increased focus on disability status as well. I'm excited about joining the Gamecock community and expanding our capacity for inclusive excellence.
---
Share this Story! Let friends in your social network know what you are reading about
---