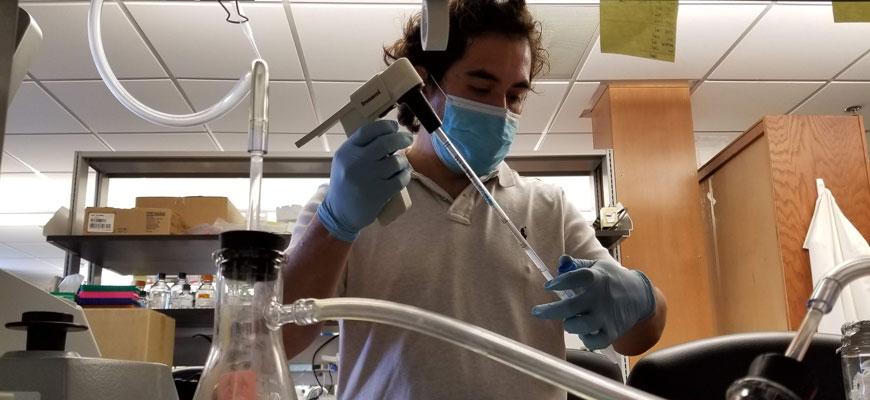 U.S. Navy veteran embarks on a new mission to earn doctorate
---
By Bryan Gentry,
brgentry@sc.edu
, 803-576-7650
---
Before Marco Hernandez was incubating proteins in a laboratory, he was flinging fighter jets from aircraft carriers. The veteran's job in the U.S. Navy was to maintain and operate the steam catapults that launch jets and the cable systems that catch them as they land.
Rising early every day, Hernandez and his fellow sailors launched one airplane after another, often until midnight. They worked in 120-degree weather while the jet engines roared at more than 130 decibels.
"It's very tiring. It's very intense, physically," Hernandez says. "You think you can't do this very long, but then your body starts building up to it. It's amazing to know that your body can withstand so much. Once you're there, you love it."
Now that he's a doctoral student in biological sciences at the University of South Carolina, Hernandez's work is quieter and calmer. But it shares a thread with his service in the Navy ― his commitment to a purpose higher than himself, looking beyond the moment.
Born and raised in Oaxaca, Mexico, Hernandez always knew he wanted to study science.
After finishing high school, he immigrated to the United States and started taking courses at community college.
"Originally, I wanted to study marine biology, but as I studied more about how the cell works, I got more interested in DNA and cell replication," he says. "When it was time to transfer a four-year college, I didn't have the funds. I decided to join the military."
At first, Hernandez enlisted in the Navy to earn education benefits through the G.I. Bill. But boot camp was transformative, he says.
"They remodel you to be a sailor," Hernandez says. "Everything you do for the next four or five years is to accomplish the mission that's been given to you."
He developed that laser-focus on doing his part to support the larger mission. In his five-year Navy service, Hernandez deployed twice, spending about two years in the Persian Gulf and the Red Sea. He helped launch the last aircraft for Operation New Dawn (formerly Operation Iraqi Freedom) in 2011, and he supported Operation Enduring Freedom in Afghanistan. In 2013, after the Syrian government used chemical weapons against civilians, Hernandez's unit traveled through the Suez Canal to reach the Mediterranean Sea. He launched reconnaissance airplanes to monitor the civil war. This work led to his entire unit receiving the Navy Unit Commendation ribbon, an award that recognizes units for acts of heroism.
Hernandez usually did not know the destinations or tasks assigned to the pilots he launched off the aircraft carrier. Often, that information was classified. His focus was on the overarching mission, which he supported by working with his team. He and his fellow sailors looked out for each other.
"When you're on the flight deck, you look after everybody's safety and other people look after your safety," Hernandez says. "It becomes automatic. I've seen people getting hurt on the flight deck, and I also saw people saving others from getting hurt.
"Living in close quarters for so long with people makes you create this bond. You don't find that anywhere else," he says. "To this day I still keep in touch with my friends in the military."
When he completed his military service, Hernandez returned to the purpose that first prompted his enlistment — getting an education.
"I had to step back and think where I left my life before becoming a sailor," he says. "Now that I'm back to being a civilian, where am I heading to?"
Hernandez started by re-enrolling in community college because he needed his science courses to be more recent to transfer to a university. Then, he earned his bachelor's degree at the University of Washington and worked in a laboratory for a year before coming to South Carolina, where his family lives in Beaufort County. After being away from them for 10 years, he wanted to be closer.
But there's another reason the Palmetto State drew him in. The University of South Carolina launched its Bridge to Doctorate fellowship program in 2019, which provides financial support to science and engineering doctoral candidates from underrepresented backgrounds. Hernandez is among the first to receive a Bridge to Doctorate fellowship at UofSC.
Hernandez plans to complete a dissertation focused on molecular biology, and then he wants to explore careers in academia as well as industrial laboratories. His educational path has been far from traditional, but it's been worthwhile to keep pursuing it, he says.
"That persistence is a direct effect of my time in the Navy. It made me see the world in a different way," he says. "You've got to work for your goals. In this case, my mission now is getting a Ph.D."
Banner image: Navy veteran Marco Hernandez is one of the first students to receive a Bridge to Doctorate fellowship at UofSC. He is studying molecular biology in the College of Arts and Sciences.
---
Share this Story! Let friends in your social network know what you are reading about
---