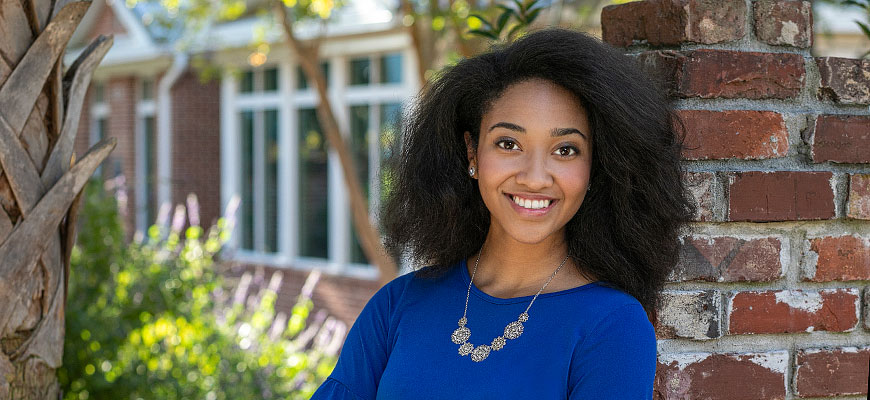 After tragedy, student finds new beginning at UofSC Honors College
---
By Megan Sexton,
msexton@mailbox.sc.edu
---
Antonia Adams' story is filled with tragedy. It's about devastating phone calls, vigils in hospital rooms and more sorrow and gut-wrenching decisions than a college student should ever face. But above all, it is a story of perseverance, about fighting through the uncertainty and sadness with a belief that education can restore confidence and hope.
It's a story that starts in Edgefield County, where Adams grew up "in the middle of absolutely nowhere. Peach trees and cow pastures, that was my backyard. Literally," she says.
She had what she calls a normal, middle-class upbringing, born when her mother was 44 and her father was 47. Her parents instilled in her the value of hard work and the importance of education, with her mother earning her college degree with honors at age 60.
Adams thrived in the public schools in her hometown. She was the high school valedictorian and a delegate to Palmetto Girls State. She was involved in band, public speaking competitions and leadership roles. After graduation, she attended a private college, where she considered herself a typical student.
That changed with a visit home during Thanksgiving break during her sophomore year. Her mother, looking sick and thin, revealed that she had been diagnosed with stage 4 colon cancer. Adams had just turned 20, and her mother convinced her to return to college for the spring semester, wanting nothing to get in the way of her daughter's education.
But the cancer quickly spread and stopped responding to chemotherapy. A phone call in February told Adams she needed to come home, immediately. Her mother was given only a few months to live; she died a couple weeks later, on March 5, 2017, at age 64. The morning after the funeral, her father became very sick. She drove him to the hospital, where doctors found he was bleeding internally, and discovered a tumor on his colon.
He was hospitalized in April, and Adams quickly took responsibility for his care, spending days and nights at the hospital, holding his hand, singing Happy Birthday to him as he turned 68, doing everything to make him comfortable. After consulting with doctors, Adams made the decision to remove her father from life support. He died on May 26, 2017.
"After that, I was absolutely hopeless," she says. "My mom and dad were my best friends. When I was at college, I called them all the time. We were always together. When they passed away, it was the hardest thing I could ever imagine dealing with."
I want to use my story; to let someone see if you let people have a chance, if they have access to education and resources, they can recover from anything.

Antonia Adams
She didn't return to school, and spent the next year managing the estate, figuring out bills and trying to see her way through the chaos. Eventually, she enrolled at Piedmont Technical College in Greenwood, South Carolina, and she went to work rebuilding her confidence and dealing with the grief of losing her parents.
"A lot of people there reminded me, 'You absolutely have potential. You will get through this. You have to remember what your mom and dad said.' They knew they were dying. My mom said, 'You will go back to school.' My father said the same thing, 'You're going to be successful.' "
She eased back into her studies and saw she had the strength to continue. She found her path again, finding work at Piedmont Tech as a student employee and a presidential ambassador. She got involved in diversity issues, and eventually was elected president of the student body. She worked at a car dealership to earn money.
She started thinking about her next steps, with her eye on the University of South Carolina. After earning a 3.95 GPA at Piedmont Tech she was accepted into the Darla Moore School of Business and the South Carolina Honors College in the fall of 2020. Her experiences handling her parents' estate, dealing with probate court and medical bills, inspired her interest in business and law.
She jumped right into campus life at South Carolina, becoming a peer leader at the Leadership and Service Center. And while she presented at the regional Student Leadership and Diversity Conference on the Columbia campus while she attended Piedmont Tech, this year she is helping to plan the conference as a UofSC student. She is a Gamecock Guide, helping to tell the university's story on social media channels. She also is part of the Civic Leadership Education and Action Team, involved in voter registration initiatives and sharing election information on campus and online. She earned a 4.0 GPA for the fall semester.
"I'm doing well in my courses, and I love the business program here and the opportunities for diversity and leadership. There's so much opportunity for students to have a voice here," she says.
Now 24, she expects to earn her degree in economics with a minor in political science in two years. She then hopes to attend law school at Georgetown University, focusing on public policy law. She thinks a run for public office may even be in her future.
"I want to help people like me, who are dealing with unfortunate circumstances. I know how I felt most of the time, trying to figure out the world. It's hard. And I understand that. All it takes is a little bit of hope. Even if you haven't put yourself completely together, you can continue to move and continue to progress," she says. "Losing my mom and dad opened my eyes. Something like that, it changes everything. I love the idea of going to Washington and helping make those laws for people who are struggling. I want to use my story; to let someone see if you let people have a chance, if they have access to education and resources, they can recover from anything.
"I love being involved. I still grieve for my mom and dad. But I'm finding my way back again."
---
Share this Story! Let friends in your social network know what you are reading about
---