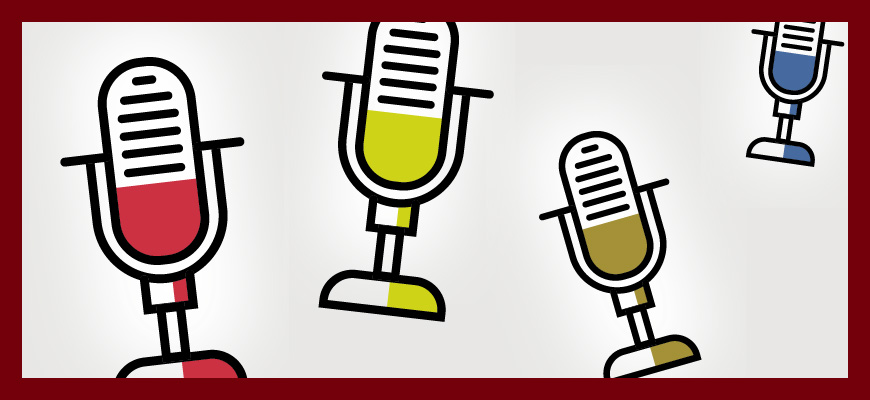 A podcast for every Gamecock ear
Array of shows produced by university students, staff and faculty
---
By Chris Horn,
chorn@mailbox.sc.edu
, 803-777-3687
---
The steady rise in podcast popularity has produced a bountiful crop of shows for listeners worldwide — 1.75 million and counting — including a growing list of podcasts produced by University of South Carolina faculty, staff and students. It's a trend that likely will continue as the number of regular podcast listeners keeps rising. More than 60 million Americans are weekly podcast enthusiasts, consuming an average of seven shows.
Several South Carolina faculty members are now using the popular podcasting medium to showcase their scholarly expertise beyond the classroom. Students, too, are using the medium to explore the college experience and important social topics.
So, what's on tap for those who want to hear shows from the University of South Carolina? Here are some of the podcasts we know about; let us know if you have a favorite university-affiliated podcast we missed.
Exploring our past
Remembering the Days explores the rich and sometimes quirky stories from the university's 220-year history. The podcast is produced by UofSC's Office of Communications and Public Affairs and appears every two weeks during the academic semesters, serving up episodes ranging from light-hearted (student streaking in 1974) to sobering (stories of enslaved people at South Carolina College).
The view from the top
Get an executive perspective with State of the University with Bob Caslen, a monthly conversation hosted by Sally McKay (School of Law) with the university president and special guests.
Faculty deep dives
Are true crime stories your thing? Check out Undisclosed, a show about wrongful convictions, co-hosted by School of Law professor Colin Miller. The show has cultivated a national following with some 75,000 Twitter followers, and actor Jon Cryer is narrating weekly bonus episodes for the podcast's second season.
David Lankes and Nicole Cooke, the director and Augusta Baker Endowed Chair, respectively, in the School of Information Science, focus on libraries in the wake of protests and the pandemic in their show, The Skillset Podcast, a joint effort with the South Carolina Center for Community Literacy and Publishers Weekly. It features conversations with library directors, activists and educators exploring how libraries are changing to meet the needs of their communities amid the Covid-19 pandemic and the movement for social and racial justice.
Conversations about race and culture take the spotlight in Faculty Lounge: Anti-Blackness in Higher Education, hosted by Toby Jenkins, an associate professor and director of the College of Education's Museum of Education. The podcast streams via SCETV.
The back stories of every monument and marker on the South Carolina State House grounds come to life in Historically Complex, a podcast hosted and produced by Lydia M. Brandt, an associate professor of architectural history.
The ElevatED4SC vodcast focuses on moving the discussion around education from traditional reform ideas to real transformation.
Student persectives
With some 70 million people having been forced from home by conflict and persecution around the world, the global refugee crisis is acute but often ignored. Several students in the Carolina Global Scholars program at Maxcy International House produce Seeking Refuge, which brings stories about refugees and those who advocate for them.
Closer to home, Student Government vice president Hannah White is the host for 1801 Live, which addresses topics ranging from civic engagement and environmental justice to the transfer student experience and race relations on campus. It's one of several podcasts produced by Garnet Media Group, which includes The Daily Gamecock, Garnet & Black magazine, SGTV and WUSC-FM. (Check out the complete list of Garnet Media podcasts, past and present.)
The Patchwork Feminist, produced by Garnet Media Group and hosted by student Kayla King (alumna Lyric Swinton started the show), focuses on issues that deal with women and women of color.
Sip of Success, also produced by Garnet Media Group, discusses a wide range of topics affecting students, from the future of notetaking and ethical volunteering to a conversation with the president of the competitive lettuce eating club.
Columbia Chronicles, a partnership between Garnet Media Group and the School of Journalism and Mass Communications, discusses news and important issues in the greater Columbia area. The podcast is produced by the "Honors Podcasting in the Public Interest" course, taught by SJMC instructor Laura Smith.
The Education Abroad Office recently released their new podcast, Global Gamecocks, that shares stories from students, faculty, and staff.
Improving Health
The School of Medicine Columbia's S.C. Center for Rural and Primary Health Care presents Growing Rural, a diverse and authentic depiction of the issues facing rural South Carolina, as well as celebrating its successes. Center director Kevin Bennett is the host.
The School of Medicine Greenville has launched Just What the Doctor Ordered, a monthly dose of medical news you can use.
With the pandemic grinding on, Student Health Services offers up Hear Me Out, a podcast about mental health issues. One reviewer commented: "Serious topics but also entertaining! Guests talk about real life that students can relate to ..."
In the arts
Hosted by Koger Center director Nate Terracio, the Koger Center Arts Roundup features interviews with influential people in the arts community.
Upcoming
Two more university podcasts are in the pipeline and anticipate releasing their first episodes this spring:
Major Decisions, a podcast about the academic majors in the College of Arts and Sciences, will share stories about how students chose their majors and their advice for students considering those majors. The show is aimed primarily at prospective and current students who are in the process of choosing a major.
In the works at the Center for Civil Rights History and Research is Our Story Matters: A Civil Rights History Podcast, a monthly show that will tell remarkable, little-known stories of the people who struggled for civil rights in South Carolina. Bobby Donaldson, the center's director and an associate professor of history, will be the host.
---
Share this Story! Let friends in your social network know what you are reading about
---