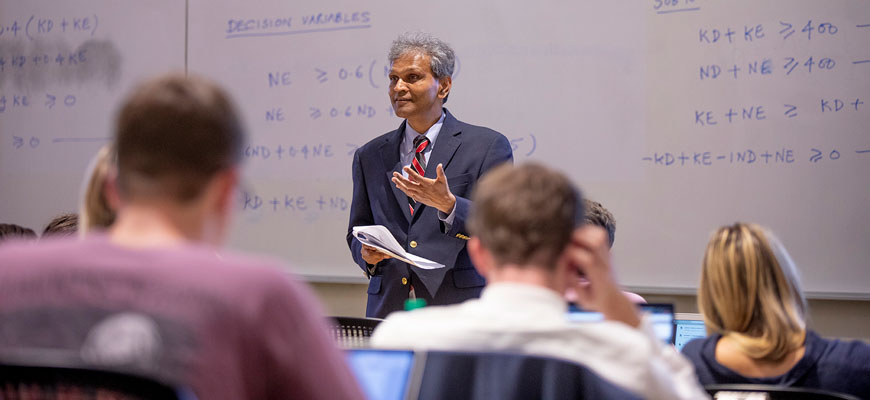 Operations and supply chain project could save lives in cancer clinical trials
---
By Marjorie Riddle Duffie,
marjorie.duffie@moore.sc.edu
, 803-576-7337
---
A team of Moore School operations and supply chain students learned during the spring semester how they could save a life — without ever stepping foot in a hospital.
Team members were focused on reducing the time it takes Hollings Cancer Center at the Medical University of South Carolina to activate industry-sponsored cancer clinical trials. Their recommendations for more efficient processes could get a patient started on a trial before their cancer becomes terminal, and the treatment could be approved faster by the Food and Drug Administration for eligible patients, saving many more lives.
"The stakes are really high; if a trial isn't approved in time, the patient unfortunately could pass away," says TJ McCoy, a recent operations and supply chain graduate who will work with Bell Helicopter in Dallas, Texas, this summer. "With our recommendations, we have the ability to reduce the likelihood of the outcome, which is someone dying. The project is one of the coolest things I've done in school."
The project was part of the new Operations and Supply Chain Humanitarian Initiative to improve operations, business processes and supply chains at nonprofit organizations – and ultimately – make their work more impactful. Students and faculty members partner with for-profit companies, who will sponsor semester- and yearlong projects for the nonprofit organizations.
Led by faculty mentors Sanjay Ahire and Jack Jensen, the student team who worked on the cancer trial project also included Julia "Lane" Herlong, Shang-Yi Peng, Scarlett Pho and Trent Stroup. They recently presented at the 2021 Industry Summit their 23 strategic recommendations to improve the cancer trials' overall time to activation by about 30 percent — solutions that could ultimately keep patients from dying.
High stakes for cancer trial activation
With the current administrative time the Medical University of South Carolina invests before trials even begin, about 50 percent of the trials they tried to launch in recent years didn't have a single patient enrolled in them. By the time they were ready to begin the trial, the patients' cancer had progressed too far, they had already moved on to a different trial or they had died, says Herlong, a recent operations and supply chain and international business graduate who will begin working with Deposco in Atlanta this summer.
With industry trials, if MUSC didn't get the trial underway in a more expedited manner, the trial could end up going to a bigger city, which not only takes funding away from the school but also forces South Carolina patients to go farther away to participate in the lifesaving trials.
"The students and our faculty applied the same principles of agile process design on this project that were implemented in the highly effective Operation Warp Speed COVID-19 vaccines development initiative that saw the vaccine development timeline compressed from years to months," says Ahire, a professor and co-director of the Moore's Operations and Supply Chain Center.
While the students learned a great deal about analyzing a complex process, the recommendations they made could make a real difference by decreasing the patients' clinical trial wait time by a third.
"While we have completed numerous process improvement projects with Fortune 500 firms, the MUSC project has been both challenging and valuable to mentor — students came away with a sense of mission, and we helped with useful recommendations to flow the clinical trial studies quicker through the activation process," says Jensen, a clinical professor of operations and supply chain management who has led projects alongside Ahire over the past 10 years.
MUSC's Patrick Flume says he admired the way the students grasped the complexities of clinical trials across several universities. Flume, an M.D., directs MUSC's Adult Cystic Fibrosis Center and is the Powers-Huggins Endowed Chair for Cystic Fibrosis.
"Helping us improve our processes to speed up the startup time is essential because time matters to everyone: to the study drug sponsor and our teams where there are financial considerations but also especially for the patients, where time, and more of it, is what they want," Flume says.
Learning the intricacies of clinical oncology trials
Most students who participate in the senior capstone projects through the Moore School's center must get up to speed with the company's business challenge. For the MUSC cancer trials project, the students also had to familiarize themselves with the clinical oncology trials that includes an intricate multi-step process to match patients with trials that best fit their situation.
The Moore School team analyzed multiple data sets from various clinical trials and had detailed conversations with MUSC staff and affiliates to inform their 460-point operations data map, says Stroup, a recent operations and supply chain and management graduate who will begin working with NFI Industries in Gaston, South Carolina, this summer.
Through interviews with various groups associated with the clinical trials within MUSC and across eight universities, including Dartmouth College, University of Rochester and the University of North Carolina, the team conducted internal and external benchmarking for MUSC's current processes, says Peng, a recent operations and supply chain and international business graduate who is returning home to Taiwan this summer.
Pho, a senior operations and supply chain, finance and Honors College student who will graduate in December, says the group learned valuable skills beyond the scope of the project. For example, the team presented a 200-plus-slide report to more than 20 research and administration leaders from MUSC.
Faculty aiming to make a difference
Ahire and Jensen closely oversaw the MUSC group's project because of the high stakes for the possible outcomes as well as the organization being one of the first to take part in the center's Operations and Supply Chain Humanitarian Initiative.
In recent years, Ahire's undergraduate courses have focused projects that help socially missioned nonprofits become more efficient.
This service sparked an idea for Ahire to create a pipeline for socially missioned nonprofits to participate in the Industry Summits, which since 2008 have partnered teams of students and Moore School faculty with business executives to increase efficiency. These partnerships have amounted to more than $280 million in recurring cost-savings measures. Companies pay to participate in the projects; with the initiative, some nonprofits are now being sponsored by larger corporations.
Ahire created the Operations and Supply Chain Humanitarian Initiative to give back to community organizations in three ways. A partnering organization or individual donor sponsors a nonprofit of their choice or one chosen by Ahire and his colleagues. Or a nonprofit with a social mission pays for their project.
In each instance students serve organizations that provide vital services like the MUSC cancer trials, Harvest Hope food bank and United Way Association of South Carolina, which has 25 branches that serve vulnerable populations across the state.
Ahire sees these nonprofit projects as an opportunity to give back to the community.
"The capstone course has completed more than 290 projects for the for-profit companies. In the next five years, such an initiative will be even more impactful," Ahire says. "For nonprofits, it won't just be savings in dollars but savings in lives and dignity for vulnerable populations, right? That's the idea."
Banner image: Sanjay Ahire was one of the faculty mentors for the Moore School student team who worked on a project that resulted in recommendations for reducing the time it takes to activate industry-sponsored clinical trials at Hollings Cancer Center.
---
Share this Story! Let friends in your social network know what you are reading about
---