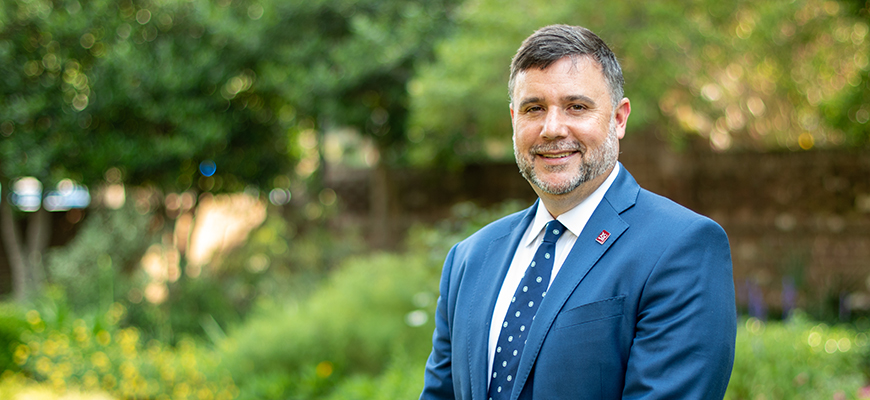 Cárdenas named interim dean of College of Hospitality, Retail and Sport Management
---
By Abe Danaher,
adanaher@mailbox.sc.edu
, 803-576-7780
---
David Cárdenas has been named the interim dean of the College of Hospitality, Retail and Sport Management, effective July 1. He succeeds current interim dean, Matt Brown, who is returning to his role as chair of the Department of Sport and Entertainment Management after leading the college since July 2020.
Over the past five years, the college has seen tremendous growth in the quantity, quality and diversity of its students, including a 23.5% increase in freshman enrollment. As interim dean, Cárdenas will ensure this success continues by supporting the faculty and staff who make it possible.
"I love UofSC," says Cárdenas, who began at South Carolina in 2011. "I love the college. We've got the best students; we've got the best faculty and staff. We are growing, our enrollment keeps growing, and we have a successful and energized alumni base, which is awesome."
Currently, Cárdenas is the associate dean of academic programs in the College of HRSM, where he oversees its curriculum, international programs, student services, and alumni and corporate engagement. In his time as associate dean, and in collaboration with each of the college's units, he helped revise the retail management curriculum, moved the Bachelor of Arts in Interdisciplinary Studies degree online, developed a minor in event management and began a joint master's degree in sport and entertainment management with Qatar in the lead-up to the country hosting the 2022 FIFA World Cup.
"The potential for our college is endless. Creating exceptional experiences is at the heart of what we do, and our industries have the power to connect cultures, inspire adventure, strengthen global economies and enrich people's lives.

David Cárdenas, HRSM interim dean
William F. Tate, the University of South Carolina's provost and executive vice president of academic affairs, believes Cárdenas is the right person to lead the college forward.
"David's investment in creating an inclusive community of scholars represents one of his many important leadership traits," Tate says. "His dedicated commitment to a student-centered community aligns with the university's strategic plan. David is a talented thought leader. He is prepared to advance HRSM during this important stage of the strategic plan's implementation."
Ten percent of the state of South Carolina's economy comes from the hotel, sport, retail, and food and beverage industries — making the college's students integral to the state's economic success. Despite the pandemic's effect on those industries, Cárdenas believes the demand for customer experiences and services will be higher in the post-pandemic world than ever before. And he will ensure that the College of HRSM and its students are prepared to meet that demand.
"The potential for our college is endless," he says. "Creating exceptional experiences is at the heart of what we do, and our industries have the power to connect cultures, inspire adventure, strengthen global economies and enrich people's lives. When people aren't working, we are the ones who help them go to a sporting event, a concert, out to dinner, shopping, or to travel the world. After a year of social distancing, people are itching to enjoy life. And I think there is going to be a huge rebound in the industries we serve."
---
Share this Story! Let friends in your social network know what you are reading about
---