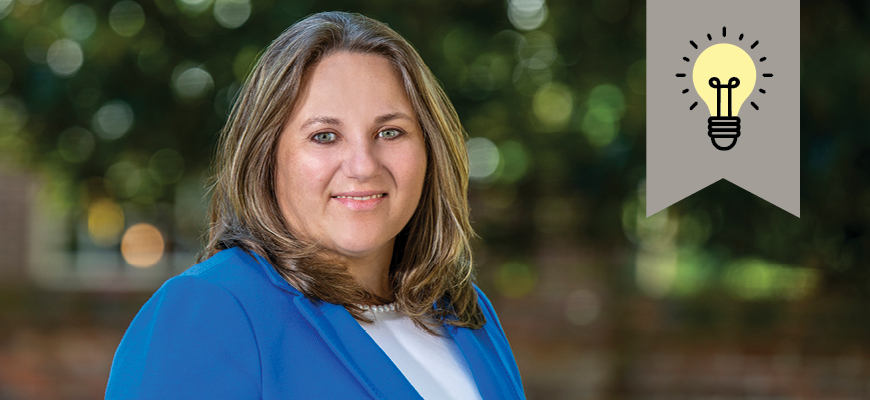 Mungo teaching award: Marketa Kubickova
Hospitality industry professor pushes students to think outside the box
---
By Chris Horn,
chorn@sc.edu
, 803-777-3687
---
Marketa Kubickova
Associate professor, hotel, restaurant and tourism management
College of Hospitality, Retail and Sport Management
Ph.D., University of Central Florida
2021 Mungo Undergraduate Teaching Award
Joined UofSC faculty 2014
I knew I wanted to study hotel management since I was a teenager. I was immersed in the industry from the time I was born as my family owned and worked in the hospitality sector in my hometown. It's in my blood and I absolutely love it. During my college studies, I had faculty who were passionate about the industry, and that impression stayed with me. In all of my classes, I share with my students my own experiences working for some of the best companies in the world. My approach to teaching is to show students the passion and love I have for the industry, how fun and exciting it is and how many opportunities it can provide to them.
The way I teach my students is to make them prepare to be future industry leaders, open their mind to new horizons and encourage them to think outside the box. I want them to be prepared for the real-life challenges of today's environment. In my recent teaching evaluations one student wrote how they loved the discussion blogs as it provided them with an opportunity to expand further on what is out in the real world and further their knowledge. It helped them explore what is happening in the industry and to keep up with new trends and issues. I always try to center my teaching around real-life situational cases, where students have to provide solutions and think outside the box.
The key to success in our industry is the people. Anybody can go and build beautiful hotels, but your employees are the ones who will play a main role in determining the future success of the organization they work for. Our students need to learn how to become successful managers and leaders in the industry and the community.
I connect with my current and former students on LinkedIn. Often, they reach out to me and ask: 'Hey, Doctor K, do you know about any job openings?' or 'Do you have any advice for my upcoming job interview?' My door is always open for any of my students and at the end of each semester I always tell them: 'Once you become directors, you are going to be my future guest speakers in my class. I want you to come back and inspire the next generation.'
At the beginning of my teaching career, I went by the textbook and just lectured. But over the years I have realized that the textbook is just a guide as our industry continuously changes and evolves. I had to adjust and make my classes more engaging and interesting for my students; it had to be inspirational and fun at the same time. I am always trying to incorporate videos, articles and guest speakers in my classes. At the end of each semester I'm thinking, 'How can I improve my class? Are there any new topics that need to be included in discussions or lectures?' As an educator, it can be difficult sometimes to know if you have impacted your students. I always say it's like raising kids. You hope to do your best, but you may not see the impact until later when your students return to your classroom as guest speakers, industry partners or colleagues. That's when we know, yes, we did a good job.
In the classroom, it is very important to listen to your students and be yourself. Coming from the industry, I share with my students my own successes, failures and the enthusiasm I have for the industry. I treat my students as my 'guests.' I believe that life is not black and white, rather, a lot of gray exists, and we, as educators, must understand our students in this ever-changing time. Life happens and a little compassion goes a long way.
---
Share this Story! Let friends in your social network know what you are reading about
---