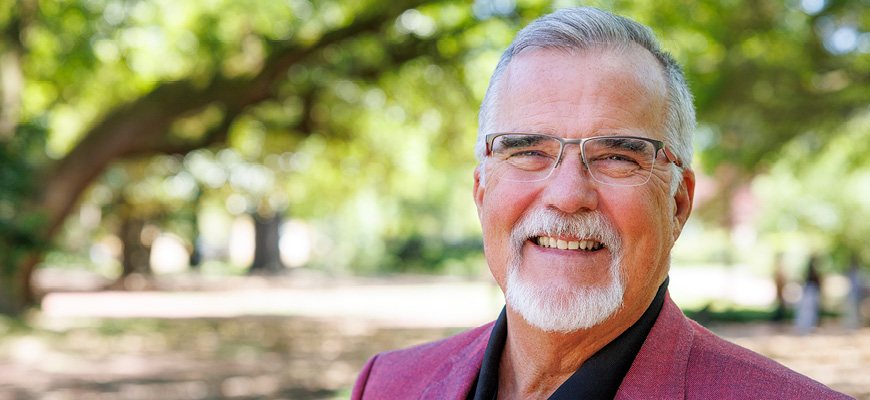 HRSM professor helps grow sport, entertainment management program
Andy Gillentine is a 2022 Mungo teaching award winner
---
By Megan Sexton ,
msexton@mailbox.sc.edu
, 803-777-1421
---
Andy Gillentine was on the path to his career goal of becoming an athletics director at a large university — until he found himself teaching in a college classroom as a graduate student in Mississippi.
He had spent 15 years working as an athletics director, teacher and coach in high schools in Oklahoma, Missouri and Louisiana. He had earned his master's while working full time and raising his family, and he knew he didn't want to try to balance all of that again. So he took a year's leave of absence from his teaching job and started his Ph.D. at the University of Southern Mississippi, where he was offered a fellowship while he completed his classwork with an emphasis in sports administration.
He expected to do his internship work in the athletics department, but with a wife and three children, finances were important, and he was offered more money to teach at the university while he worked on his doctorate.
"And it was one of those strokes of luck. I came to that proverbial fork in the road. So, I gave up working with athletics and ended up teaching. And we kind of created my degree while I did it," Gillentine says. "I also was able to teach students who wanted to go into sports administration, and I had such a great time doing that. I called my school district and said, 'I'm going to take another year off.' And they said, 'OK, well, your job is here if you want it.' But I never went back."
He could see the need, and he realized his future would be in the college classroom – preparing students for careers in the growing field of sport management. After earning his Ph.D., Mississippi State hired him to start a master's program in sport management in 1995. Eight years later, the University of Miami wanted someone to revitalize a graduate program and start an undergraduate program. He thought he would spend the rest of his career in Florida.
I love when the lightbulb goes off above their heads; when suddenly it all makes sense. When they go to an event and they start to notice all the little things.

Andy Gillentine
Then the University of South Carolina called.
"People hired me to come build things or fix broken things, even in my coaching career. So, you get that reputation of being the fixer. This was a completely different opportunity. Here they had a well-established, good undergraduate program. They had just started a master's program," Gillentine says. "So I thought, 'Well, here's a chance to join a program that's already got a good reputation, is doing well, and maybe we can build on to that.'
"It was a different kind of opportunity and thank goodness I took it because it's been nothing but great stuff since I got here."
"Here" is the Department of Sport and Entertainment Management in the College of Hospitality, Retail and Sport Management, where Gillentine is a professor after previously serving as associate dean of the college and department chair.
In his years at UofSC, the size of the HRSM undergraduate program has tripled, the master's programs are 10 times as large and the university has started a successful Ph.D. program. The college's programs are included in top national and international rankings, and the faculty has grown, too, drawing industry stars to share their knowledge in the classroom.
And each year, the college attracts a larger pool of highly qualified students, coming to the university to study the business aspects of sports and entertainment.
"I think (we've been successful) by being honest with students and then, in a very professional and friendly way, being demanding of what we expect out of the kids," he says. "Here, you can get a really broad and deep view of the industry. And then we help them get placed."
And, above all, Gillentine still enjoys his time working with students in the classroom.
"I love when the lightbulb goes off above their heads; when suddenly it all makes sense. When they go to an event and they start to notice all the little things."
Gillentine says he challenges students to look for where event staff and venues are doing well or not so well, or where they are leaving money on the table.
"I tell the students I don't want to ruin going to the event for you, but if you're going to work in this business, that's the way your brain has to work," he says. "Our world is to make sure we put together a safe and hopefully profitable environment. I'm pretty excited for them, and that makes the teaching part fun."
---
Share this Story! Let friends in your social network know what you are reading about
---