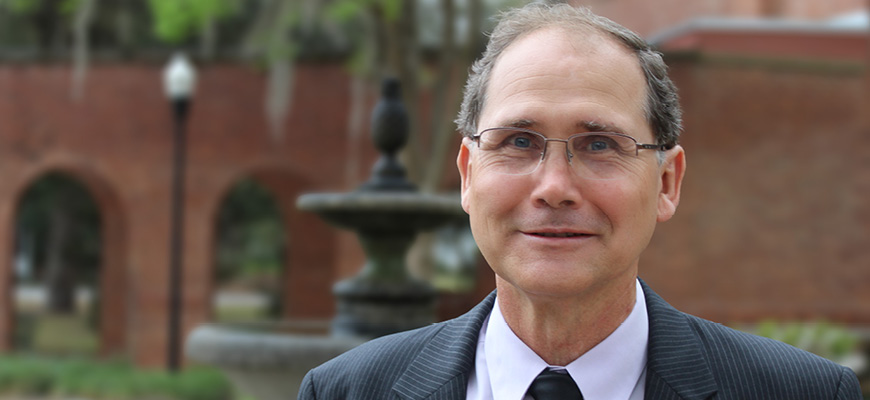 A mission to make a difference
Chemistry professor at USC Salkehatchie is 2022 recipient of John Duffy Excellence in Teaching Award
---
By Chris Horn,
chorn@sc.edu
, 803-777-3687
---
When you hear Francis Burns talk about his devotion to students and consider the diverse climates where he's practiced his teaching craft, the postal's creed — "neither snow nor rain nor heat nor gloom of night…" — comes to mind.
Burns' academic career in chemistry began in Ohio and has included postings in Texas and Michigan, a Navajo reservation in Arizona and a Kurdish university in Iraq. Burns has used those diverse experiences to fine-tune his approach to teaching and has settled into his faculty position at USC Salkehatchie, where he recently received the 2022 John Duffy Excellence in Teaching Award.
"I have a background in analytical chemistry and environmental science, and I appreciate my chosen academic discipline very much," Burns says, "but what I'm especially interested in is how students learn."
He puts it succinctly at the beginning of his teaching statement: "I endeavor to empower students possessing few advantages of America's middle- and upper-income students. My teaching builds understanding, tolerance and cooperation between individuals. Teaching is more than a job for me. It is part of my life's mission."
That mission played out in a practical way when he was teaching at the tribal Diné College in Arizona. He learned that students in the Navajo culture are taught to remain silent and listen when an elder is teaching. "So I explained to them that this elder needs them to answer questions and be more than silent," Burns recalls. "And after a few weeks they figured out that I really meant what I said."
Teaching is more than a job to me. It is part of my life's mission.

Francis Burns
When he realized almost none of his Diné students had scientific calculators to do computations on exams, he purchased a set and made them available. "In each setting where I've taught, there are idiosyncratic solutions to help students succeed," he says. "I still haven't solved the challenge of student success and retention in chemistry, but I consider the Duffy Award a milestone, not an endpoint. I'm not an expert at teaching, but I'm working toward it — it's important to me."
At Salkehatchie, Burns has flipped his classroom model so that students watch videos of the lecture portion before class time, which is now devoted to more give and take between professor and students. Teaching remotely during the pandemic afforded opportunities to help his students sharpen their digital skills, which many employers will expect them to know.
"There are a lot of things that can weigh students down in college, a lot of baggage. One of the things I'm trying to do as an instructor is figure out how to give them the appropriate tools — the figurative hacksaws or files or whatever — to free themselves from that baggage," he says. "Sometimes I have to be a coach, telling them to double down if they're not working hard enough, or encourage them that they can do it — and most of my students can do it. But they've got to believe it."
---
Share this Story! Let friends in your social network know what you are reading about
---