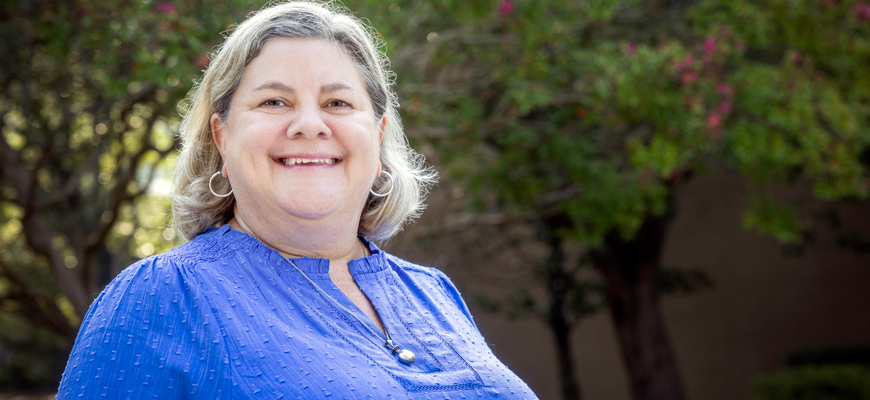 Marine biology professor Tammi Richardson wins top teaching award
---
By Megan Sexton,
msexton@mailbox.sc.edu
, 803-777-1421
---
Tammi Richardson jokes that she fell in love with phytoplankton as an undergraduate — captivated by the gorgeous shapes and striking colors— but it took a long time to make the tiny organisms her life's work.
Along the way to becoming a marine biologist, she worked in a clothing store and a research lab, spent a summer as a marine parasitologist and even spent one semester pursuing an MBA. But she found her way back to the marine science field that captured her imagination as a college student in her native Canada. After earning her bachelor's degree in biology, she eventually went on to earn her master's and doctoral degrees. There have been stops along the Canadian coast, Northern Ireland, North Carolina and Texas.
In January 2005, she arrived at the University of South Carolina, where she now is a professor and chair of the biology department, with a joint appointment in Biological Sciences and the School of the Earth, Ocean, and Environment. Her research lab studies phytoplankton, the microscopic algae that give the ocean its greenish color and that remove carbon dioxide from the ocean during photosynthesis.
And this year she was honored with the university's top teaching award – the Michael J. Mungo Distinguished Professor of the Year.
The circuitous route of her career has helped students relate to her – and feel less uneasy about their own paths.
"The students don't always know what they want to do. And I think they like to hear the fact that it took me a long time to really figure out what was important to me and what I wanted to do," she says. "And I love to tell them now that there's never a morning that I get up that I don't want to go to work. I'm very thankful to be able to say that."
Her students, who nominated her for the Mungo award, probably already know that. Richardson has taught everything from marine science introduction classes in large lecture halls to small discussion classes and working one-on-one with students in her lab. Through it all, her enthusiasm for the subject material – and the students – shines through.
I've been able to work with so many really wonderful, bright, students and that's what makes it fun. The students I've worked with over the years bring joy to my heart and really make our lives interesting and fun.

Tammi Richardson
"I like the combination of doing research in the lab and working closely with students. And with the classroom teaching, I'm a natural ham so I didn't ever worry about the interactions," she says.
She says she benefited from the Incubator for Teaching Innovation in the College of Arts and Sciences, which helped her learn to be a better teacher.
"As a new teacher, I used to think that if I wasn't talking, I wasn't doing my job. And boy, that's not true. At the freshman level, they're still just learning the basics, so you can't do too much discussion. But you can give them worksheets, get them to work in pairs, get them to do crazy things, goofy things that will help them remember concepts."
She says she'll try just about anything that grabs students' attention and keeps them focused on the subject. That includes arriving at a class of more than 200 students with bunches of balloons to illustrate a scientific concept, or bringing phytoplankton cultures to class so students can see their colors, or playing a game of marine science bingo, with cards that feature words she will use in that day's lecture.
"I do that with every level. I thought the graduate students would roll their eyes, but they love it. I hand out random bingo cards and they get to shout out like they're in a bingo hall. That's an homage to my grandmother who loved to play bingo," she says. "But my hope is that they'll remember, 'Oh, yeah, that was a bingo word. And that was when she talked about X.' "
For Richardson, it was the first time looking at water samples under the microscope that grabbed her. "I was like, 'Holy cow. Look at all the stuff in there.' It was so beautiful. And phytoplankton don't bite you!"
And perhaps, Richardson says, she was always destined to work around water – and in a classroom.
Her father grew up on an island in the Bay of Fundy, which boasts the world's highest tides, and Richardson spent summers playing on the rocky beaches there. Her maternal grandfather was a salmon fishing guide who worked on the Miramichi River in Canada, and Richardson spent many hours there skipping rocks and trying to catch a fish. And both of her parents were teachers, giving her an early and deep appreciation for leading a classroom of students.
"I have never regretted it. I'm glad that I listened to my heart when I thought about what I really liked to do," she says. "I've been able to work with so many really wonderful, bright students and that's what makes it fun. The students I've worked with over the years bring joy to my heart and really make our lives interesting and fun."
---
Share this Story! Let friends in your social network know what you are reading about
---