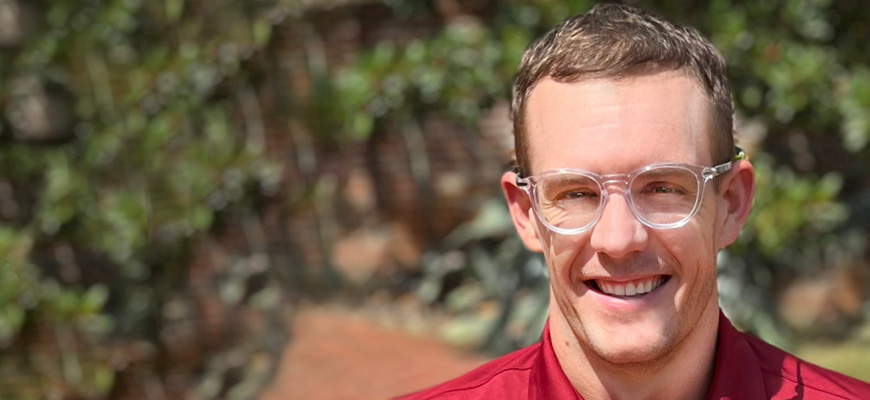 Criminology professor guides students through complex concepts
Cory Schnell is Garnet Apple Award winner
---
By Page Ivey,
pivey@mailbox.sc.edu
, 803-777-3085
---
Cory Schnell has always wanted to be a teacher, but he says his favorite part about teaching is just guiding his students through conversations that help them understand concepts of criminology and the criminal justice system.
"I like the idea of talking about ideas and it's a dialogue between me and students. It's not just me lecturing for an hour and a half," says Schnell, who is in his fifth year teaching at the University of South Carolina. "I make a concerted effort to speak to my students like they are equals. We are all collaborators, and the class is a co-production between everyone."
He has found that students have more interest — and sometimes more experience — with the criminal justice system than in years past.
"In general, students have a hard time connecting with criminal justice as a subject, but one of the reasons it's growing as a major is that students know more about it, whether it's through popular culture or some of their lived experiences," he says.
Every time you teach a class, it doesn't matter how many times you taught it, you're going to learn something from your students.

Cory Schnell
Those lived experiences help inform classroom conversations that can get uncomfortable as students discuss issues around policing and crime, including race.
"During these discussions you can sense the interest but hesitancy of the class to say anything," Schnell says. "I try to never avoid these conversations and find ways to make students feel as comfortable as possible for the discussion.
"This discomfort, the feeling of a lack of adequate vocabulary, and general awkwardness though are barriers to change which we should tackle head on."
Schnell has introduced two new courses to the university's criminology offerings, including an analysis course focusing on white-collar crime and a course based on his research area of crime and place, which is a combination of classroom and lab-based instruction.
"It addresses the question of why do certain places have more crime than others — just the spatial distribution of crime in general," he says.
The other part of his research evaluates policing policies and how well they work.
"I love research just as much as teaching, but it's a very different love," he says. "Every time you teach a class, it doesn't matter how many times you taught it, you're going to learn something from your students."
---
Share this Story! Let friends in your social network know what you are reading about
---