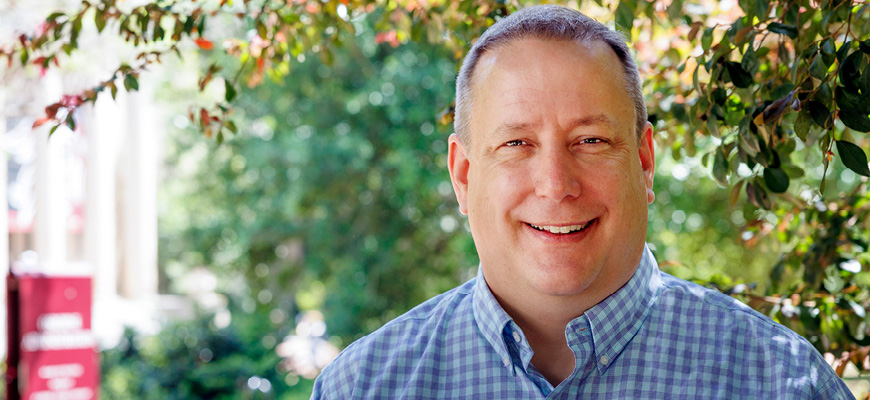 Med school professor trains students to focus on patient
James Cook is a 2022 clinical teaching award winner
---
By Page Ivey,
pivey@mailbox.sc.edu
, 803-777-3085
---
James Cook took a circuitous route to being a doctor — one that included stops as a commercial fisherman, shoe salesman and high school biology teacher before going to medical school.
"Every experience has an impact on your emotional intelligence," says Cook, a 2022 clinical teaching award winner. "I think my work as a fisherman and as a high school teacher were probably beneficial to both being a teacher and also being a clinician."
For his medical specialty, Cook chose obstetrics and gynecology because it allows him to work as both a primary care physician and a surgeon, while developing meaningful relationships with his patients.
In addition to seeing patients and training future doctors at USC since 2012, Cook also serves as assistant dean for clinical learning at the University of School of Medicine Columbia.
"It's a privilege to be able to leave an impact on future learners who will no doubt have large impacts on the patients they take care of for decades to come," he says.
We need to have residents and medical students who are savvy with both how to perform research and how to interpret it.

James Cook
Cook earned undergraduate degrees in psychology (University of Iowa) and cell biology (East Carolina University) before attending medical school at Wake Forest. He completed his residency in obstetrics and gynecology at Michigan State University.
In addition to the clinical training, Cook helps his students plan real-world research projects designed to improve patient outcomes.
"I hope our students learn to recognize the importance of evidence-based medicine in our decision-making," he says. "We need to have residents and medical students who are savvy with both how to perform research and how to interpret it."
One key to better understanding patients is to take a wholistic approach and looking at social determinants of health, such as whether a patient has access and transportation to reliable health care and healthy foods, in addition to any disease issues a patient might be facing.
"I try to teach the students to have a patient-centered care model that requires them to consider the economics and resources that are available in the community to provide the best care possible," Cook says. "So we're addressing issues of health literacy — how much does the patient know about their medical problem. I try to really harp on making sure we're communicating in a way that's understood by our patients and using appropriate language."
Before coming to South Carolina, Cook was a medical officer in OB-GYN at the Phoenix Indian Medical Center, serving for many years as the departmental director of medical education and as the director of gynecology.
---
Share this Story! Let friends in your social network know what you are reading about
---