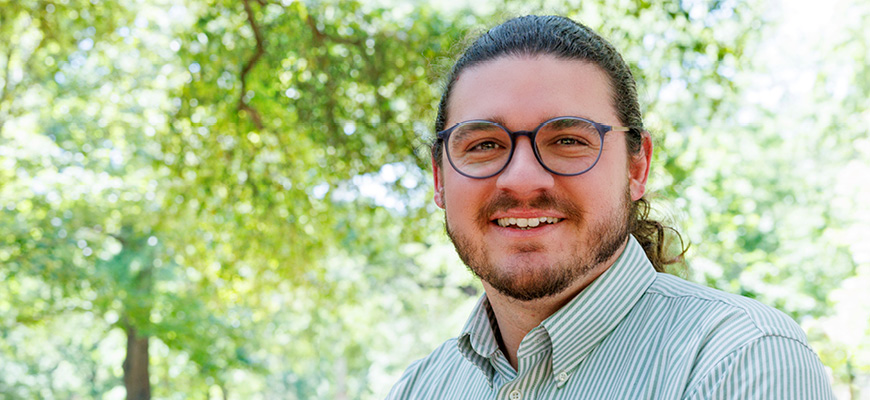 Biological sciences professor always trying to improve
Andy Schumpert is a 2022 Mungo Undergraduate Teaching Award winner
---
By Craig Brandhorst,
craigb1@mailbox.sc.edu
---
Whenever possible, Andy Schumpert likes to start the workday with a loop around the Horseshoe. Strolling the University of South Carolina's historic campus grounds helps him relax and centers his thoughts before he enters the classroom.
It's also a chance for the biological sciences instructor and lab coordinator to reflect. What's he doing right? What could he do better? How are his students doing? How could he tweak his pedagogical approach to improve educational outcomes overall?
And lately those meditations have focused largely on one thing: the shifting landscape of higher education in the COVID-era.
"This is definitely going to change the way we think about higher education," Schumpert told UofSC Today upon winning a Garnet Apple teaching award from the university's Center for Teaching Excellence during lockdown in 2020. "But as I was telling the TAs, 'What do you really want your students to take away from this experience? Go back to the learning outcomes.' We just have to go back to the drawing board to figure out how to still transmit knowledge."
Two years later, Schumpert has once again been singled out for his ability to engage students and mentor TAs — he was recently named a Michael J. Mungo Undergraduate Teaching Award winner by the Office of the Provost — but he's still reflecting on what it takes to be a standout teacher.
I try to decentralize the power structures in the classroom and let the students take ownership.

Andy Schumpert
Technology is part of the equation, he says, but so is human interaction. Humor also helps. But if there's one theme Schumpert keeps circling back to, it's the changing needs of contemporary students — and not just their needs during class.
"Before the pandemic, I may not have been as compassionate or as sensitive to student issues outside the classroom," he says. "Now, it's such a big part of my approach — trying to make sure that students have accessibility to things, to make sure that students have access to materials. And they have so much going on in their lives."
But necessity is the mother of invention, and that's been particularly true during the pandemic, which opened Schumpert's eyes to new possibilities in the classroom.
"There are aspects of the pandemic that have brought to light things that I didn't really think of before the pandemic," Schumpert explains. "Having the ability to stream classes — that's been amazing. I also use a lot of GroupMe to help everyone connect."
Still, Schumpert acknowledges that classroom cameras and messaging apps aren't perfect replacements for traditional face-to-face instruction. In fact, even the return to face-to-face in 2021 wasn't an automatic reset. Masks in the classroom, for example, made it difficult to put names with faces.
It was a frustrating side effect of good public health policy, but Schumpert's willingness to meet his students halfway — to offer options that helped them meet their specific needs — paid off in time.
"Some students, I noticed, started coming to class when the mask mandate was repealed, and others actually started streaming," he says. "And then towards the end of this semester, just about everybody was coming back to class, which was great."
Yet Schumpert is still wrestling with different classroom approaches: Should live streaming still be an option? If it is, what's the best way to integrate that technology into the face-to-face instruction model? How can he build on the lessons the pandemic taught him while reestablishing time-tested pre-pandemic protocols?
"At the end of the day, what I'll probably end up doing is leaving it up to the students," he says. "I try to decentralize the power structures in the classroom and let the students take ownership. As much as a I can, I try to let the students steer our classroom."
---
Share this Story! Let friends in your social network know what you are reading about
---