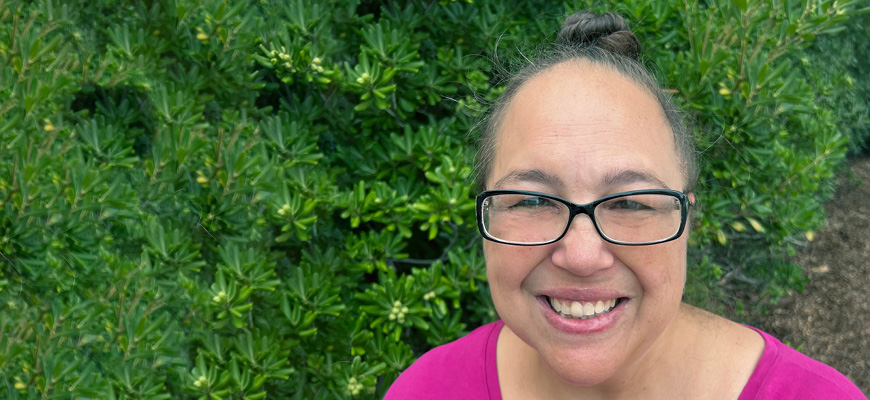 Better teaching through chemistry
Instructor Amy Taylor-Perry awarded Garnet Apple for innovative teaching
---
By Chris Horn,
chorn@sc.edu
, 803-777-3687
---
Amy Taylor-Perry sometimes jokes with her students that they're learning chemistry from a high school dropout. It's actually not a joke — Taylor-Perry, a senior instructor in chemistry, really did drop out as a single mom, and was a mother of three before she went back to college.
But here's the kicker. Taylor-Perry completed a bachelor's degree with flying colors, then discovered her knack for teaching while earning a Ph.D. in chemistry. Her passion for pedagogy has translated into receipt of a 2022 Garnet Apple Award for innovative teaching as a senior instructor in the Department of Chemistry and Biochemistry.
"Yeah, it was an interesting path. School had always been easy for me, but I just needed to dig out of the place where I'd gotten stuck," says Taylor-Perry, who teaches several courses, including introductory level chemistry and a forensic chemistry course that draws its inspiration from crime scene investigation TV dramas. She also coordinates the university's general chemistry labs, which serve about 3,500 students every year. "Students love to hear my story."
They also apparently love to learn chemistry from Taylor-Perry. In the past six years, her student teaching evaluations have landed in the 4.5 to 5.0 range, well above the departmental average.
It was being part of the 'Aha!' moments for students that really pushed me into teaching.

Amy Taylor-Perry
"She probably has had more impact on the educational experience for undergraduate students taking chemistry courses and labs than anyone in our department," says department chair Dan Reger. "At the same time, she has performed these duties with an exceptional level of quality, rigor and enthusiasm."
Taylor-Perry's approach to teaching is a tried-and-true educational strategy: I do, you watch; I do, you help; you do, I help; you do, I watch. With that approach, she walks students through chemical concepts, word problems and laboratory procedures. It sounds simple, but the proof is in the students comments:
"She made one of the hardest subjects known to man like second nature to me. I actually look forward to coming to her class." "Dr. Taylor-Perry truly cares about us learning the material and takes the time to explain everything. I hardly ever felt confused…" "By far the best science teacher I ever had."
Taylor-Perry joined the chemistry department faculty in 2011, the year before completing her doctoral degree. Since then, she has taught Chemistry and Modern Society as well as Forensic Chemistry — both intended for non-science majors. She's also a new course for non-science majors: Chemistry and Cooking, which will cover measurements, thermochemistry, kinetics, the scientific method and other chemical concepts.
"It was being part of the 'Aha!' moments for students that really pushed me into teaching," she says. "It pushes me to continue teaching, continue challenging my students, continue improving my methods, and continue to use innovative approaches to student learning."
---
Share this Story! Let friends in your social network know what you are reading about
---