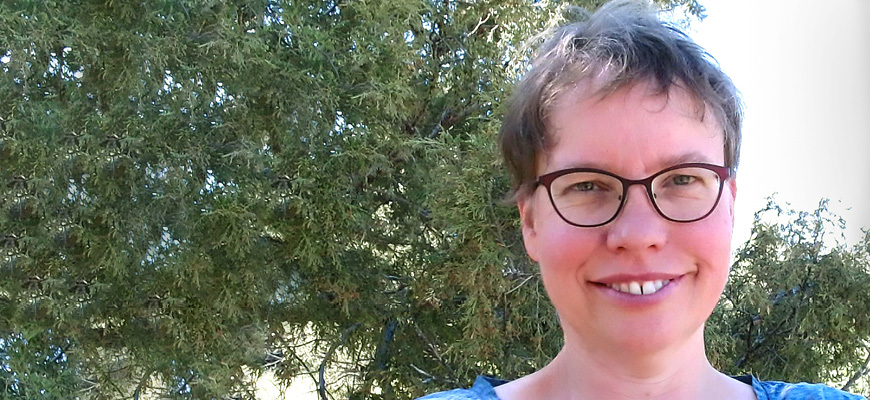 Art professor uses technology to keep class going during pandemic
Sara Schneckloth is a 2022 Mungo Graduate Teaching Award winner
---
By Rebekah Friedman,
rebekahb@mailbox.sc.edu
---
Like nearly every other educator, Sara Schneckloth found herself in uncharted territory when COVID-19 abruptly shut down in-person instruction in March 2020. Schneckloth, an associate professor in the School of Visual Art and Design, teaches drawing, and the prospect of connecting with students over the internet instead of in a studio classroom was challenging.
But shifting gears proved easier than expected. By fall 2020, she had redesigned her undergraduate studio classes and drawing graduate seminar to include weekly Zoom-based critiques and lectures as well as studio sessions where students could discuss what they were working on just like they did when classes were in person.
"What evolved was a network of satellite studios where people were able to set up functional remote workspaces," she says. "We talked about how to set up your technology, like having a second camera to share your images, and students became skilled at sharing their creative processes as we worked together online."
As chair of several graduate committees, Schneckloth also guided students as they converted their artwork into online exhibitions.
I have a teaching formula that is both structured and open at the same time.

Sara Schneckloth
Her quick 180 was a resounding success. Not only did it help students navigate a global pandemic, but it also enhanced their digital presence, a prerequisite for aspiring artists looking to launch their careers.
"Students became very adept at taking images of their work for critique, which then translated into everyone realizing that this is how the vast majority of the world is going to see your artwork," she says. "People often make decisions about whether you should be invited for a job interview or whether you get a gallery show based on the quality of your images they see online."
For undergraduates, making art at home instead of in a classroom can give students a sense of comfort she learned, because it allows them to work in their own space without the hassle of lugging supplies to and from campus. But she's a firm believer that "productive discomfort" is a good thing, too. When students are nervous about beginning a project without a clear idea of the outcome, Schneckloth encourages them to embrace the uncertainty as a chance to grow.
"It's very much about experimentation — not having a predetermined expectation of what something should look like, but really letting processes evolve. I do everything I can to meet everyone where they're starting," she says.
Since arriving at the University of South Carolina in 2007, Schneckloth has received a slew of accolades, including a Michael J. Mungo Undergraduate Teaching Award in 2011. While her pedagogical tactics can vary depending on which class she's teaching, one thing that remains consistent is her belief in "playful inquiry," an approach that gives students a balanced mix of guidance and freedom to explore what they like.
"It's not just me saying, 'Do whatever you want and try to figure it out on your own,' " she says. "I have a teaching formula that is both structured and open at the same time."
Teaching students to question what they know is a critical part of that structure, particularly at the graduate level. How are they connecting their work to the larger history of artistic practice? How are they connecting it to concepts and theoretical conversations? What's the material heritage of their work? How do they personally fit into the centuries-long conversation about art and art making? And what are they going to do that's original?
"How is your contribution going to be a part of this conversation?" she asks. "It's through asking a set of questions over and over again for three years that the artistic process evolves, and answers start to make themselves clear."
And when those answers emerge, students have an even greater capacity for growth. Time after time, Schneckloth has seen graduate students finish the program making artwork that looks completely different than what they were making when they began.
"I know that's where we're there to help as faculty," she says. "It's not just to ask the questions that push people further, but to say, 'Okay, you're now in that fun area of being lost. How can we discover a new pathway?' "
---
Share this Story! Let friends in your social network know what you are reading about
---