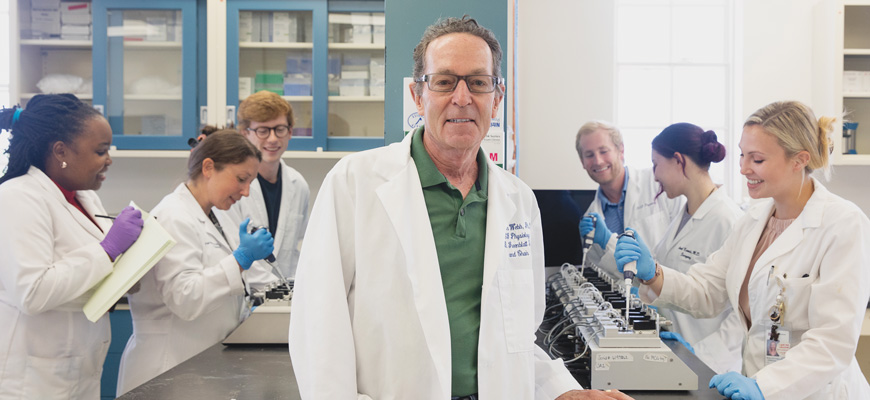 Webb & Flow
Cardiovascular Translational Research Center moves forward despite pandemic
---
By Craig Brandhorst,
craigb1@mailbox.sc.edu
, 803-777-3681
---
The start of a pandemic is a heck of a time to launch a research center, but that hasn't stopped Clinton Webb.
Tapped to head the new Cardiovascular Translational Research Center at the University of South Carolina School of Medicine in early 2020, Webb arrived just in time for lockdown. International travel restrictions prevented some lab staff from joining him, and a hiring freeze slowed plans for building out the center's core research faculty.
So, how did he get the blood pumping? For starters, he launched a Tuesday afternoon Zoom seminar series to bring together researchers from across the university system and around the world.
It's not quite the same as gathering in the center's 8,000-square-foot lab space, but it's an effective way for faculty at the university and elsewhere to learn about the latest research. "It's already expanded into an international kind of seminar," says Webb, who frequently invites former postdocs and past collaborators to present. "Collaborations are a little more difficult in this environment, but we're moving that way."
Webb has also been reaching out to potential campus partners: School of Medicine faculty in cell biology, anatomy, pathology and physiology; researchers in exercise science and nutrition at the Arnold School of Public Health; faculty in the basic sciences on the university's main campus.
Nontraditional partners are also in play, including at the College of Engineering and Computing, where researchers are interested in blood vessel calcification. "I actually had an appointment with an engineer this morning about vascular stiffening," Webb says. "He's interested in it from a much more mathematical modeling perspective, whereas we look at it from more of a functional perspective, but that's a collaboration I think we can build up very quickly."
And there are plenty of other opportunities to fast-track, mostly relating to hypertension and another of Webb's major research interests, erectile dysfunction. He's also interested in collaborating with faculty working on obesity, diabetes, stroke, cardio-oncology — if it intersects with cardiovascular health, it's fair game.
The thing that gets in the way is ego, so what I try to do is bring people together and leave our egos at home. Let's work together and build. I don't like to stand in the way.

Clinton Webb
"Initially, we're focused on things like hypertension because that's my strength, but in the future, we hope to expand across a number of cardiovascular diseases — atherosclerosis, pulmonary hypertension, even blood diseases if someone here is interested in that."
Webb's own interest in hypertension is far-reaching, though much of his research has focused on two principal areas: the role of inflammation, and the vasculogenic aspects of erectile and clitoral dysfunction, which are themselves predictors of cardiovascular disease. He brought funded projects in both areas when he left the Medical College of Georgia at Augusta University, where he was the Herbert S. Kupperman Chair in Cardiovascular Disease.
The hypertension and inflammation work dates back to a hypothesis Webb's lab proposed back in 2009 on damage associated molecular patterns (DAMPs), which result when the body reacts to the cast-off detritus of dead cells, particularly after injury or a virus.
"If you think about the mitochondria, which is the powerhouse of the cell, from an evolutionary standpoint it was derived from bacteria," Webb explains. "As long as the mitochondria remains inside the cells everything is fine, but if it gets outside of the cell, then the body reacts to it as if it is a bacterium. When that mitochondrial DNA binds to a receptor called Toll-like receptor 9, that kicks off an inflammatory response."
It's research that may have added import as we emerge from the pandemic. "People who get viral infections and have them for a long period of time often develop hypertension," he says. "And it doesn't really matter which virus, even the coronavirus. About a third of people who have COVID-19 develop hypertension."
Webb's other funded project, which is on erectile dysfunction, is aimed at people who don't respond to standard compound treatments like Viagra.
"About half of all males that develop diabetes also develop erectile dysfunction, and up to 72 percent of those men do not respond to phosphodiesterase 5, which is [the active ingredient in] Viagra," says Webb. "That's a quality-of-life thing, but it also predicts cardiovascular disease generally. With women, it's a little more complicated, but clitoral dysfunction is a vasculogenic dysfunction as well."
Like any project that flows through the center, Webb's research will draw upon expertise at the university, as well as at other institutions. He's talking with a potential collaborator at Vanderbilt about an erectile dysfunction study, as well as with Michael Ryan, a new research professor in the Department of Pharmacology, Physiology and Neuroscience, and acting chief of staff for research at the Columbia VA Health Care System, about a two-PI project on cardiovascular health and lupus.
"My philosophy has always been the same: the more brains you have in the room, the better off you are," says Webb. "The thing that gets in the way is ego, so what I try to do is bring people together and leave our egos at home. Let's work together and build. I don't like to stand in the way."
---
The Cardiovascular Translational Research Center was launched in 2019 by the University of South Carolina Board of Trustees as a UofSC Excellence Initiative.
---
Share this Story! Let friends in your social network know what you are reading about
---