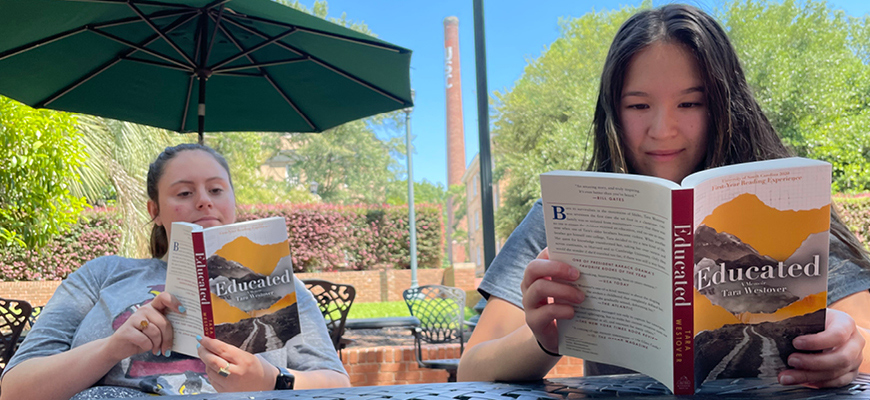 How UofSC alumna Brooke Daniels found her passion
After designing cover for First Year Reading Experience book, '20 graduate sets sights on next goals
---
By Abe Danaher,
adanaher@mailbox.sc.edu
, 803-576-7780
---
Brooke Daniels shares her screen, pulling up hundreds of square thumbnails: an advertisement from Life magazine, crumpled envelopes, pencil shavings and grid paper. It's hard to see where she's headed, but on the seventh click of her mouse, the thumbnails fall into place.
A road, mountains, a glowing orange sky — a two-month creative process that helped Daniels realize her passion while designing a new cover illustration for Tara Westover's Educated. Now, as thousands of incoming University of South Carolina freshmen read the book through the university's 2021 First Year Reading Experience, she hopes it provides them guidance in navigating their next four years.
"Since it sort of embodies a journey of going through and fighting for your education, I hope they feel a connection to that," she says. "Like, they are also walking toward that mountain, just walking into the book as they go to their first year."
The First Year Reading Experience started at South Carolina in 1994 to build community on campus through a shared reading. Since the program's inception, students in the School of Visual Art and Design have competed to have their designs on the cover of FYRE's book. It's a challenging, competitive process that pushes students as they strive for a resume-defining selection.
"Every student who has won this competition has gone on to do really good things in the design world," says Marius Valdes, an associate professor in SVAD who taught Daniels' class. "They've all gone on to have really successful careers."
For Daniels, the process was anything but easy. After her first time reading Educated — a coming-of-age memoir about a young woman's journey to obtain her education — she had no clue what to design for its cover. Quickly, though, she decided just reading the book wasn't enough and that somehow, she had to get emotionally closer to its story. "And that's when I took it into my own hands, and was like, I need to do hardcore research," she says.
She began finding every detail she could about Westover: her family's history, where their home was in Idaho, and even the name and location of the essential oils company they ran. And as she became closer to Westover, she learned more about herself.
"It helped me realize that I am really into research and that research is really what I like to do with my designs; just to get into it and to figure out what I want to portray, and that I need to understand the problem before I can fix it," she says. "So that really helped me open my eyes to how I like to view design."
With Valdes' prodding, she also began experimenting with new design methods. Instead of just using Adobe Illustrator on her computer as she'd done throughout her introductory design courses, she began incorporating photography and collages.
Daniels created over a hundred designs throughout the next five weeks. Pencil shavings and crinkled envelopes became snow-capped crests, a magazine advertisement became a dirt road, and graph paper became a sky. By the time she submitted her final design for consideration, Daniels' design was clearly different from her peers'.
"Right from the get-go, everyone responded to Brooke's," Valdes says. "It was just one of those things where people that saw it, they got it."
Sandra Kelly, a vice provost at South Carolina who coordinates the First Year Reading Experience, is on the cover design's selection committee.
"You've got this journey into the mountains, of course representing the mountains of Tara Westover's childhood," Kelly says. "The sky, with graphic paper, representing school. I remember it just resonating with us. Like, this has all the pieces, it's visually appealing, and it also tells the story of the book."
The experience cemented in Daniels' mind that she wanted to be a designer. However, she is intent on this recognition not being the pinnacle of her own professional success.
Two years after winning the FYRE design competition and a year after graduating from South Carolina, Daniels is unfazed. Around her, everyone is proud. Her mother took the book to her book club and displayed it for all her friends to see, and emails from Penguin Random House have come and gone through her email, which would typically leave any designer floored. But that's just not the way she's wired.
"I wish it would connect," she says. "I wish I could be one of those people where it's like, wow this means a lot to me, this is so cool. And it does mean a lot to me and it is cool.
"But I'm also like, let's do more. Let's make bigger things."
---
Banner image: Students on campus read Educated, the First Year Reading Experience book with the cover designed by Brooke Daniels.
---
Share this Story! Let friends in your social network know what you are reading about
---