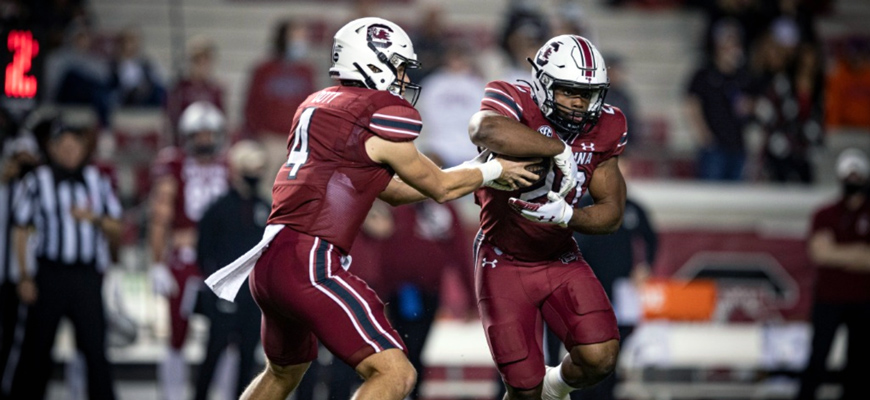 Fall sports heating up on campus
---
By Cam Adams,
stucomm@mailbox.sc.edu
---
The fall semester is now in full swing and so is the sports scene at the University of South Carolina. With football, volleyball, men's and women's soccer and intramurals underway, students have a lot to look forward to on the field.
Football
The Gamecocks have entered a brand-new era with the arrival of first-year head coach Shane Beamer, who was most recently an assistant head coach at Oklahoma before taking the helm at South Carolina in December.
"I have been preparing for this moment my entire life," says Beamer, a Charleston native who previously coached as an assistant at South Carolina 2007-10. "I am ready and excited to be the head football coach at the University of South Carolina. I am thankful to all the head coaches that I have worked for, the assistant coaches and student-athletes I have worked with. My family and I are thrilled to be coming back to Columbia and the state of South Carolina."
Students have a lot to be excited about this season at Williams-Brice Stadium as South Carolina hosts marquee opponents Clemson, Florida and Auburn.
Men's and women's soccer
The men's soccer program also has a new head coach for the first time in 43 years as Tony Annan takes over for long-time head coach Mark Berson.
"As a coach with 25 years of experience in player development, I am eager to take on this challenge," Annan says. "The priority will be to recruit and develop players both on and off the field in line with the traditions of the university."
The women's soccer team is also looking to make some noise this season after earning its eighth-straight trip to the NCAA tournament in 2020. The Gamecocks start the season ranked in the top 20 and are off to a 3-0 start. The annual rivalry game against the Tigers will be at Clemson on Thursday (Sept. 9) at 6 p.m.
Head coach Shelley Smith is entering her 21st season at South Carolina where she has compiled over 300 wins.
Volleyball
After missing the NCAA tournament last season, the South Carolina volleyball program will look to make a return under head coach Tom Mendoza.
The Gamecocks already have a pair of solid wins under their belt with victories over ranked opponents Washington State and Rice in the Carolina Classic.
Equestrian, golf and swimming
Although these sports play most of their events in the spring, they begin their seasons in the fall. Equestrian starts its season on the road on Sept. 30 against UC Davis and women's golf will start its season on Sept. 13 at the Annika Invitational in Lake Elmo, Minn.
The swimming and diving squad is also set to begin its season on Oct. 9 against Gardner-Webb at the Carolina Natatorium. The men's golf team's season opener is still to be determined.
For more information on Gamecock athletic events, check out GamecocksOnline.com for news, schedules, rosters and more.
Intramurals
Not only can students watch the Gamecocks perform on the field, they can also play the games themselves with intramural sports. Campus Recreation is offering 18 different sports for students to play in the fall, including 3v3 basketball, 4v4 sand volleyball and 10x10 softball.
Students can purchase a $15 Intramural All-Access pass for the fall semester to participate in unlimited leagues and tournaments. However, participation is limited to one single-gender team and one coed team per sport.
Registration to sign up for intramural sports and All-Access passes are on IMLeagues. For more information on Intramurals, check out the Campus Recreation website.
---
Share this Story! Let friends in your social network know what you are reading about
---