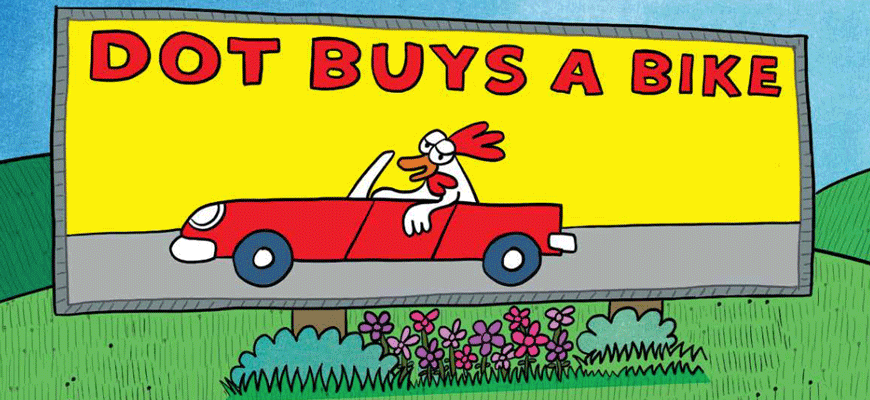 New book puts children in driver's seat for navigating information highway
---
By Téa Smith
---
Just a few years ago, it was commonplace to see children reading books as they waited with their parents in doctors' offices and restaurants. Now phones and tablets occupy their hands, and the internet is just at their fingertips. But the ability to discern what's fact and what's fiction hasn't kept pace with advances in technology and internet accessibility. Faculty and staff in the College of Information and Communications are working to bridge that knowledge gap with Dot Buys a Bike — a children's book about news literacy. The book began in 2019 as a project for Give 4 Garnet, the university's annual giving day.
"We've been having conversations in both schools in the college — information science and journalism and mass communications — about misinformation and disinformation for a while now, so collaborating on a news literacy project just made sense," says CIC communications manager Rebekah Friedman, who worked on the project. "When we began looking at the resources that were already out there, we realized most target older audiences whose news consumption habits are already established. That really solidified our decision to make something for elementary-aged children."
Christine Shelek, executive director of the South Carolina Center for Community Literacy in the School of Information Science, also worked on the project. She says literacy is key to strengthening the state's workforce, and teaching children to "navigate the information highway" is one step toward that.
"Access to information isn't enough — it's also about knowing how to analyze and assess it," she says. "We want them to go and check it for themselves and not just have the impression that, 'Oh, it's out there on the internet, so it has to be true.' Knowing how to do that sets South Carolinians up for success, and it's something that's especially important to those of us in the library world."
In the future, those involved with the project want to develop supplementary material for the book in classrooms, such as lesson plans or resource guides. But the initial plan is to share the book with elementary schools through Cocky's Reading Express.
"I hope that the book gets a lot of positive press — that it's something that a lot of schools will request and want to use," Shelek says. "Hopefully, we'll hear things like, 'Hey, can we purchase that book? We want to add it to our home library, or we want to add it to our classroom library or media center.' "
And the impact of Dot Buys a Bike could go beyond the classroom. Shelek sees it potentially sparking conversations at home.
"This book is geared toward those elementary students, but why can't you sit down together as a family and read this book?" she says. "And if you do, hopefully the person reading the book — whether it be a parent, a sibling, a grandparent, a caregiver — will pick up on some of the things that are in the book as well."
---
Share this Story! Let friends in your social network know what you are reading about
---