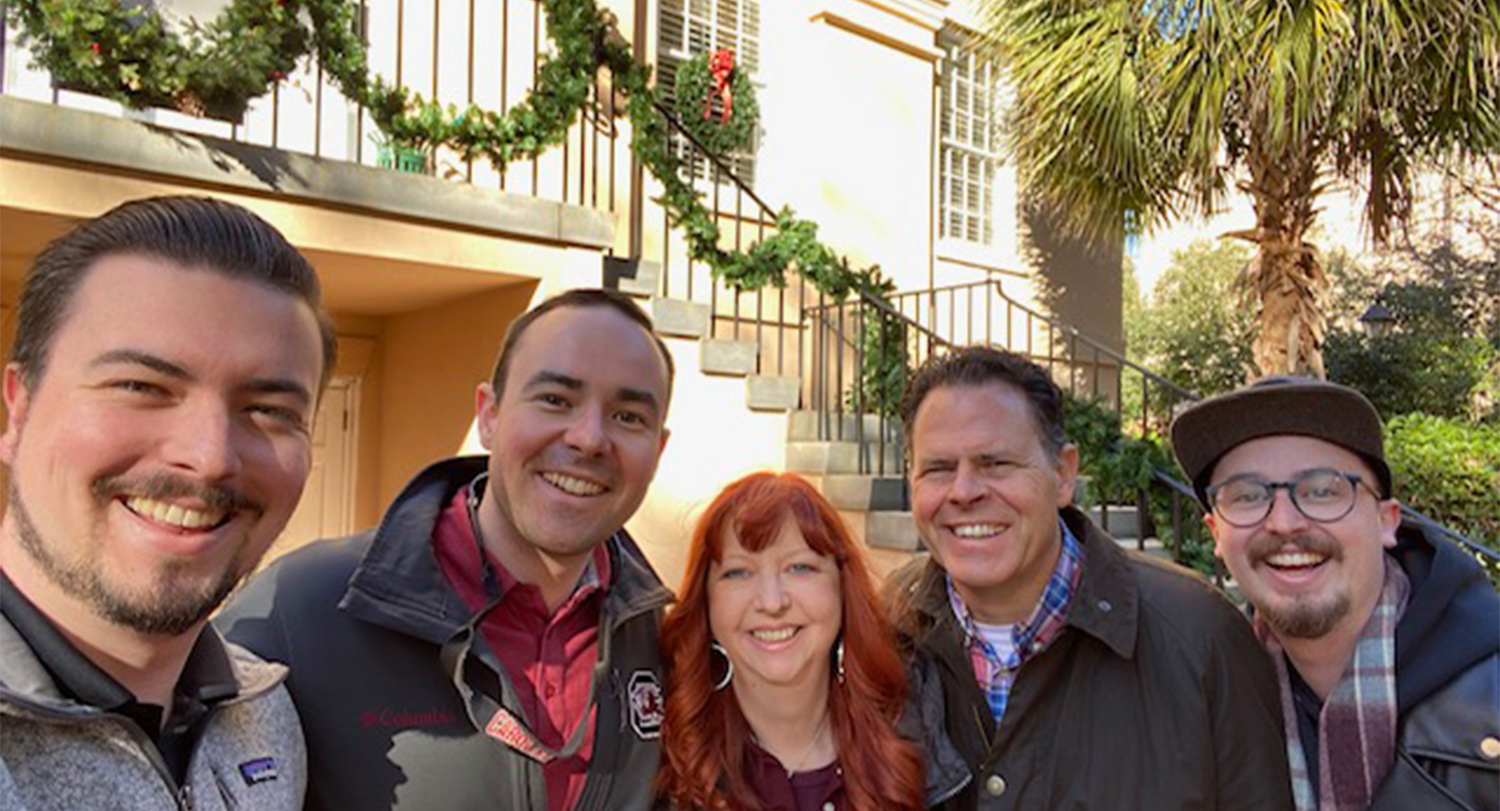 Turning tragedy into a mission
Clay and Grainne Owen lead Gamecocks in support of curing children's cancer
When Clay and Grainne Owen's son Killian died of leukemia at age 9, the family's tragedy became their mission — to find better treatments and make childhood cancer a curable disease.
That mission became Curing Kids Cancer, a charity that has raised more than $25 million for cancer research since 2005.
It's an effort the Gamecock family has strongly supported, helping to raise money and the profile of the national philanthropy. Most recently, Clay (journalism '82) and Grainne fulfilled the organization's $1.2 million endowment to Prisma Health, where the outpatient hematology and oncology clinic was renamed the Gamecocks Curing Kids Cancer Clinic.
"The Owen family are great Gamecocks. They have created a wonderful charity and made such a huge impact on the fight against childhood cancers. It is a story of dedication, perseverance and the ability to create a positive influence from such a devastating tragedy," says Charles Bloom, associate athletics director at the University of South Carolina. "The Owen family has been able to make a connection with our coaches and administrators, and we have been able to provide a platform for this great cause."
Killian's battle
Clay and Grainne Owen were living in Atlanta with their four sons when Killian was diagnosed with acute lymphoblastic leukemia in December 1999.
After going through more than three years of painful chemotherapy treatments, Killian's cancer returned, and it was determined he needed a bone marrow transplant. His twin brother Garrett was able to donate, and Killian made it 90 days post-transplant before relapsing — just 10 days short of what is typically considered the magic number for transplant success. The doctors told his parents there was no more chemo, radiation or other treatment available, and advised the family to go make memories with the time they had left with Killian. The family headed to Disney World.
But Grainne and Clay Owen weren't ready to accept the prognosis. After some research, they learned of a new targeted therapy being developed especially for chemo-resistant leukemia, and asked doctors to use it on Killian. It was still in the research phase, but they worked to get special permission from the U.S. Food and Drug Administration.
The family traveled to the National Institutes of Health in Bethesda, Maryland, where Killian received the treatment. The treatment worked to a certain extent, but because Killian was a child, the FDA limited the dose he could take. The second generation of the drug, which Clay and Grainne believe would have saved Killian's life, was still in the lab, with researchers unable to find the money to get it into trials and treatment.
"So, we had to take Killian home. We lost him three weeks later," Grainne says.
About a year later, Grainne remembers talking to her three surviving sons, telling them she knew this outcome was not what any of them wanted, but they had to believe Killian was with God, happy and no longer in pain.
"And I suddenly thought, if I believe what I'm telling my little boys — and I did believe it — then I shouldn't be angry and sad and depressed like I was. I should be out there doing something," she says. "And that was when I remembered the drug that was stuck in the lab. I couldn't stand the thought that there was a drug in the lab that could save other children's lives and stop other families from going through what we went through. And it was just a matter of money. I just knew I had to do something about it."
Curing Kids Cancer was started at the family's kitchen table.
"I had never, never even dreamed that I would start a charity. And initially I didn't want to. I was going to give the money to someone, but there was no one. Pediatric cancer is terribly funded, and the government gives less than 4% of cancer funding to pediatrics. And yet there are over 100 different types of pediatric cancer."
A Gamecock connection
The Gamecock roots run deep in Clay Owen's family. Clay earned his degree in broadcast journalism from USC and went on to work as a senior producer for CNN. He now is director of public relations for AT&T in Dallas. His father, uncles, brother and sisters all are Gamecock grads. Clay and Grainne's three surviving sons are all Carolina alumni.
Pierce, the eldest son, earned his undergraduate degree and master's in international business and, after studying and working in Europe, now works for AT&T. Garrett, who is Killian's twin, majored in visual communications and works in Fort Worth, Texas, for The Cliburn, a nonprofit named for pianist Van Cliburn that advances classical music throughout the world. The youngest, Finn, earned his degree in psychology, lives in Columbia and works in development for Emory University.
Each of them also play a part in the Curing Kids Cancer foundation, a nonprofit that also has been supported by their alma mater in Columbia.
"We're obviously very passionate Gamecock fans and we were passionate about adding the Gamecocks name to the Curing Kids Cancer Clinic at Prisma Health," Clay Owen says. "The university provided the foundation of our family's education and our values of giving back to the community. We just thought it was incredibly important."
It's something Gamecock coaches, athletes and staff have been passionate about, too, stepping up to raise money and spread the word. Part of that commitment started "when Grainne decided to chase Ray Tanner across the baseball field one day," Clay says with a laugh.
True story: Grainne was with her sister-in-law, whose child was at the Gamecock baseball camp. She wanted to meet Tanner, who was then the USC baseball coach, to see if he would help support the nonprofit.
"I didn't know what he looked like or anything. So, this man started to walk out across the field and (my sister-in-law) said, 'I think that might be him.' I literally hopped over the barrier and ran after him across the field. And I said, 'Excuse me, are you Ray Tanner?' And he kind of looked sideways at me like, 'Oh my God, it's an angry mother chasing me.' But he said, 'Yes, I am.' And I said, 'Oh, good, because I have a charity, and the program I do is called Coaches Curing Kids Cancer.' The look of relief on his face was hysterical," Grainne says. "He said, 'Oh, yes, I'll do anything I can to help.'"
That commitment has run through the USC athletics department, with coaches and athletes participating in everything from the annual firetruck pull fundraiser in downtown Columbia to 5K runs to other events.
A national impact
The foundation's reach goes well beyond the Southeast – and it has been involved in funding research and hospital endowments.
Two pediatric oncologists who treated Killian at the National Institutes of Health signed on early and remain the chairmen of the organization's medical advisory board. They are joined by some of the country's top pediatric oncologists. The group looks at applications, scores them and determines which projects can be funded.
The foundation also has maintained a connection to two hospitals – Children's Healthcare of Atlanta, where Killian was treated, and Prisma in Columbia, because the family wanted to make an impact in a community where the family ties remain strong. The Killian Owen Curing Kids Cancer Clinical Research Office was established at the Atlanta hospital, while research endowments have been established at hospitals including Children's Hospital Los Angeles.
Grainne says one of the most significant things the organization has done so far is fund research that led to CAR-T cell therapy, a variation of what Killian pioneered back in 2003. The treatment has had a 97% success rate in getting children with leukemia back into remission, she says.
"The biggest blessing of all of this is I get to see all these amazing miracles that they're doing right now," Grainne says. "In the last five years, the biology and the technology and the genetics have all come together and they are now literally performing miracles. That CAR-T cell therapy that we helped to fund is now being used as the basis for all immunotherapies. I never imagined we'd be able to do anything like that when I started raising money."