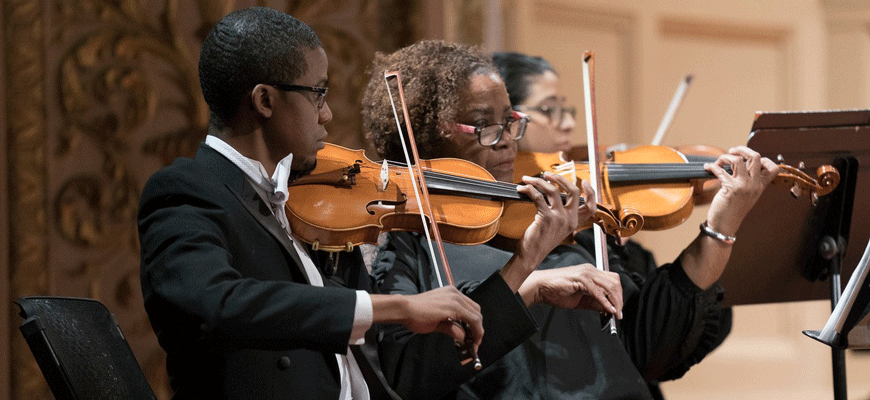 For alumni musicians, playing in UofSC festival is coming home
Mahogany Music Festival features singer Vanessa Williams and a special 9/11 concert
---
By Carol J.G. Ward,
ward8@mailbox.sc.edu
, 803-777-7549
---
A homecoming. A chance to share their passion for music with fellow alumni at their alma mater. The opportunity to be on stage with other Black artists. And the anticipation of connecting the community through a 9/11 anniversary performance.
These are the reasons Albert Carter and Jessica Robinson-Stinson, University of South Carolina alumni, are excited about performing in the Mahogany Music Festival, presented by the School of Music and the Auntie Karen Foundation. They are among five alumni musicians participating in the three-day event, Sept. 9-11, which also features the Colour of Music Festival orchestra and Auntie Karen Foundation Legends of ... concert with Vanessa Williams and the Auntie Karen All-Star Band.
"For the musicians, it's such an affirming and positive thing. We're used to being in environments where there's not a lot of people who look like us. Often, we may be the only Black person or one of a very small group in an ensemble," says Robinson-Stinson, a violinist with the Atlanta Opera Orchestra. "It's also a very powerful statement for young musicians to see an orchestra with not only one or two or three people who look like them, but an entire orchestra – every instrument represented and even the conductor."
Since 2013, the Colour of Music Festival has brought classically trained Black musicians together to showcase classical composers and performers of African descent. The mission of the Auntie Karen Foundation is to empower, enlighten and educate through the arts.
"The partnership with the Colour of Music Festival supports the university's commitment to diversity by offering students and classical music fans the opportunity to experience new voices and perspectives showcasing successful Black artists in traditional classical settings," says Dean Tayloe Harding.
In addition to the Mahogany Music Festival's three days of diverse classical performances, Colour of Music artists will be in residence at UofSC and present masterclasses for students.
"Working with these alumni in masterclasses and seeing them in rehearsals and other settings throughout the residence will allow our students to see what it means to meet the musical goals they have for themselves," Harding says.
Robinson-Stinson and Carter have performed previously with Colour of Music. Carter, a bassoonist who now lives in Cincinnati, sees performances such as the Mahogany Music Festival – in which two of the concerts are free – as an opportunity to showcase Black musicians and composers for the community.
"To improve diversity in classical music, we have to provide exposure and access at an early age and emphasize the impact of musicians and composers of color," Carter says.


The making of a musician
Both Carter and Robinson-Stinson developed an interest in music at a young age. Robinson-Stinson started violin lessons at age 3 and says her experience speaks to the power of representation.
"My first violin teacher was a Black woman," Robinson-Stinson says. "I studied with her until I was 8 years old. She was my first and only Black teacher, but because of that, I didn't realize that being a Black violinist was anything unusual until I was in high school and started noticing that often I was the only Black person in the violin section."
In her early teen years, Robinson-Stinson says something clicked after she attended a summer music camp. She pursued more opportunities, and when she started high school, she knew she would be applying to college music programs. After originally planning to study at another university, she chose to attend UofSC. Robinson-Stinson completed her bachelor's degree in violin performance at UofSC and then earned her master's degree at Rice University.
"I was so impressed with the support system and the structure that is built into music program," she says. "I was really encouraged to take as many opportunities to perform as I could, and when I left, I had so many tools to take with me."
UofSC also is special to Robinson-Stinson because it is where she met her husband. McKinley Stinson studied percussion in the School of Music and is now a band director at Booth Middle School in Peachtree City, Georgia.
Carter, who grew up in West Columbia, South Carolina, began playing the bassoon in middle school. He says his first instrument choice was saxophone or trumpet, but after scoring well on an aptitude test for band, the teacher approached him about playing the bassoon.
"He said it was a complicated instrument, but he thought I could do it based on my test performance," Carter says. "I actually did not like the bassoon at first; it's hard instrument to grasp."
That changed in the eighth grade when Carter attended a day camp at UofSC for students who play double reed instruments. At the camp, professors presented a small recital playing the bassoon and oboe.
"I thought they sounded absolutely beautiful," Carter says. "I realized the bassoon could be a beautiful, creative, unique instrument and I wanted to explore that more."
He developed an interest in classical music, and by high school, he had made the decision to pursue music as a career path. Attending UofSC was almost a given.
"I had a lot of friends who already played there. I had been there several times for different camps, so it was an easy transition for me," says Carter, who completed his master's degree at the University of Cincinnati after graduating from South Carolina's School of Music.


Remembering 9/11
Music is not only a calling for Robinson-Stinson and Carter, they describe it as a connector – a way to bring people together – and for that reason, both say they are looking forward to a Saturday concert that honors the 20th anniversary of 9/11, citing the beautiful and powerful music in the program.
"From poignant piano entrances to heart-wrenching arias, the program was curated to move the audience through a touching and emotional time when every aspect of our lives suddenly changed," says Lee Pringle, founder and artistic director of the Colour of Music Festival.
Robinson-Stinson says one of the things she has learned during the COVID-19 pandemic is the power of music to bring people together and to speak to pain and tragedy in a way that is sometimes hard to articulate in words. She hopes the 9/11 concert will help bring some healing and reflection for the musicians and the audience.
Carter, too, says reflection is important to remind us that 9/11 was one of those rare days we all felt as one despite the problems and issues we might have been facing individually and as a country.
"It is important to reflect upon tragedies that have happened in the past and grow from them and learn how to rely on each other to get through challenging times," Carter says. "I think that it's going to be very well reflected in the music we'll be playing on that day."


Mahogany Music Festival
In addition to Carter and Stinson, these UofSC alumni will also perform in the festival: cellist Idris Chandler, flutist James Miller and string player and composer Nicole Neely.
7:30 p.m. Thursday, Sept. 9
Colour of Music Festival Octet and UofSC alumni will perform a special chamber presentation of the Mendelssohn Octet and chamber works by Joseph Haydn, Coleridge-Taylor Perkinson and William Grant Still. UofSC School of Music Recital Hall; free, no ticket required.
8 p.m. Friday, Sept. 10
Auntie Karen Foundation Legends of … concert with international performer Vanessa Williams and the festival orchestra led by Boston-based conductor Julius P. Williams. Also featuring the Auntie Karen All-Star Band. Koger Center for the Arts, tickets $55-$75.
7:30 p.m. Saturday, Sept. 11
The Colour of Music orchestra will perform a concert conducted by Julius P. Williams featuring music that honors the 20th anniversary of 9/11. School of Music Recital Hall. The performance is free, but tickets are required and can be picked up at the Koger Center box office, 806 Park St., or call 803-251-2222 to reserve a will-call ticket. This concert also will be livestreamed on YouTube.
---
Share this Story! Let friends in your social network know what you are reading about
---