Scenes from the Jazz ensemble rehearsals.
The saxophonist weaves long flowing melodies while inserting subtle accent changes as the spotlight gleams off the gold instrument. The smooth sound takes on a soulful level of emotion before the drummer breaks in with one shattering beat. The Swing Shift Big Band is harmonizing to familiar jazz beats through changing rhythms and tempos before the trombone player takes over at center stage.
It's a scene you might expect in New Orleans, but in fact these performers are learning the art of improvisation in Columbia, thanks to the USC School of Music's renewed commitment to "America's most important cultural export."
It's a fitting role for the largest university in the Palmetto state, home of the Gullah rhythms that formed the foundation of jazz and the blues and birthplace of legendary artists like Dizzy Gillespie and James Brown.
However, "South Carolina's music education programs don't reflect the rich heritage," says Matt White, chair of USC's jazz program in the School of Music. "Of the state's nearly 400 high schools, only 25 have jazz ensembles, he says. "USC is working as the flagship institution to improve this (situation)."
Dean Tayloe Harding has eyed growing the university's jazz program for more than a decade.
In 2020, he seized opportunities to turn his vision into reality: identifying new resources for jazz when a faculty member retired, boosting program funding and partnering with the University Foundation to buy the Greene Street United Methodist Church.
The result? The School of Music is bolstering the state's jazz scene thanks to a dedicated space to educate artists and jazz educators, creative engagement and outreach programs to seed the state's jazz and American music pipeline from the Upstate to the Lowcountry and energetic faculty and alumni eager to connect students with top musicians.
"The School of Music aspires to be among the premier jazz programs in southeastern public universities, which is a concrete manifestation of our commitment to American music traditions and preparing diversely skilled musicians," Harding says.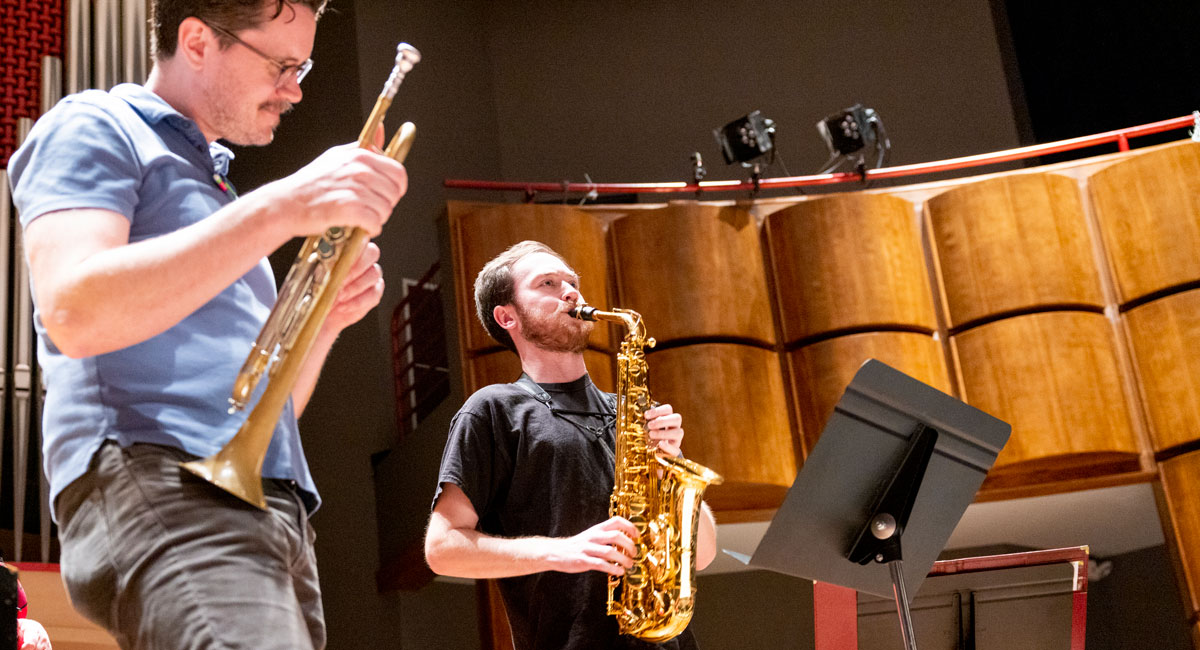 Destination for jazz
Harding says students are attracted to jazz because it emphasizes individual expression. Musicians trained in jazz are also able perform in a variety of styles, sight-read and use their ears and judgment to collaborate with other musicians.
Freshman performance jazz major Allwyn Edwards says that interaction helps musicians blossom.
"You can sit down with other musicians and have a conversation through the music," Edwards says. "People can find their voice through that. I'm so glad the School of Music has a focus in jazz."
The university's jazz program is expected to relocate this year to Greene Street United Methodist Church. The church buildings are currently being renovated, with faculty office moves slated for summer and a main rehearsal and classroom space the will be ready for summer concerts.
Once all renovation phases are complete, the church facility will also host guest artists for student master classes and offer performances open to the public.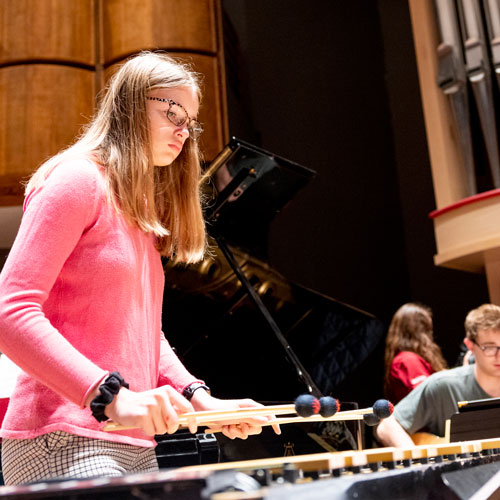 And although the church space is not yet ready, the school's jazz activities have exploded in anticipation. Since fall 2021, the school has hosted 24 guest jazz artists with plans to bring even more performances.
"Our location in the Midlands is key to the success of the jazz church's larger room and the club downstairs," Clark says. "We're planning on making this the stop in South Carolina, so that incredible acts from the west coast, New York City and all around the world will make this a priority stop as they tour the Southeast."
This year, the school's biggest jazz event — its annual March festival — will be headlined by guest artist and multi-Grammy winner Michael Dease, the most recorded trombone player in the world. In addition to performing at the festival, Dease will coach 12 middle and high school bands from all over the state.
Already, the jazz program boasts graduates working at the highest level in major cities like New York City and Los Angeles and in major professional ensembles.
Jazz Girls Day
Reaffirming South Carolina's role in jazz music is an effort that requires engaging communities across the state, Harding says.
One of the best examples of the school's work in that area is Jazz Girls Day, which new faculty member Colleen Clark started in 2022 as an outreach event for S.C. middle and high school. Her goal is to grow the number of girls in jazz and inspire more music teachers to launch jazz programs in public schools.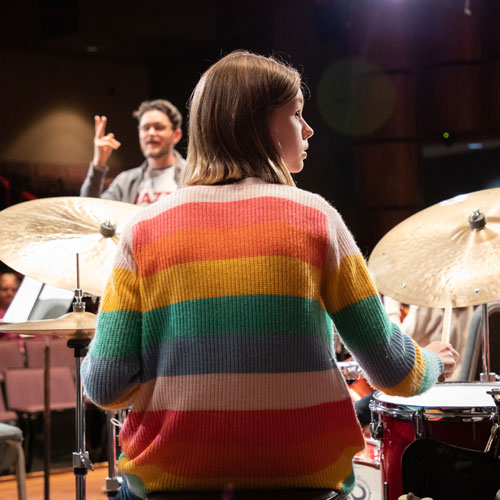 "I grew up typically being the only girl in the band, which is still often the case," says Clark, an assistant professor of jazz studies. "This event is not only meant as a program for girls to come and try jazz, but it is made for the girls to play jazz together, opening the door for new friendships and community building."
The day-long events are currently held throughout the year in three locations: the Midlands, Lowcountry and Upstate with plans to expand nationwide. Clark has a goal of presenting at least one Jazz Girls Day in all 50 states by 2030. Since the program launched, it has expanded to include a music educator track to offer support to start or strengthen school programs.
Jazz Girls Day is already inspiring girls and boosting the pipeline of jazz musicians and teachers. Senior music education major Savannah Mellichamp aims to create more opportunities for students to learn jazz in school.
"I was interested in jazz in middle and high school, and when I got to USC, I decided I wanted to be a band director," Mellichamp says. "A big part of that is also teaching jazz band."
Making connections
The reimagined jazz program is powered in part by new faculty members, who bring with them the prestige of musical awards and the professional experience of recording hundreds of songs with big name artists, White says.
He should know. White has played on numerous albums, radio broadcasts and television shows. He has also performed and composed music for artists such as Rihanna, Becca Stevens and The Tommy Dorsey Orchestra.
But what jazzes him these days is the chance to use his experiences to prepare students for successful careers in jazz.
"We are connected in ways that gives our students huge advantages as they enter the professional music world," says White. "We are devoted to helping students determine what their dreams should be and how to make those dreams come true."