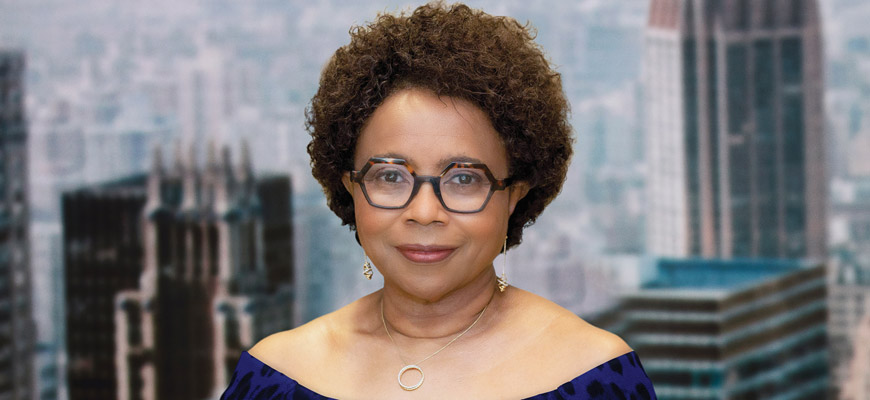 Alumna plays crucial role in media company's inclusion efforts
Marva Smalls, '77, '82 MPA, has been working on diversity, equity, inclusion for decades
---
By Craig Brandhorst,
craigb1@mailbox.sc.edu
, 803-777-3681
---
When cable television executive Geraldine Laybourne first lured Marva Smalls to Nickelodeon in 1993, the former political science major went "kicking and screaming." Her words.
The job was appealing. And important. Laybourne wanted Smalls to help launch the youth-oriented cable network's public affairs department at a time when youth empowerment was on the rise and cable was king. Smalls, though, was on a different path.
She had a great job in Washington: chief of staff for U.S. Congressman Robin Tallon. In fact, she was the first-ever Black chief of staff for a white congressman from the South. She had also worked for South Carolina Gov. Dick Riley, and before that, for the lieutenant governor's office. As an undergrad she had been a State House page for Sen. Tom Smith.
She had majored in political science to go into politics, in other words, not cable television, and relocating to New York felt like a bridge too far.
"I thought D.C. was as close to the Mason-Dixon line as I would go without having to cross it," says Smalls, who grew up in Florence, South Carolina. "But Geri Laybourne had recruited me, and she personally sold me on taking a chance to join Nickelodeon. Geri said, 'If you help teach us about the broader world, we'll teach you about entertainment and cable.' I said I would do it for a year and then go back to politics."
Twenty-seven years later, Smalls is still there. And while she can now tell you all about the 21st century entertainment ecosystem she has helped shape, she is also still teaching her industry about the broader world — as an executive vice president and the global head of inclusion at Nickelodeon's parent company, ViacomCBS.
Asked about her role in driving diversity, equity and inclusion at ViacomCBS, Smalls chooses her words carefully, not out of trepidation but because nomenclature matters.
My choice of the university was intentional ... I chose the University of South Carolina because it was the seat of power in Columbia.

Marva Smalls
Her own title, head of global inclusion, is a reminder that DEI efforts must be broadly implemented, she says. And the decision not to include the word "diversity" was intentional, not because it isn't a core value but because it's just one variable in a larger equation.
"Diversity without inclusion is tokenism, and inclusion without a sense of belonging is a missed opportunity," Smalls explains. "At Viacom, we like for all of our employees to bring their whole self to work. There's no part of who they are that they need to check at the door in order to survive and thrive at our company."
Because ViacomCBS is a content provider as well a content creator, and because the company's reach extends beyond company walls, the mission is robust.
"We are very intentional with our creators as well as those with whom we do business, ensuring that we have adequate representation in writers' rooms, with directors, with our production teams," Smalls explains. "It also means that we are reflective of what our audiences, our employees and our shareholders expect."
And while the approach is very 2021, Smalls' philosophy was informed by nearly three decades in the industry — and shaped, in part, by her undergraduate experience at the University of South Carolina in the 1970s.
Smalls wasn't blind to the lopsided racial makeup of the student body when she moved into the Women's Quad freshman year — "I was conscious of the fact that there were 20,000 students, of which only 2,000 were Black," she says — but she made a conscious decision to push herself out of her comfort zone and into the halls of power.
"My choice of the university was intentional," Smalls explains. "I knew that I wanted to be in politics, that I wanted to lend my voice to advocacy, whether it was through the political system or through NAACP, where I was also active. I chose the University of South Carolina because it was the seat of power in Columbia."
In addition to working as a State House page, Smalls made herself seen on campus. She pledged Alpha Kappa Alpha, joined the Young Democrats, connected with faculty like political science professor and future-Democratic Party Chair Don Fowler, who she calls her mentor, and left a mark of her own, launching the university's first collegiate chapter of the NAACP.
She even developed a lifelong friendship with future NBA great (and now Board of Trustees member) Alex English, who helped her get a handle on philosophy when she signed up for a class that was a little out of her wheelhouse.
"I got an A, but that also gave me a little bit of cred being seen with the star basketball player," she says. "But the point is, we leaned in — the Black students leaned in to onboard each other and to understand where our shared advocacy could be."
Smalls, in turn, was rewarded with an education that went beyond coursework.
"You know, my experience at the university was great," says Smalls, who received an honorary doctorate in humanities from the university in 2013. "I went with the assumption of good intent, and that is something that's very critical as part of my journey and how we drive diversity, equity and inclusion across the entire ViacomCBS ecosystem."
---
Share this Story! Let friends in your social network know what you are reading about
---