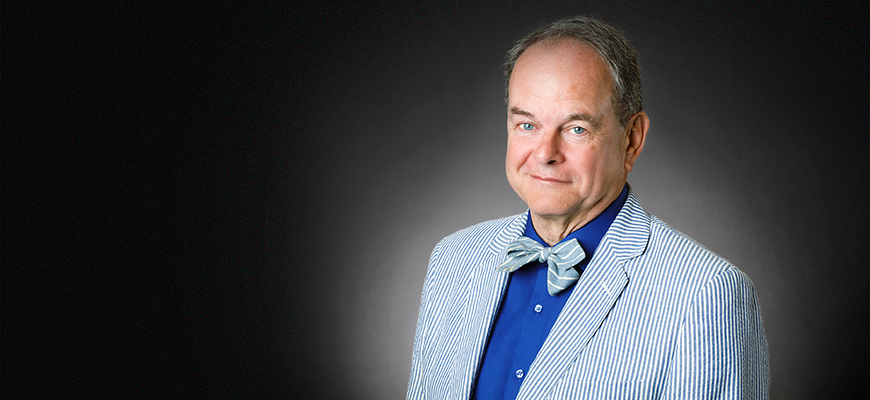 'Taste the State' reconnects South Carolinians with ancestors' ingredients, recipes
Latest book from USC Press highlights Carolina Distinguished Professor David Shields' research on state's culinary history
---
By Abe Danaher,
adanaher@mailbox.sc.edu
, 803-576-7780
---
David Shields is many things: distinguished faculty member at the University of South Carolina, renowned author, and owner of one of the greatest collections of vintage performing-arts photographs. In the Palmetto State, though, he may be best known for his contributions to the kitchen table.
"I'm basically known as the flavor saver," Shields says. "The person who goes out to hunt ingredients down and gets people to grow them and chefs to use them."
For 20 years, Shields has been working to bring Southern cooking back to its roots. He has devoted multiple books to identifying crops and ingredients that were once used by chefs across the South, but now aren't even grown. Then, through his leadership of the Carolina Gold Rice Foundation, he has worked to bring back these ingredients by encouraging farmers across the state to grow them and chefs to reincorporate them.
With his new book Taste the State, co-authored with Kevin Mitchell and on sale Oct. 12, Shields is furthering his efforts by touting the richness of South Carolina's culinary history. In the process, he and Mitchell hope to reconnect South Carolinians with the recipes and ingredients of their past.
The book is one of 20 being published by the University of South Carolina Press this fall. Director Richard Brown says it aligns perfectly with the publisher's mission of serving the university and state.
"We tell stories," Brown says. "And this book is just an incredible story about the way we eat and the way we think about food. And this is just one beautiful illustration of our press's commitment to telling stories about South Carolina and the state's people, food and culture."
In Taste the State, Shields and Mitchell highlight 82 signature ingredients from the Lowcountry, Midlands and Upstate, sharing stories of old kitchen table staples like the tania plant and the relevance of Duke's mayonnaise to the state. For some dishes, Mitchell — the first African American chef instructor at the Culinary Institute of Charleston — even re-created the meal and provided an updated recipe for doing so.
Mitchell thinks that even the greatest experts on South Carolina cooking will find themselves learning a thing or two when they read the book.
"I think there will be several ingredients and things we write about that people will be like, 'Wait a minute, how is that tied to South Carolina?' " he says. "And then hopefully that sparks in them a curiosity for knowledge and they pick up the book and say, 'Well, what are these guys talking about oranges for? Why are they talking about asparagus?' "
The University of South Carolina Press worked with Mitchell and Shields to help the authors achieve their vision. Aurora Bell provided proofing and editing, while Pat Callahan oversaw the book's layout and design. The high production values USC Press' team brings to every book is a "distinguishing characteristic" of the press, says Brown, and one that he thinks is exemplified by Taste the State.
"It's an absolutely gorgeous book," he says. "It's just so pretty, it's fun to read, and you just want to dive into it."
Mitchell and Shields are sure the new knowledge shared in the book will attract curious foodies from across South Carolina. But they think its appeal will be much wider than that for a very simple reason: Who's never been a little hungry?
"As a chef, I'm hopeful that people try their hands on some of the recipes and maybe contact me and say, 'I tried the recipe for your grandmother's peas and greens, and I think it's great. I want to try your recipe on Hoppin' John, or the fritters, or whatever,'" Mitchell says. "That's what I'm hoping."
---
Learn more
You can learn more about the book and buy it online at USCPress.com. There also will be ticketed dinners featuring Chef Kevin Mitchell on Oct. 29 and 30 in Columbia.
---
Share this Story! Let friends in your social network know what you are reading about
---