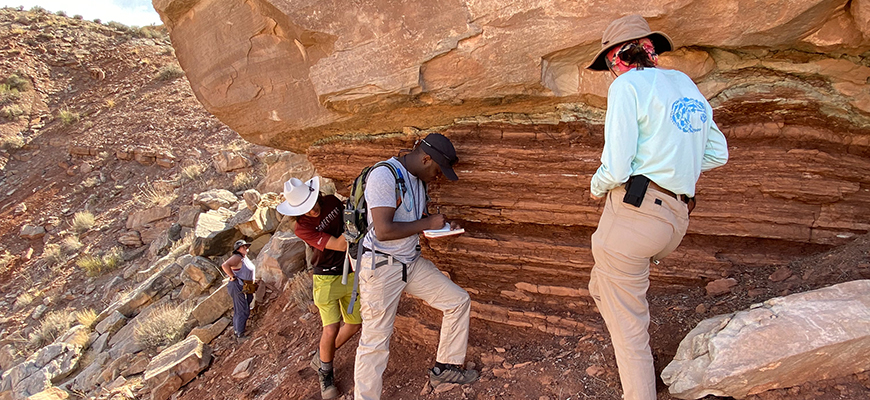 Beyond the classroom learning opportunities grow for UofSC's students
The Center for Integrative and Experiential Learning's new grants create more opportunities for students to learn outside traditional classroom setting
---
By Abe Danaher,
adanaher@mailbox.sc.edu
, 803-576-7780
---
Lara Ducate is close enough to Five Points to smell lunch being served at Blue Pizza. She can hear music and feels its beat reverberating down Greene Street to Martin Luther King Jr. Park, where she and 20 of her students stand.
Despite being just steps from the entertainment district beloved by generations of Gamecocks, Ducate quickly realizes that she's brought her students into uncharted territory.
"Many of them said they had never even noticed the park," says Ducate, a professor of German and Applied Linguistics in the College of Arts and Sciences and faculty executive director of UofSC's Center for Integrative and Experiential Learning. "But even those who had, of course, didn't think about the historical impact of that park."
Throughout the next 1.5 hours, the students in her Green Technology in Germany class and history professor Thomas Lekan's Into The Wild: Global Conservation since 1800 course participate in experiential learning — a type of hands-on learning that brings students outside the classroom and exposes them to the world around them. They meet with a civil engineer who explains the efforts conducted to control flooding in the area. They hear about the history of the park from Historic Columbia. Following a jam-packed day, they reflect on what they've learned.
"One student said, 'It was just so great to see all these things we're learning in class, and how they're applied,'" says Ducate. "And I mean, that's exactly why we do these things — so that they understand how this all looks in the real world."
Every student should explore and engage while here at the University of South Carolina. This will maximize the impact of their own education and transform them as individuals.

Sandra Kelly, vice provost
Expanding the mission
Now, Ducate has a larger mission: making it so that every University of South Carolina student can experience the wonders of beyond the classroom learning. As the director of CIEL, she is working to make this possible through the office's recent rollout of four grants focused on increasing experiential learning opportunities.
The grants are available to faculty and staff. Some focus on providing one-time experiences to students, like Ducate's trip to MLK park, while others enable the development of new programs or curricula on campus. All share the goal of tying what students are learning in class to what's happening in the larger world around them, and strengthening their connection to the larger campus community.
"What matters is that our students engage and learn in the manner that is best for them," says Sandra Kelly, vice provost at South Carolina. "Some students thrive doing research, some students love international experiences, others learn best from internships, and still others find that service learning or leadership positions are their preferred way to engage with all that our university has to offer. It just depends on the student but what is key is that they learn and grow as individuals."
"Every student should explore and engage while here at the University of South Carolina," Kelly continues. "This will maximize the impact of their own education and transform them as individuals."
This calendar year, CIEL gave out 30 grants to promote experiential learning. The grants supported experiential learning staples like study abroad trips, internships and research. But they also supported advertising retreats, costume design for a film, music festivals, local field trips and even a geology field camp to the American West.
Westward bound
Dave Barbeau, an associate professor in the School of Earth, Ocean and Environment, led the monthlong geology field camp, which serves as the geological sciences undergraduate program's capstone course. Sixteen students and five staff rode in four SUVs and a box truck out to Utah and Colorado, where they camped and lived self-sufficiently for a month on public lands. While students in the course learned necessary technical skills like creating geological maps and reconstructing geologic histories, it was developing ancillary skills — like integrative thinking, resiliency, and overcoming the challenges of field work — that Barbeau believes contributed most to their growth.
"Often you'll hear, 'This was the most important educational experience that I've had in college, or in my life,'" says Barbeau, who also received funding through his department and the NSF-funded GeoScholars Program. "And that's a little superlative, but I would say I've heard that 20 or 30 times over the 10 or so years I've been involved with field camp."
An experience for every student
Barbeau's grant and the 29 others awarded by CIEL this last year represent an integral step in the University of South Carolina's efforts to build a thriving culture of integrative learning on campus. Ducate says that her goal is for every student to be involved in at least one substantial beyond the classroom engagement before graduation.
Students' involvement in these experiences does not have to be extensive. While it would be great to see every South Carolina student participate in Graduate with Leadership Distinction or 45-hour experiential learning opportunities, she says, this is not what she is currently working toward. Instead, she just wants students to give beyond the classroom learning a try.
"We're encouraging students to start small and to just get involved in any way," she says. "And then once they realize, 'Oh, this is fun. I'm meeting people. This is giving me ideas about my career or my personal life. I'm learning about myself and who I want to be in the future.' Then hopefully they'll continue to do more and maybe keep growing in terms of how involved they're getting."
Creating opportunities, improving retention
As CIEL works to create more experiences for students to get involved with beyond the classroom learning, it is explicitly trying to create opportunities for Pell-eligible, transfer, male and underrepresented minority students. The university's recent Quality Enhancement Plan — which was developed under the leadership of Amber Falluca, director of the QEP, in close collaboration with the entire UofSC community — specifically highlighted the positive effect that experiential learning can have on these groups' academic experiences. With experiential learning's proven impact on the retention of students, South Carolina believes it can better retain and support these specific student demographics.
"Out of the freshmen students who engaged in one beyond the classroom experience, 84 percent returned for their sophomore year," Ducate says, referencing 2018-19 data gathered at the university by Beyond the Classroom Matters. "For students who engaged in more than one, 91 percent returned. And out of the students who didn't engage in any beyond the classroom experiences, only 66 percent returned.
"We hope that that by targeting these specific groups we can help the overall university's goal of better retaining our students. On top of that, we also know how beneficial these experiences will be for them during their academic career and beyond."
---
Share this Story! Let friends in your social network know what you are reading about
---