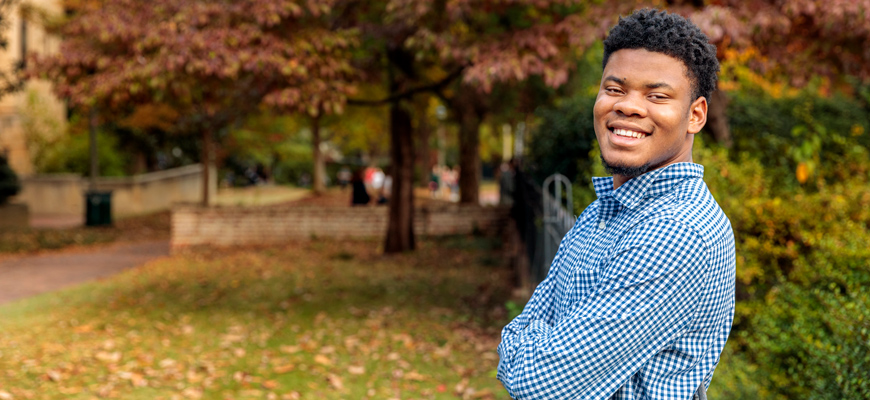 December grad drawn to UofSC by summer program
King Curry credits several programs for his successful college career
---
By Page Ivey,
pivey@mailbox.sc.edu
, 803-917-5882
---
It was a summer experience while King Curry was a student at Ashley Ridge High School in Summerville, South Carolina, that led him to choose the top-ranked Darla Moore School of Business for college.
"My parents said 'South Carolina has one of the best business schools in the nation and it's just down the road,' " says Curry, who graduates in December with a degree in operations and supply chain management and a minor in sport and entertainment management.
Part of his decision was participating in the Business at Moore program while he was still in high school. BAM is a one-week summer program that targets high-achieving high school juniors and rising seniors who are under-represented in the world of business.
"We stayed at the Honors dorm and you have to come up with this business proposition," Curry says. "Then at the end of the week, you have to present it. And I had a lot of fun. That's really what kind of made me say, 'OK, I want to go to South Carolina.' "
One of Curry's goals was to find a degree program that would lead to a career without having to go to graduate school. He starts that career in January with JEAR Logistics in Mount Pleasant, South Carolina, where he had an internship last summer.
It's a big school, but the campus isn't so big where it's overwhelming.

King Curry
In addition to Business at Moore before he arrived on campus, Curry was selected for the business school's Rising Scholars program, which is designed to connect underserved students with opportunities and resources on campus. Incoming freshmen are picked for the program and connected with opportunities throughout their careers at Carolina, including peer-to-peer mentoring, professional development workshops and networking opportunities.
He also participated in the university's Multicultural Assistance Peer Program, which pairs up a freshman with a trained mentor for their first year.
"I was a mentee during my freshman year, then a mentor during my sophomore year," Curry says.
Curry also was a member of the Black Business School Association, which offered members training in the professionalism of the business world, including writing a resume and "acing a job interview." Curry held a leadership position for that organization, serving on the board and as creative director. He hopes to be one of the alumni the group invites back to talk to first- and second- year students about his experiences navigating the business world.
Curry hopes his experiences at Carolina will help others choose UofSC for their academic careers. It is already working in his own family.
"I have five younger sisters. Two of them are here — one's a freshman in the Honors College," he says. "I would definitely recommend coming to South Carolina. It's a great environment. There's a lot of things to do on campus. It's a big school, but the campus isn't so big where it's overwhelming."
---
Share this Story! Let friends in your social network know what you are reading about
---