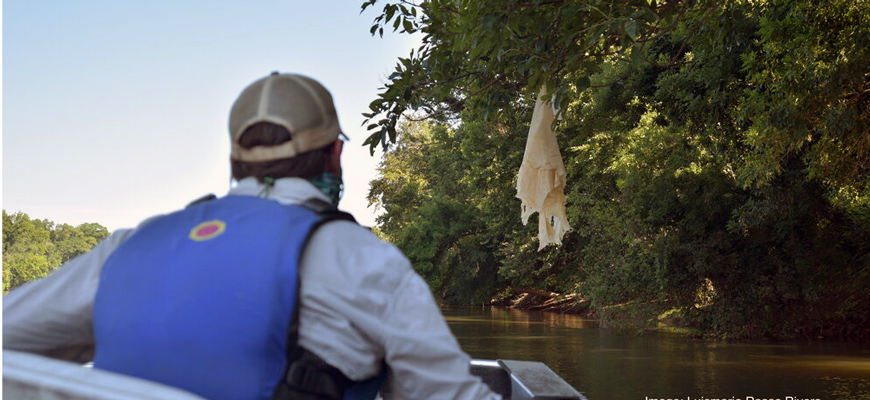 Environmental science graduate takes research to the next level
Emma DeLoughry turns her study of plastics pollution in South Carolina into documentary that will air on ETV
---
By Savannah Bennett,
mrassist@mailbox.sc.edu
---
As an environmental science graduate student, Emma DeLoughry was inspired to research plastics pollution in the state's waterways by an internship at the South Carolina Aquarium and by what she saw in her own backyard.
Most of her research came from campaigns and projects at the aquarium, but the visual driver was what she saw in Columbia's three rivers.
"I lived right next to the Riverfront Park in Columbia and in my undergraduate career at UofSC, we often went out into the community to help with cleanup," says DeLoughry, 2019 environmental science, 2021 Master of Earth and Environment Resource Management. "It was then that I was able to see the extent of plastic waste in our waterways."
Her research showed that hundreds of thousands of plastic debris items were collected from South Carolina waterways in less than five years.
"We don't realize how bad plastic waste can get and how it is getting out there," she says.
To bring the problem to the public, she decided to make a film.
"A film is not traditional for a project like this, however, I wanted to do something where I could affect a behavioral change," she says.
While DeLoughry knew the science and had done the research, she knew next to nothing about documentary filmmaking. That's when she tapped into resources across the University of South Carolina's wide-ranging College of Arts and Sciences.
Media arts professor Laura Kissel was one of many who helped DeLoughry develop the skills needed to make the documentary.
"What is unique about Emma, is that she came to my office at the start of her master's degree, asking me if it was possible for someone like her with a background in science and not film and media to become a documentary filmmaker," Kissel says. "I said absolutely it is and to take my documentary course."
DeLoughry took more than one class and worked hard outside the classroom to improve her film skills.
"She worked really hard to develop the skill set that she needed to be able to use a more sophisticated camera and learn editing software," Kissel says. "She put in a lot of time outside of class to get up to speed on the technical side while building strong relationships with students in our media arts programs."
One of those students, Luismario Rosas Rivera from the School of Visual Art and Design, worked as a videographer and photographer on the project.
"The film would not have turned out the way it did without him," DeLoughry says.
The project received funding from a variety of sources, including the Hootie & the Blowfish Foundation, UofSC's Arnold School of Public Health and the Southeast Coastal Ocean Observing Regional Association.
And now her film will be shown on South Carolina Educational Television.
"I am so excited to have the opportunity, through my documentary showing on SC ETV, to reach a wider audience to raise awareness and affect change on our plastic pollution crisis," DeLoughry says. "One of the greatest things I learned throughout this process was how many passionate individuals are dedicated to fixing this issue."
Banner image: Congaree Riverkeeper Bill Stangler guides a boat on the river. (Photo by Luismario Rosas Rivera)
---
Broadcast details
Alumna Emma DeLoughry's Macroplastics in South Carolina Waters: Connecting the Midlands to the Coast documentary is set to premiere at 7:30 p.m. Dec. 15 on SC ETV. The film is also available on the documentary website.
---
Share this Story! Let friends in your social network know what you are reading about
---