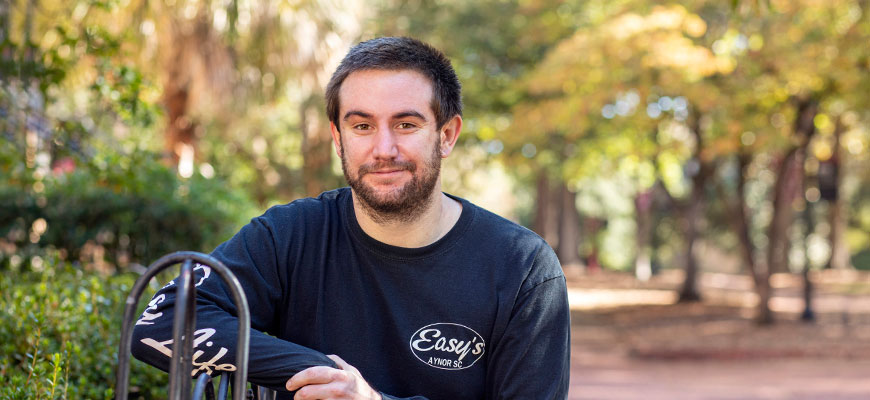 First-generation alumnus returns to UofSC to pursue history Ph.D.
---
By Megan Sexton,
msexton@mailbox.sc.edu
---
Trey Capps excelled in high school and graduated at the top of his class in the tiny town of Aynor in eastern South Carolina. When he considered his college plans, he knew he was ready for new experiences in a larger city.
But there were plenty of factors playing into his decision.
An only child, Capps would be the first in his family to go to college. He wanted to go away to school, but not so far that he couldn't come home on an occasional weekend. His mother had died of cancer when he was 15, an illness that had devastated his family both emotionally and financially. His father, a carpenter, had lost his job in the lumber industry. The family was in a tailspin. Money was tight.
"I knew I didn't want any debt. Going to the University of South Carolina would allow me to do that. As an 18-year-old, I'm glad I thought that way. Also, the Honors College was a big draw. It was advertised as a small liberal arts school within a big university, where you'd have all the resources," he says. Choosing UofSC "was a lot about opportunity and what a more urban setting had to offer."
Once he got to campus, he got busy seizing those opportunities.
He earned the Gamecock Guarantee scholarship, received a Pell Grant and was named a Palmetto Fellow. He also was a recipient of the James F. Byrnes Foundation Scholarship, which provides help for students from South Carolina who have lost one or both parents. Six years after earning his undergraduate degree and now in graduate school at UofSC, Capps continues to be involved with the Byrnes Scholars.
"They don't want to just give you money and say, 'good luck.' We meet three times a year, we are introduced to the new scholars, we do mentoring," he says. "I met my wife through the scholarship; she got it a couple years before me."
"The kinds of connections that are made through the Byrnes Foundation can lead to internships or career opportunities," he says. "It was one of the highlights of my college years."
Capps' college years were filled with highlights. He earned his undergraduate degree in history and English in the College of Arts and Sciences, taking full advantage of the opportunities offered to him through the South Carolina Honors College. His accomplishments reflect his broad range of interests – from music to African American history to museums. He worked on research projects with professors, including with his mentor Lauren Sklaroff.
The Honors College was a big draw. It was advertised as a small liberal arts school within a big university, where you'd have all the resources.

Trey Capps, history Ph.D. student
Sklaroff, a history professor and director of graduate studies, met Capps when he took one of her undergraduate history courses. She was impressed with the papers he wrote, and with his interests, enthusiasm and ambition. She soon became a mentor, and Capps helped with her projects, including research on her book Red Hot Mama: The Life of Sophie Tucker. Sklaroff helped Capps with his Honors College thesis and provided career guidance.
Capps interned at the Smithsonian National Museum of African American History and Culture in Washington when it was still in the development phase – a position that turned into a job offer after he graduated in 2014.
"I thought, 'What an opportunity to be able to go to a museum that hasn't been up and running for 20 or 50 years, and see what goes into the planning process for permanent exhibits,' " Capps says. "I was able to work there for the Washington semester, and made good connections there."
He went back to Washington after graduation and worked at the museum until 2016, when the lure of home pulled him back to South Carolina, where he started a DJ business in 2017. At first, he saw the work at weddings and parties as a way to make some money and still have time during the day to record songs, but eventually it evolved into a thriving business.
"I had this hole in my intellectual life. I'm inquisitive and I like learning things, but if someone's not making me read a book, I'm not doing it, so I was missing that aspect," he says.
He decided to look at graduate programs, focusing on public history. He was particularly interested in understanding the way culture and politics interact, and how cultural identities are tied to musical preferences.
Capps says he was always interested in UofSC for his graduate program, "but it wasn't that I'm so anchored to Columbia that I felt this was the only place." Ultimately, mentors he'd worked with at the Smithsonian helped convince him how strong the public history program was at South Carolina, telling him "that this is the place to go to get that specialized program." He started his first courses in the graduate school this fall
Capps is now back working with Sklaroff, who started her own career at the Smithsonian before coming to UofSC. "And now we're working together again. He's an inquisitive guy. He absorbs things very naturally and he's just a delightful person to work with," she says.
Sklaroff says Capps has something she's noticed with other first-generation students and colleagues — a creativity and a willingness to veer off a clearly defined career path. Because first-generation students' families are not always familiar with college or academia, the students often are more open to possibilities and not hemmed in as they pursue their career goals.
"The drive, the motivation, the work ethic. The sense of connection to bread-and-butter issues. In academia, there is sometimes a disconnect between a specific lifestyle that professors are fortunate to have and non-academic, 9-to-5 jobs that most Americans hold. First-generation graduate students are keenly aware of material issues outside the academy. That's refreshing.
"Trey has that," she says. "I'm glad he's back, and I can't wait to see what happens with him."
---
Share this Story! Let friends in your social network know what you are reading about
---