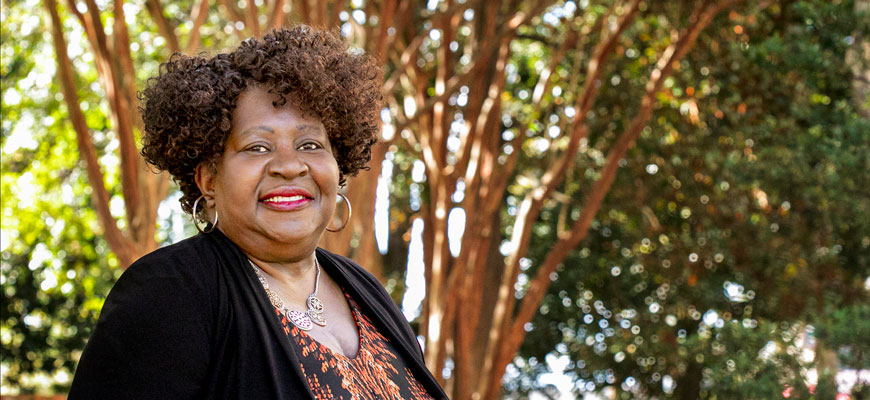 First-generation student comes full circle to help those from similar backgrounds
Sharon White heads McNair Scholars Program that helped her get to graduate school
---
By Craig Brandhorst,
craigb1@mailbox.sc.edu
, 803-777-3681
---
Sharon Lee White enrolled at the University of South Carolina in 1979, the first in her family to attend college. Twenty-one years later, the journalism major finished her bachelor's degree. Nine years after that, in 2009, she completed her Ed.D.
But White's story is more than a long-and-winding-road. It's about the journey and the destination — how she ascended from a small family farm to a career in higher education at her alma mater, where she helps low-income and first-generation college students through the university's TRIO Programs. It's a story that very literally keeps on giving.
White was born and raised in Eutawville, South Carolina, the oldest of three children, raised by a single mom. Five older cousins lived with them at one point as well, and everyone worked in the fields. The soybeans, cucumbers and green beans they grew were not just for market. "We counted on the farm to make money and for sustenance, we ate what we grew," she says. "My dad passed away when I was five, so my mom raised three of us as a single parent."
Those older cousins weren't just mouths at the table, though. They taught White to read by the time she was 4, and she became "a pretty good student." She didn't start to think about college until she was in high school, but when it finally did occur to her that it was a realistic possibility, she liked the idea.
"I didn't see a lot of people who went to college before me, but my mom was very big on education and she encouraged us to think about it," she says. "I started to think about getting away from the farm, that I wanted more. Basically, the only way to get away from the farm would be to join the military or go to college."
She chose the latter, moved up to Columbia and enrolled the University of South Carolina, where she studied broadcast journalism. It was possible, she says, because of the federal Pell Grant program. She completed three years toward her degree and landed a job in broadcasting before she started her senior year. It was a testament to her hard work but also a way out.
Given the statistics, I was not supposed to be Dr. Sharon Lee White. I was born poor, African American, female, on a farm in the country, and my trajectory to where I am today was not straight. But I found great support when I found the McNair Scholars Program, and I know from experience that TRIO works.

Sharon Lee White, coordinator McNair Scholars Program
"I was able to start college with a Pell Grant, but I didn't finish then. I was 30 hours short of graduating, but I wasn't the best student." She laughs a little as she recounts her decision. "I figured I'd leave before they asked me to. Since I already had a job in my field, I figured, OK, let's just go do this."
She worked as a news reporter for a local Columbia radio station and then relocated to New York, where she worked for Hearst Broadcasting. She got married. She had a couple of kids. She got divorced. In 1992, she moved back to South Carolina, where she again worked in broadcasting and in county government. "All those years, I always thought about going back to school because I wanted to finish," she says.
Initially, it was as simple as that. She planned to complete her degree and re-enter the workforce. In 2000, through the help of the TRIO Educational Opportunity Center, a program that assists adults with the re-entry process, she finally re-enrolled.
But in 2001, another adult student told her about the TRIO McNair Scholars Program and encouraged her to apply. She was accepted into the Ronald E. McNair Post-baccalaureate Achievement Program, a subset of TRIO aimed at preparing first-generation or lower-income college undergraduates, or college students from under-represented populations, for graduate study.
"I started envisioning the possibilities," White says. "I was always an avid reader, and I was always inquisitive, but I encountered academic research and I loved it. So, I decided to stay and get my master's degree and a graduate certificate in women's studies."
After that, with a little momentum at her back, she continued on to the doctoral program in curriculum and instruction with an emphasis on race, class and gender studies.
It wasn't easy, of course. Her children were approaching adolescence. She juggled a graduate assistantship and an adjunct position at Midlands Technical College. She was a parent, a student and a teacher all at once, and she'll be the first to tell you she cried a couple times when she was in the McNair Program, which she calls "boot camp for graduate school."
But that "boot camp" was worth it, she says. It gave her the tools to succeed and the strength and confidence to persevere. She was awarded her Ed.D. in 2009, continued to adjunct, this time for the Women's and Gender Studies and the African American Studies programs at UofSC. Then, in 2014, the directorship of the McNair Program opened up and she came back to give back.
"It came full circle, from being a McNair Scholar to a grad assistant and now director of the program," she says. "And I love my job. I absolutely love it. I love working with the students."
And why not? Her story is their story, her success proof that they can achieve as much or more. When one of them is admitted to a graduate program at an Ivy League school or becomes a professor or researcher, she doesn't take credit for their work but pride.
"When I'm working with students, I'm coming at things from the perspective of 'I know what you're going through because I went through it and got through it, and I know that you can get through it,' " she says. "It's a rigorous program."
Starting with an intensive six-week summer session, rising juniors and seniors in the McNair Program complete a graduate-caliber research project and present at a national conference. Over the next year or two, they attend workshops on the graduate school application process, etiquette, how to seek funding. White teaches the program's capstone class, but she's there to assist the McNair Scholars and cheer them on start to finish.
"Given the statistics, I was not supposed to be Dr. Sharon Lee White," she says. "I was born poor, African American, female, on a farm in the country, and my trajectory to where I am today was not straight. But I found great support when I found the McNair Scholars Program, and I know from experience that TRIO works."
---
Share this Story! Let friends in your social network know what you are reading about
---