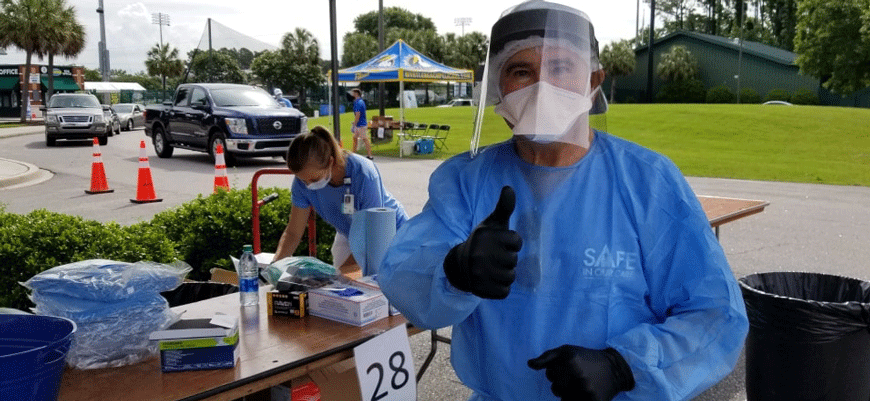 UofSC physics graduate leads American Medical Association through the pandemic with optimism
---
By Bryan Gentry,
brgentry@sc.edu
, 803-576-7650
---
More than 50 years before he became president of the American Medical Association, a teenage Gerald Harmon built a Newtonian telescope.
"Back then, there were no telescope stores and there was no internet," says Harmon. "I had to go to the library and check out books on telescope making. I had to hand-grind the mirror out of telescope glass blanks. It took a lot of effort."
But when he was done, Harmon got to look through his homemade scope and study craters on the moon.
The ability to see faraway goals is essential when you lead America's medical community through a pandemic.
Harmon, a University of South Carolina physics graduate, became president of the American Medical Association in June, just as the Delta variant was causing a surge in coronavirus cases. He opened his term with an inauguration speech praising the medical community's work.
"We're recovering from a pandemic, vaccinating a nation, removing unnecessary obstacles to care," Harmon said in that speech. He went on to recite several other goals the AMA is pursuing, such as ending drug overdoses, making technology work for health care and increasing racial equity.
If you look at statistics on COVID vaccinations, drug overdoses and health equity, those goals seem far away. But if Harmon had the determination to make his own telescope mirror to look at the moon's craters and distant stars, then he can see a path to progress for American health.
"I'm a pathological optimist," he says. "I know that we're going to get better. I know we're going to come out of this stronger than before."
Pathway to medicine
Growing up in Newberry, South Carolina, Harmon had his sights set on UofSC from the beginning. "I was always excited to be a Gamecock," he says.
The same astronomical interest that drove him to build a telescope led him to study physics. While he was in college, he considered a military career. An Air Force recruiter told him that the military needed more doctors and asked if he could get into medical school. Harmon hadn't considered it before, but he added more courses in humanities and social sciences to strengthen his medical school applications.
Seven days after he graduated in May 1973, he married his high school sweetheart. In another seven days, he started medical school.
"I've had a very opportune life," Harmon says. "I've been very blessed to have career choices laid down in front of me."
Harmon's military career led him to become chief surgeon for the National Guard Bureau and assistant surgeon general for the U.S. Air Force before retiring as a major general. Along the way, he also became what he calls "a country doctor," eventually settling down in Georgetown, South Carolina.
When he joined the hospital there, other doctors asked him to serve as president of the local medical society. His service there ultimately led to opportunities in the AMA, the national body representing physicians. He served on multiple AMA councils and on the board of trustees. In 2020, just as the COVID-19 pandemic began, Harmon became president-elect.
"I kept going through doors that opened for me," Harmon says. "I didn't join the AMA to become president. I didn't join the Air Force to become a two-star general and chief surgeon for the National Guard. But the idea is to be really good at whatever job you have. The most important mission you have is your current mission."
His current mission
Harmon volunteered as a candidate for AMA president-elect in 2019, long before anyone had heard of COVID. He had no idea he would be leading the organization through a pandemic. But it became apparent when the virus started spreading rapidly in February 2020.
The following month, hospitals and clinics started taking strict measures to slow the spread of the disease. This included postponing routine tests and nonessential surgeries, which would ultimately affect the health of patients and decrease revenue for health care providers.
Meanwhile, patients flooded hospitals, surgical masks and other protective equipment were hard to come by, and medical staff stress skyrocketed. Harmon, who practices medicine at Tidelands Health in Georgetown, recalls seeing the toll on doctors, nurses and other staff. In a speech to the AMA in November, he compared it to shell shock and battle fatigue he had witnessed in the military.
That's one reason why Harmon made vaccination a top priority for his term as president of the AMA. As the intensive care unit at his hospital overflows with unvaccinated COVID patients, the way out of the pandemic is clear to him.
"We've got to get more shots in arms," Harmon says.
But he recognizes that the slow uptake on COVID vaccinations results from a lack of trust. Harmon has talked with numerous patients about their fears of the COVID vaccine, most of which were based more on internet rumors than scientific reality. He says the medical community needs to demonstrate "overwhelming competence" and a devotion to science to earn the trust of more patients.
"Trust is embedded in the way I practice medicine," Harmon says. "I'd like to restore trust in organized medicine, trust in the health care system. I want to be one of the purveyors of the truth."
Innovation
Harmon's optimism leads him to look at promising innovations that have developed or expanded during the COVID pandemic.
For example, the use of monoclonal antibodies has increased during the pandemic. These immune cells made in laboratories have reduced symptoms and improved survival among high-risk patients who contracted the virus. This could lead to breakthroughs in treatments for cancer and other diseases, Harmon says.
Then there is telehealth, which became more common during the pandemic. "We know we can reach out into rural areas so people can get access to health care without having to drive somewhere," Harmon says. "We've got some science and data behind this, showing that we can help people with an interface like a Zoom call or a Teams meeting."
Harmon added that remote medical care can improve access for communities that lacked adequate care in the past. Although there are still regulations and insurance coverage questions to address so that telehealth can continue long-term, Harmon is confident those will work out.
"We're going to have a new world of digital health care and medicine that will sustain itself after the pandemic subsides," he says.
Harmon's list of positive changes goes on ― mRNA vaccines, wearable devices that monitor vital signs and alert patients to seek care, new insurance and regulatory policies that have reduced bureaucracy, and a greater awareness of public health are among those.
"All of this is going to be of benefit to medicine in the post-COVID world," he says.
---
Share this Story! Let friends in your social network know what you are reading about
---