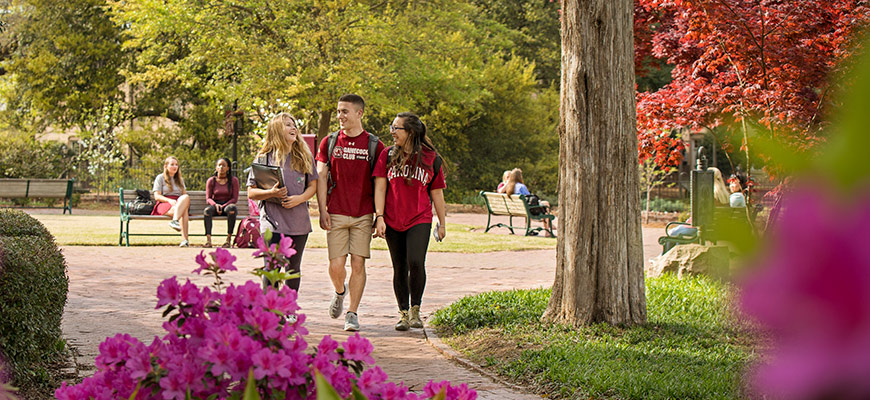 UofSC announces innovation-oriented statewide event series
---
By Jeff Stensland,
stenslan@mailbox.sc.edu
, 803-777-3686
---
The University of South Carolina announced Wednesday that it will host a series of innovation-oriented events this year, which will highlight research, product development, and concept advancements at the University and across the state of South Carolina.
The quarterly series, titled InnovationX, will launch with an initial event on the Columbia campus in May 2022. Future InnovationX events are also planned for Charleston and Greenville. The four-part series will foster connections and partnerships across academia, government, and industry, both within South Carolina and nationally.
The educational series will feature engaging keynote speakers, live demonstrations, interactive panels and more. Each one-day event will focus on innovation across a different topic area, from future factories to industry convergence, modern healthcare, and entrepreneurship. Event topics will cover a broad range of topics, including:
Innovation in Flux: Changing Context of Innovation
Cutting-edge Industry Convergence: Blurring the boundaries between Academia, Industry, and next-level Innovation
Rapid Innovation in Modernized Healthcare
Entrepreneurial Effectiveness: Turning Ideas into Vision
"The University has established itself as the state's catalyst between academia, industry, and government" said Bill Kirkland, Executive Director at UofSC's Office of Economic Engagement. "This innovative series will serve as the single convergence point, designed to showcase USC as the driving force for education, workforce development and innovation here in the state of South Carolina."
Participants will include UofSC industry partners like Siemens, IBM, Samsung, Yaskawa, Nephron Pharmaceuticals, ROVE, Seagate and Fortinet.
Event dates and more information about InnovationX will be announced in early 2022.
---
Share this Story! Let friends in your social network know what you are reading about
---