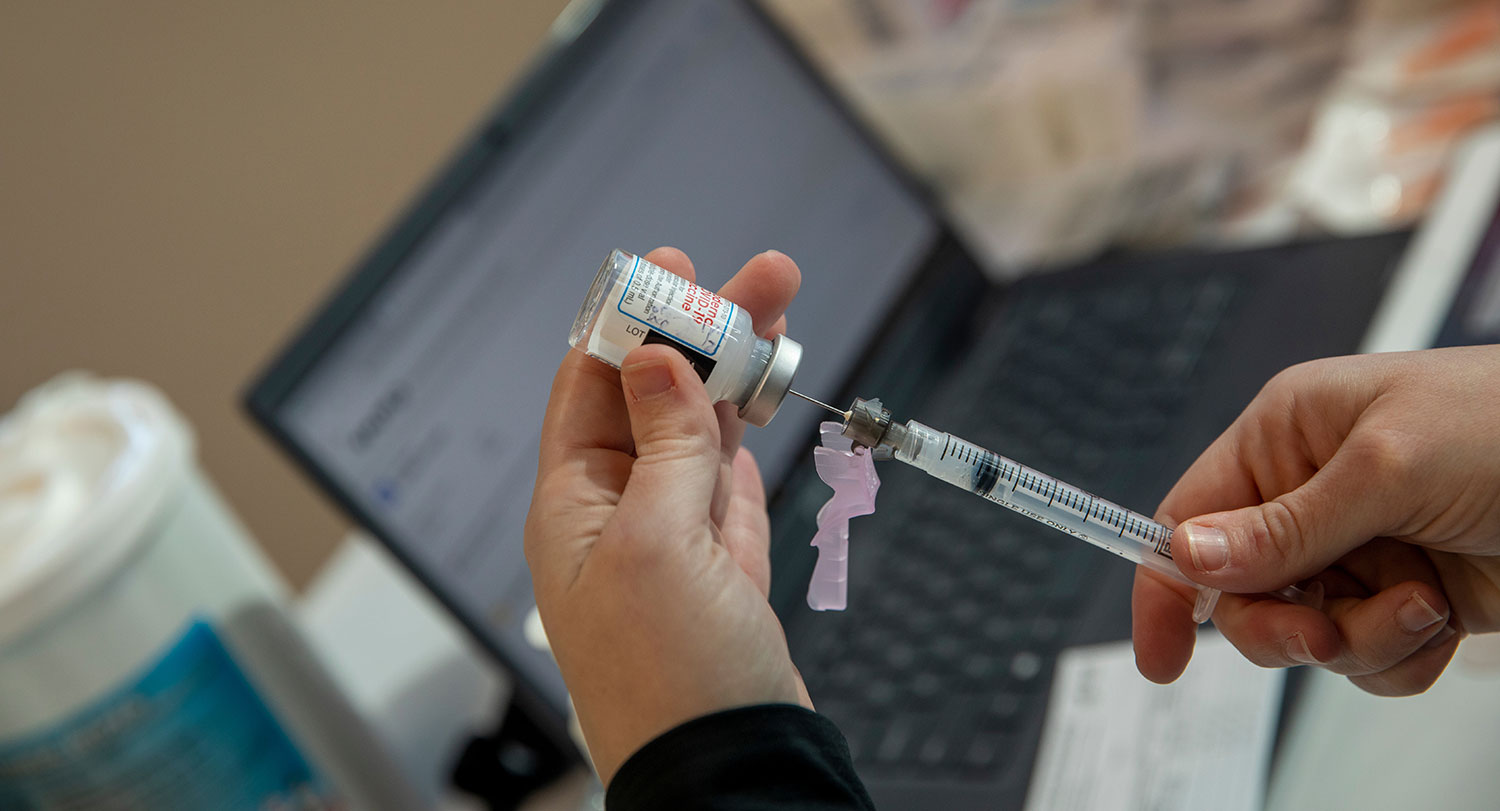 Not that long ago, getting vaccinated meant taking time off work, lining up transportation or child care, and spending an hour flipping through magazines in a doctor's office waiting room. Today, it's as easy as popping into the Walgreens down the street.
Ideally, pharmacists document these visits in an electronic database, making it possible to track which immunizations patients have already had and recommend ones they haven't. But that isn't always the case. What's preventing some pharmacists from recording and recommending vaccines using this data? Could simple changes to their workflow solve the problem?
College of Pharmacy assistant professor Tessa Hastings and her research team might soon have the answer. Their study, funded through a grant from the National Institute of Allergy and Infectious Diseases of the National Institutes of Health, will pinpoint the factors hindering immunization information system usage and offer strategies for overcoming them. Her collaborators are fellow pharmacy faculty members Bryan Love and Gene Reeder, Robert Hock in the College of Social Work, Kathleen Cartmell at Clemson University and Salisa Westrick at Auburn University.
Hastings, an assistant professor in the College of Pharmacy, says pharmacies are a key player in the country's public health efforts because of how convenient they are — 90 percent of people in the U.S. live within five miles of one.
"They're just everywhere," she says. "You don't have the to make an appointment usually. You get longer hours. There are just so many of those barriers that when you think about going to get vaccinated — 'Well, I have to take time off work and I have to do this and that and other things' — that you don't have to do with a pharmacy, so they're perfectly positioned to make a huge impact."
And they have. Since the development of COVID-19 vaccinations, more than 250 million doses have been administered at pharmacies across the U.S., many of which also offer immunizations against the flu, shingles, pneumonia and other common illnesses.
But immunization information systems (IISs) aren't regulated at the federal level. In some states, using the IIS is optional. In others, only pediatric vaccinations have to be logged. The resulting gaps in immunization records make it harder for public health agencies to respond to outbreaks, and they limit the preventive care that can be offered to individual patients.
"We need accurate IIS data so that immunization providers, including pharmacists, can use that to make informed decisions and strong recommendations at the point of care," Hastings says. "If a patient comes in for a flu shot, pharmacists can look in the IIS and say, 'I see you also need your pneumo and your zoster.'"
Many of the large chain pharmacies upload information into their state's IIS automatically. Hastings' study will focus on independent pharmacies, where the data entry process can be more complicated.
"Many are manually going to the IIS website and logging in, finding the patient profile," she says. "Putting all that information in takes a lot of time for pharmacy staff who are already very busy."
The youngest patients could benefit the most from improved IIS usage. Since the passing of the Public Readiness and Emergency Preparation Act in 2020, pharmacies in all 50 states are now allowed to administer vaccines to children as young as 3 years old. The increased accessibility of childhood vaccinations is a boon for children who got behind schedule during the pandemic.
"That's another reason why making sure administered vaccines are documented in the IIS is important," Hastings says. "All the kids getting catch-up vaccines and even those who don't have a pediatrician and might normally fall through the cracks can now get vaccinated in a pharmacy where they couldn't before. That's a huge impact that pharmacists can have for that age group."