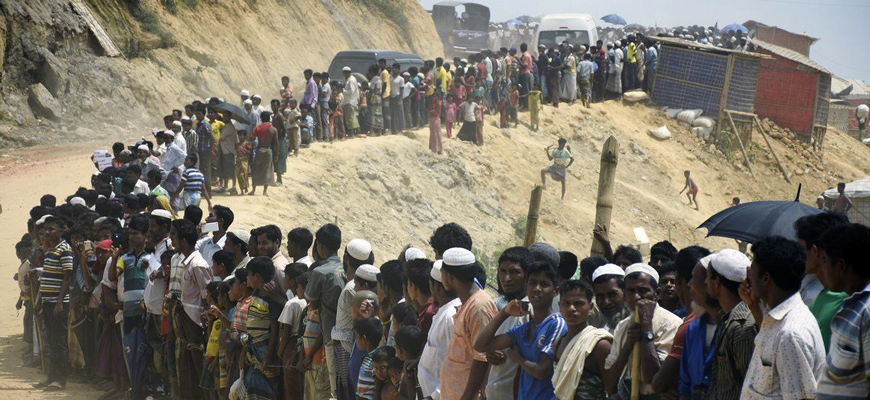 Carolina Survivor Clinic helps traumatized refugees
---
By Page Ivey,
pivey@mailbox.sc.edu
, 803-777-3085
---
Tha Blay Paw Htoo was 23 years old when her family fled Burma for the jungle along the border with Thailand. Members of an ethnic group known as the Karen, Tha Blay's people were persecuted in Burma — now known as Myanmar.
For 18 years, she and others lived in the jungle, creating their own society and taking care of each other as refugees from one of the longest civil wars in world history. Tha Blay worked as a kindergarten teacher.
In 2012, she and her family, including her mother and four sisters, came to South Carolina to start a new life. They joined a community of about 900 other refugees from various conflicts around the world who have been settled in the state by various religious and other philanthropic organizations.
They need regular health and wellness care, but many also need very specialized care that takes into account the trauma and torture they have endured in their lives. And that is where the university's Carolina Survivor Clinic comes in.
"This program, the Carolina Survivor Clinic, was just like unlike anything I'd seen anywhere else in the country," says Dr. Edwin Hayes, co-director and attending physician at clinic. "We take a holistic approach to care for refugees and especially survivors of torture coming to South Carolina."
These are some of the most traumatized people on the planet. They have lived generations in a war zone.

Dr. Rajeev Bais, founder of the Carolina Survivor Clinic
Hayes works with clinic founder Dr. Rajeev Bais to provide basic medical care to people who speak very little English, come from a variety of cultural and linguistic backgrounds and have a distrust of governments or people who operate in any kind of official capacity.
"Basically, from the point that they were first born, they've had exposure to running from soldiers, seeing their family members attacked or murdered and hiding in jungles, eating roots and bugs to try and survive," Hayes says. "And that creates a lot of serial PTSD that essentially traumatizes the functionality of the brain."
Both Hayes and Bais are infectious disease specialists and faculty members at the University of South Carolina School of Medicine Columbia, which is a partner in the clinic. Both are committed to treating not just their patients' physical ailments, but their emotional ones as well.
"I'd say the fundamental goal of the organization is personal agency," Hayes says. "It's to give folks — probably the most vulnerable people in the world — some sense that they can move forward in the world and seek happiness for themselves and their families."
Hayes and Bais also find themselves helping patients navigate governmental red tape.
"I get 100 texts a day from patients," says Bais, who founded the clinic in 2015. "It's nothing that is that hard to do. You just have to make the calls and figure out a way to get it done."
The doctors see patients five days a week from morning until evening and do home visits. UofSC School of Medicine and nursing students have worked in the clinic, as well as social work students.
Before the Covid pandemic began in 2020, the clinic offered English language lessons for adults, homework assistance and soccer clinics for the children of refugees attending local schools and a garden where people could grow vegetables. Bais says they plan to restart those community programs when it is safe to do so because it helps build trust between the patients and the clinic.
"These are some of the most traumatized people on the planet," Bais says. "They have lived generations in a war zone."
While Covid has inhibited much of that face-to-face meeting time, the clinic still can reach out to potential patients through others in the community, like Tha Blay.
"I pray to God: We need a doctor who understand us and help us," she says. "We receive care and love from the clinic and Dr. Rajeev."
Tha Blay works at the clinic helping with communication between the doctors and other Karen patients. While her English skills don't allow her to be an official translator — particularly for medical terms — she loves being able to help her community here in Columbia.
"When you stay in our country, you're afraid. You don't go to hospital, you only run and are afraid of the soldiers," she says. "When (refugees) arrive here, they see respect and love.
"I talk to the patients and encourage them to come. I thank God he send our people here and give us the best place and a good doctor and staff who are very kind to us."
Banner image: Thousands of Rohingya refugees line the roads of the Kutupalong mega refugee settlement as the United Nations Security Council visit takes place. Many hold signs welcoming the visit and saying they want justice, as well as stating their key demands for repatriation. Photo by UNHCR/Caroline Gluck

---
Share this Story! Let friends in your social network know what you are reading about
---