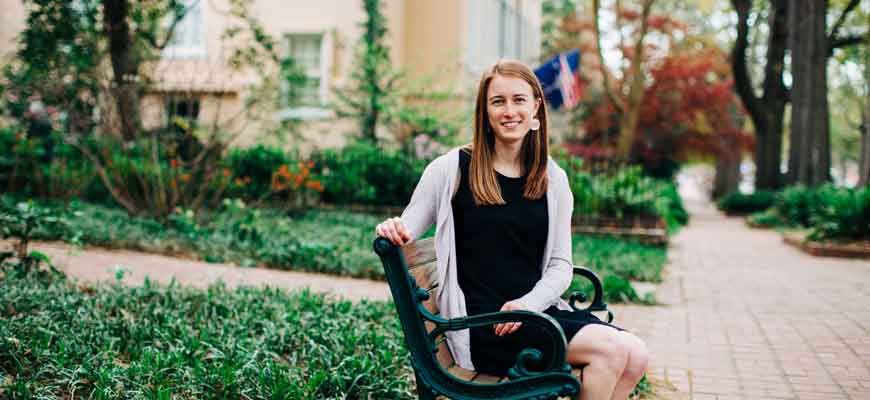 Two UofSC honors students win Goldwater Scholarships
---
By Abbey Smith
---
For two University of South Carolina students, earning the 2022 Goldwater Scholarship has turned childhood dreams into reality.
"From a young age, I knew I wanted to be a scientist," says Kirsten Fisher, a junior biochemistry and molecular biology major from Greer, South Carolina. "When I was 10, my parents even gifted me a microscope that I would spend hours looking through."
Now, Fisher spends those same hours studying plant communication in the labs of professors Johannes Stratmann and Qian Wang.
Fisher and fellow South Carolina Honors College junior Amanda Manea, a mathematics and biological sciences double-major from Charleston, have been named Barry M. Goldwater Scholars. The scholarship, the most prestigious award in the country for natural science, engineering and mathematics undergraduates, recognizes their exceptional work and commitment to research careers.
For the university, Fisher and Manea's achievement marks an important milestone. This is South Carolina's 30th consecutive year producing Goldwater Scholars. Since 1992, the university has celebrated 63 winners from a variety of fields, including computer science and mathematics, experimental psychology, geography and marine science.
This year's recipients are dedicated undergraduate researchers with a passion for scientific discovery. They were selected from an outstanding nationwide pool of 1,242 undergraduates from 433 institutions.
Fisher also has won a Magellan Award and an Honors College SURF grant to support her research. She currently studies defense response in plants in a collaborative project between the departments of biology and chemistry and biochemistry. After graduation, Fisher plans to pursue a doctorate in plant molecular biology, focusing on crop protection and potential plant usage in medicine and biofuel.
Manea, who works as a research assistant with professor Swapan Ray at the South Carolina School of Medicine, aims to earn an M.D./Ph.D. in biomedical engineering and work on machine learning methods in oncology. She recently published a review of treatments for glioblastoma, an aggressive form of brain cancer, and is conducting cancer research while abroad in Madrid.
Yet, neither Fisher nor Manea could have pictured receiving the title of Goldwater Scholar.
"It's empowering," Manea says. "As an undergraduate just starting a research career, I often felt that I was aiming for things that were way beyond my reach."
She slowly built her confidence through key experiences such as presenting at Discover UofSC, winning a Magellan Award, publishing her first paper with Ray and now winning the Goldwater.
"Being named a Goldwater Scholar has shown me that I'm on the right track and that the work I am doing really can make an impact."
Meanwhile, Fisher almost did not apply.
"I got started in research kind of late and only had two semesters of experience under my belt," she says. "I thought this meant I had no chance at being nominated. However, my research mentor, Johannes Stratmann, noticed my dedication and encouraged me to apply."
Becoming a Goldwater Scholar opens the door to a world of possibilities for aspiring professional researchers. In addition to receiving up to $7,500 each, scholars gain access to the Goldwater Scholar community. This national network provides students with mentorship, career connections and fellowship application assistance from previous scholarship recipients.
Over the past 30 years, the university has seen firsthand how winning the Goldwater can launch a student on a path to success. UofSC Goldwater Scholars can be found leading the way at institutions across the country. They have studied at Harvard School of Medicine, Massachusetts Institute of Technology and John Hopkins University. They are surgeons, clinical directors, biomedical engineers and leading educators. For two university alumni, the Goldwater even served as a springboard for becoming a Rhodes Scholar.
While Fisher and Manea can look forward to promising futures, they have found as much value in the process itself as in winning the scholarship.
Hopeful Goldwater Scholars spend months working on their applications with help from advisors in National Fellowships and Scholar Programs. The staff provide advising, workshops and resources to help students identify and apply for opportunities that fit their academic and professional interests.
Students work closely with dedicated faculty members. Novella Beskid, assistant dean of National Fellowships and Scholar Programs, says faculty engagement makes a significant impact for applicants.
"Campus competition is tough, especially since institutions can only submit four Goldwater nominees. The steadfast advice and support of faculty truly has been our secret weapon in this distinctive record of Goldwater Gamecock excellence for 30 years," Beskid says.
For Manea in particular, the application process was essential in helping her determine her vision for the future. As she thought about her plans post-graduation, she often wondered how she might combine her mathematics major with her interest in biomedical sciences. The Goldwater application process pushed her to research career paths she had previously not considered, such as an M.D./Ph.D.
With feedback from national fellowship advisors, her research mentor, Ray, and the Goldwater faculty committee, she was able to reflect on her experiences and values to better communicate her research goals. She also received feedback from previous UofSC Goldwater Scholars and learned from their application experiences.
"The application process requires an open mind and a willingness to learn more about yourself. I had to reevaluate my interests and choose my own path," Manea says. "Ultimately, it helped me to consolidate my broad background in a meaningful way."
Similarly, Fisher encourages other students to connect with National Fellowships and Scholar Programs, calling the application process "an amazing experience" as it helped her better understand her goals for conducting research and pursuing a graduate degree.
"The encouragement I received throughout the application process allowed me to recognize that, when it comes to being a scientist, it is not about how long you have been doing research or how many papers you have published," Fisher says. "It's about your passion and belief in the research you are pursuing."
National Fellowships and Scholar Programs assists Goldwater applicants with the nomination process, along with a committee of faculty chaired by Doug Meade (mathematics). Dave Barbeau (earth and ocean sciences), Donna Chen (chemistry and biochemistry), Zhenqing Fu (biological sciences), Melissa Moss(chemical engineering) and Yanwen Wu (physics and astronomy) also serve as committee members for the scholarship process.
---
Share this Story! Let friends in your social network know what you are reading about
---